Meet Joe Orlando
President of PSA and PSA/DNA Authentication Services
Born in Long Island, New York, Joe Orlando spent his youth in Chicago, New Jersey and Southern California. A good all-around athlete since he was very young, Joe's first love was soccer, which he played throughout high school. "I always loved playing soccer," says Orlando. "But later in high school, and when I entered college, I really began to get serious about baseball."
After playing a variety of sports growing up and feeling a bit lost on the baseball field, Orlando says he finally hit his stride. "I played baseball on and off during my youth but it didn't become my focus until I was in my late-teens, said Orlando. "All during Little League and throughout high school, I was asked to pitch because I had a strong arm. I never really questioned it but, deep down, that wasn't what I wanted to do. In college, a coach watched me take batting practice and said I should try catching. I spent the summer training at the position and lifting weights."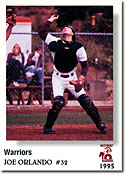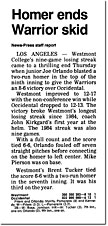 In college, Joe suited up for the Westmont Warriors in Montecito, CA as the starting catcher and has fond memories of his experience.
For Orlando, the change was dramatic but it was worth the wait. "All I can say is that it was natural for me, the position I should have played all my life," Orlando explains. "I loved it. I went from being a pitcher to a catcher after one summer in college. The positions are polar opposites and I don't know anyone else who ever chose to start catching, after pitching, that late in life. I have seen catchers become pitchers but never the other way around. I never fully appreciated the position and what catchers had to deal with until I experienced it myself. It was a crazy transition and very painful at times but, on the other hand, it just felt right. From my sophomore to my senior year, I started behind the plate."
As the starting catcher, Orlando suited up as a Warrior at Santa Barbara's Westmont College where he studied communications. After graduation, he went on to play for one season in an Independent Minor League system for the Antelope Valley Ravens of the now defunct Golden State League. "In 1995, after I played one summer of Independent ball in Rosamond, Ca, I was offered the chance to play for an Independent team in Canada," says Orlando. "I had just taken the entrance exam for law school and I was faced with the decision on whether I should go to school or keep playing. I loved baseball. I was certainly a late bloomer but it became such a huge part of my life. So, I held out until the very last minute before making the decision. I ended up making the call to the General Manager of the team very late one night. It was time to hang 'em up and go back to school."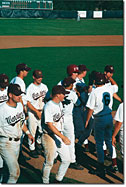 Orlando says that while the decision was a difficult one, he will always be grateful for the opportunity he had to play and for what the game of baseball instilled in him. "Playing baseball and catching really changed my life," Orlando revealed. "It had a huge impact on me – the discipline, the work ethic, the competition, the camaraderie within my teammates, the whole experience. It was very difficult to stop playing but it was the experience in college that I miss the most. In college, the focus is on winning, doing whatever it takes to win. In my brief experience in the minors, which is nothing to brag about, it was clear that everyone was out for themselves. It's just something you had to accept and understand."
When asked about his most memorable college baseball moment, Orlando found it hard to point to one event. "I have so many great memories so it's difficult to narrow it to one," Orlando explained. "I was fortunate enough to have a few game-winning hits and home runs during my college career. Those are the things that usually get the headlines but, while I enjoyed those moments, I actually enjoyed playing defense just as much, if not more so, than hitting. Some of my favorite moments were gunning key baserunners down trying to steal. I really enjoyed throwing people out or picking them off to kill a rally or change the momentum of an inning."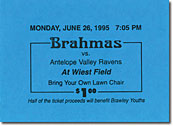 Orlando described a particular moment during the course of a game that he thoroughly enjoyed. "There were times when a guy would lead off an inning with a triple and the opposing dugout would erupt thinking they had the tying or go-ahead run just 90 feet away," Orlando explained. "It was always risky but, on the very next pitch, I would fire the ball, head-high, down to third. Since the runner is usually feeling pumped about his triple and may be a little unfocused, the last thing he is expecting is a bullet coming right at his grill. The runner would usually freeze in his tracks, jump out of the way or hesitate just long enough so our third baseman could tag him before he could get back to the bag. Little things like that don't grab the headlines but it took the wind right out of a team's sails. It's one of those battles within the war that makes the game of baseball so great."
Orlando continued to explain that while his decision to stop playing the game he loved was difficult, it wasn't because he was eager to become a lawyer either. "The interesting thing is that while I opted to go to law school instead of pursuing baseball, I never intended on actually practicing law, which may have some scratching their heads as to why I would put myself through the torture of law school," he said laughing. "Well, I figured that the skills you acquire and enhance in law school can be applied to virtually anything, including business, and it also gave me the chance to learn a lot about myself," says Orlando, who earned his Juris Doctorate from Whittier Law School in the spring of 1999. "The challenge and experience were invaluable; it completely changes the way you see and analyze things. I would recommend it to anyone."

Joe has kept a few mementos from his brief stint in the Minor Leagues but it was his college experience he cherishes most.
Along with soccer, baseball and school, Orlando's formative years were also consumed with something else – baseball cards. "I had collected cards since I was a kid and was always intrigued by vintage baseball cards while most of my friends focused on the current products," says Orlando. "Then, sometime in the early 1990s, I was introduced to PSA and became one of their first customers. I stopped collecting graded cards when I started to work for PSA because I felt it might be viewed as a conflict of interest by some people, though no one told me I had to stop. Card collecting was a very enjoyable part of my life and it led me, ultimately, to where I sit today."
Giving up his beloved card collection, Orlando began to expand his sports memorabilia collection which included autographs, game-used bats and equipment, original photographs and display pieces. "I had already made the transition from a pure card collector into memorabilia during the 1990s, well before joining PSA, and I have enjoyed both types of collectibles a great deal," said Orlando. "The one thing that stayed consistent in my collection was the quality of the material. I have long been a believer that you get what you pay for and I would rather own a few great things than a bunch of mediocre ones. I don't have many items in my collection but each one is an exceptional example. We all have a budget, there's no question about it, but I think people should buy the best quality they can afford."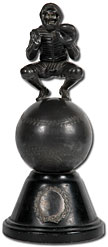 Orlando says that his collecting activity goes in cycles. "Since I have narrowed my focus quite a bit in the past few years and some of the items on my want list are scarce, it can be challenging to avoid becoming frustrated as a collector," Orlando explained. "There are times when three great items on my A-list appear in one week and then nothing will appear for two years but, the hunt is always fun. There are also other priorities in life so, most of the time; I have to trade something in order to fill a void in my collection. Sometimes, you have to give up something great to get something you want more. Many collectors have to deal with that issue."
As for his work with Collectors Universe, and more specifically PSA and PSA/DNA, Orlando feels that he does bring a unique perspective in the role he plays. "What I believe I bring to the table at Collectors Universe is direct personal experience as a collector and, more importantly, as a customer of the very service I now represent," says Orlando. "That is important because I understand the mindset of the hobbyist and our customers. I also collected rather advanced material at a very young age. Being one of PSA's first customers, I have been through the PSA process and have experienced PSA from the view of the submitter and consumer. Understanding that view helps me when our team is considering a new service or dealing with any business issue. It helps me make better decisions when serving our clients."
In addition, Orlando has tried to become well-versed in as many areas of the hobby as he can. "Most collectors tend to stay with one thing – autographs, cards, game-used bats and so forth – but I have had personal experience with various types of collectibles, which has been rewarding on a personal and professional level. Because of that experience, I think I bring well-rounded expertise to our company, which is fairly unique in this business. I also bring a lot of passion to my job. I love the hobby and I believed in the PSA product long before I came to work for the company. I really believe in our brand and in the benefits we provide to buyers and sellers."
Orlando continued to discuss the ultimate goal of the company. "When I became president of PSA, I wanted our company to be known for much more than just standard card grading," Orlando said. "While card grading will always be our bread and butter, the vision is to make PSA the one-stop-shop for any collectible that can be authenticated or graded. We have added so many new services in the past few years. We are very proud of that fact because no other company can compete with the diversity of our services. Collectors of one type of item often expand into other types of collectibles. Once they become part of the PSA family, they know we can provide a foundation and standard for a complete collection, not just one type of collectible or another. Collectors like consistency, in their quality, theme and service. We can help them achieve that goal unlike anyone else."
In addition to adding to the list of PSA services, Orlando says that providing information is another key to the long term success of PSA and the hobby. "The more information a collector has, the more apt he or she is to spend money on collectibles," Orlando explained. "We take that part of our role very seriously here. PSA produces a monthly magazine; we have created books and have a plethora of information on our website, which continues to grow. While we do have price guides for a variety of collectibles, that is only part of the goal. To me, what is more important than mere pricing is providing detailed information about the collectibles so potential buyers can make informed decisions before they buy."
As a true believer, Orlando says that the most important thing that PSA and PSA/DNA have brought to the hobby is peace of mind to the consumer. "Consumer confidence is the most important thing we have established," says Orlando. "Back in the 1980s, many people were burned, including myself. It was a very fun but dangerous time to be involved in our hobby. Collectors spent their hard-earned money on a lot of bad material. There were so many pitfalls, but PSA changed that. As a true third-party service, a company that has no financial interest in the sale of an item, we render an opinion that holds great weight. Our market share and brand is as strong as it has ever been. What we do has had, and will continue to have, a significant impact on the growth and future of this hobby. That is of great benefit to everyone."
When not absorbed in long days, travel, preparing the next issue of the industry's leading price guide, Sports Market Report, and the myriad of other duties he is responsible for, Orlando enjoys working out and trying the best he can to stay in shape. "I also enjoy watching boxing," he says "I've always been a big boxing fan who has great respect for fighters – their courage and their work ethic." As for other sports, he says that while he was once a diehard fan of the Oakland A's, free agency and the frequency of player trading has made it difficult for him to follow the A's, or any team for that matter. "I think I am like some percentage of sports fans in that I don't follow any one team in any particular sport, I just love the game itself."
A lifelong fan of Saturday Night Live, Orlando says he also enjoys catching episodes of The Simpsons, The Office and Family Guy. "I really have a wide range of interests," he says. "If anyone ever picked up my iPod, which I am thoroughly addicted to, they might think I need to be checked into a mental health facility. I have everything from DJ Quik to the training music from Rocky IV to classical. When it comes to music, I enjoy almost every genre."
An advanced collector of sportscards and memorabilia for over two decades, Orlando has today established himself as one of the hobby's most respected figures. He has authored several collecting guides, over 200 articles for PSA, The Top 200 Sportscards in the Hobby, a book that celebrates some of the hobby's most significant cards, and Collecting Sports Legends, a 375-page coffee table book which was released in 2009. Orlando also contributed to the recently released book entitled The T206 Collection: The Players & Their Stories. He has appeared on several radio and television programs as a hobby expert including as a featured guest on ESPN's award-winning program Outside the Lines with Bob Ley and HBO's Real Sports with Bryant Gumbel.
Good natured, quick with a smile and a laugh, and devoutly committed to his work, Joe Orlando may have never gotten the opportunity to crouch behind the plate in a Major Leaguer's uniform but what he and PSA have done in the realm of the sportscard and memorabilia hobby will have an impact on the business and hobby for time eternal.
"I just want to make the industry a better place because the hobby has been so good to me," Orlando says. "The people I work with and work for help give me the drive to make PSA better. If I can do that, then I can feel satisfied with my effort. You can't make everyone happy in business, especially this one, but we certainly try to improve the experience of collectors as best we can."