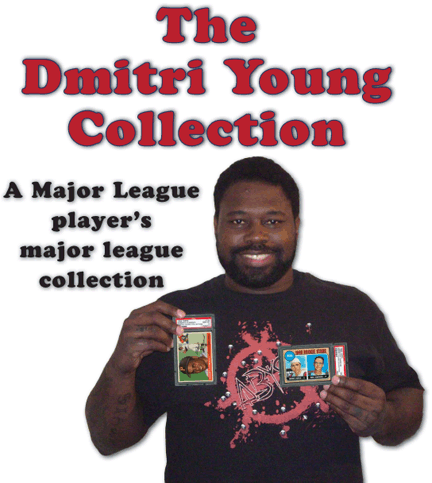 When you think of a Major League Baseball player, you take for granted that the thing they do best is play the game of baseball. In the case of Dmitri Young, the first baseman of the Washington Nationals, that is a little bit different. Dmitri does two things exceptionally well. He plays the game of baseball and he collects high-end Baseball Hall of Fame rookie cards. In fact, as much as he has achieved on the field, he has done the same in the card collecting hobby.
Over the better part of the past decade, Dmitri has put together what is widely considered to be the finest quality collection of Baseball Hall of Fame rookie cards in existence. It is a collection that plays as much of a role in his everyday life as the game he loves.
DMITRI THE PLAYER
Dmitri Young was born in Vicksburg, VA on October 11, 1973. His father, Larry Young, was the son of a share-cropper who was determined to make something of his life. After completing school, Larry joined the Navy and ultimately became one of the country's first African-American F-14 fighter pilots.
A strong and natural athlete from an early age, Dmitri's star began its ascent during his time at Rio Mesa High School in Oxnard, CA. In 1991, his senior year, Dmitri was named to the USA Today High School All-American Team, an honor that came as no surprise to anyone who had watched Dmitri bat an amazing .425 that year, along with chalking up eight doubles, 11 homers, 31 RBIs, and 37 runs.
Following his graduation, Dmitri was a drafted by the St. Louis Cardinals as a first round pick. Coming off such a tremendous senior-year performance, the Cards had high hopes for their new prospect. In 1996, with AAA Louisville, he hit .333, was tapped as a Triple-A All-Star first baseman, and named the Cardinals Minor League Player of the Year. He was soon called up to play with the big boys.
The 1997 campaign would prove to be Dmitri's first full season with the Cardinals. He hit .258 that year and was then traded to the Cincinnati Reds. In a head-spinning move that hardly gave Dmitri the chance to think how he would look in a Reds uniform, he was selected by the Tampa Bay Devil Rays in the expansion draft, and then traded back to Cincinnati. Over the next four years, Dmitri hit over .300 each season. While he was stationed at first base on and off, Dmitri spent most of his time in the outfield.
Following the 2001 season, Dmitri was again traded to the Detroit Tigers. In 2003, he batted .297 and slugged 29 homers. He was the lone Detroit representative at the MLB All-Star Game, although he never made an on-field appearance. On the opening day of the 2005 season, "D'Meat Hook," as Detroit fans began calling Dmitri, became the third player in the club's history to smack three home runs in one game. Dmitri would also prove that his athletic talent went beyond the baseball park by appearing in the World Wrestling Entertainment's "Survivor Series 2005."
The following year, the Washington Nationals first baseman, Nick Johnson, broke his leg late in the season. Desperately in need of someone to cover first base for the 2007 season, the Nationals put out the word and began inviting interested parties to show their stuff. Dmitri did just that and was named Washington's starting first baseman.
By the halfway point of the 2007 season, Dmitri was hitting .340, a performance that earned him his second All-Star invite. That year, which saw Dmitri hit his sixth career grand slam, culminated with him turning in a hitting performance of .320, signing a two-year, $10 million dollar extension and being named the Player's Choice National League Comeback Player of the Year.
DMITRI THE COLLECTOR
While most people would think that having a career in the Major Leagues is the fulfillment of Dmitri Young's greatest dream, they would only be partially right. Yes, he is living out the dream of every kid who has ever swung a bat or put on a glove. In addition to being a big league player, Dmitri is also a big league sportscard collector. His collection is renowned throughout the hobby as being the finest collection of Hall of Fame rookie cards and all one has to do is spend a few minutes talking with Dmitri, or "D" as his friends call him, to know that when he dreams today, it is all about finding an elusive card that features the image of a Hall of Famer and is graded a PSA 10.
His collection, only eight-years old as of this writing, is the result of a quixotic search that stems from Dmitri's passion for high-grade cards and his financial wherewithal to compile such a magnificent amassment. Working with longtime card collector and dealer Dave Bailey, whom Dmitri calls "The Architect," the collection has taken on a life of its own. It has dropped the jaws of many serious collectors who, when looking at it, see some of the finest rookie cards known to exist. Simply put, it is a collection that surpasses all superlatives and has captured the hearts of the two men who have compiled it.
Dmitri began collecting cards as a kid, but, back then, it was the players featured on the cards that meant much more to him than the card's condition and grade. "Growing up, I was a big Mets and Braves fan," Dmitri recently told SMR. "My heroes from the Braves were Dale Murphy and Bob Horner and from the Mets it was Dr. K (Dwight Gooden) and the Straw Man (Darryl Strawberry). That's whose cards I collected as a kid – players like Murphy, Horner, Gooden, Strawberry, Don Mattingly, Orel Hershiser and Bret Saberhagen. I was like any other kid, I'd get cards and play with them and trade with my friends."
As Dmitri grew from that young kid who collected the cards of his heroes, so grew his love for the game of baseball – both playing it and collecting better and better cards. "I really got serious about collecting back in 2000," Dmitri explained. "I was in Cincinnati doing a card show and, when it was over, the promoter gave me a Pete Rose PSA 8 rookie. That's when it really began for me."
Dmitri said that once he had that Pete Rose rookie in his possession, he became obsessed with getting a Hank Aaron rookie in an 8. "I started looking around and I realized there were a lot of great cards that had been graded 8 so that made me want to go further and look for cards graded 9 and 10."
Shortly after getting into high-end PSA graded cards, Dmitri said he encountered a problem. The fact that he was a Major League player proved to be a double-edged sword. On one hand, he had the financial wherewithal to be able to purchase the very best cards available. On the other hand, that fact meant any card he was looking at buying rapidly jumped up in price.
Dave Bailey, who has been a card collector and dealer for many years, met Dmitri in 2001 at a party being thrown by the Detroit Tigers' Robert Fick. "He had a big party at his house to watch a fight," Bailey recalled. "I went and met Dmitri and, before you knew it, the fight was over and we sat around talking about cards till one o'clock in the morning. We really hit it off right from the start and, pretty soon, I started taking care of his marketing. Dmitri has always remained positive about collecting and the bottom line is that he really loves cards. So he kept calling me on things here and there and eventually he started using me to do his buying."
Wanting Dmitri to have the highest level of comfort, Bailey said he took the time to teach his new client about cards. "I taught him a lot of the ins and outs of the hobby and the business of cards that only someone who has been involved for a long time knows," said Bailey. "That really sparked his interest and he finally said that he wanted to focus on one thing. I agreed with him. Granted, he makes a lot of money, but he was trying to put together a PSA 10 of every rookie card from every major sport. A collection like that could cost $50,000,000. So, what we decided to focus on was Baseball Hall of Fame rookies from 1948 to 1990, which is a pretty huge category itself. Our goal was to get as many as we could in PSA 10."
When asked what role Bailey has played in putting together the collection, Dmitri is quick to give the man his props "It is no secret that Dave Bailey is the architect of this collection," said Dmitri. "He lays down the groundwork and works out the deals for me because, in my position, there are unfortunately some dealers who see me coming a mile away. They see a Major League Baseball player making a lot of money and they jack the price up on the card instead of being fair. That's where Dave comes in. He knows what a fair price is and he knows how to negotiate the deal. At first, I felt like we were both just helping one another out but as we became closer and became friends, I know he began to feel this collection was as much his as it is mine."
Dmitri said that he and Bailey talk almost every day. "He'll call me up with the buzz on something and he'll ask me if I want to move on it," said Dmitri. "For me, having Dave around makes putting this collection together very exciting. When you are working with someone who is an experienced insider in the card game, it makes all the difference. It is more exciting for me because I have a guy who completely knows the card business and he is also a guy I trust to do right by me one-hundred percent. Besides that, he loves the cards as much as I do. When we get together on the phone, we're like a couple of giggling little girls. We'll be on the phone for hours with one another talking about cards." Bailey laughed when Dmitri said that. "I do love buying cards for D," said Bailey. I love it because it isn't business – it's pleasure – pure fun. Which is what drew me to cards way back at the beginning."
Dmitri, who said that he loves his collection in its totality, will admit, when pushed, that he does have one card that is his clear favorite. "When I think of all the great cards in my collection, the one that stands out the most for me is my Reggie Jackson 1969 Topps graded PSA 10," Dmitri said. "I have a lot of cards of the greatest, most legendary Hall of Famers in the game, but that one is my personal favorite. Getting that card was a huge rush for me."
Always on the search for another rush, Dmitri said a day doesn't go by that he's not thinking about one card or another that he is looking for. "When you're talking about the rookie cards of Baseball Hall of Famers, you are not going to find a better collection than this one," Dmitri stated proudly. "This is the best one. That said, there are still a few key cards that I don't have. I want a 1951 Bowman Mickey Mantle, a Hank Aaron, a Ted Williams and a Sandy Koufax in PSA 10. I have the best Roberto Clemente, Roy Campanella, and Pete Rose rookie cards out there, but I'm not satisfied with what I have, even though what I have is absolutely amazing. I approach my card collecting just like I do my playing. I'm not satisfied with just getting a hit a game. I want two hits in every game! It's the same thing with cards – I want the best."
As with any major collector, Dmitri said that one of the greatest joys about the collection is sharing it with people. "When I show this collection to other players, they are in awe," he said. "I mean there's just nothing else you can say. They love looking at the cards and then when we start talking about prices they trip out – they can't believe it. That's why I always keep a copy of SMR handy in my locker so that I can show them the grading standards and the prices. It gets them talking about their collections and they start wondering how their cards would grade. I especially love showing the collection to my coaches. They are older guys and, in many instances, they have played with or against a lot of the guys whose cards I have. That gets them started in talking about those guys and all their old baseball stories. Looking at the cards brings back a lot of memories and nostalgia associated with the game."
Dmitri said he is not sure how many cards he has in total or the current value of the collection. "I'm just not sure what the collection is worth but I plan on getting it appraised here in the near future," he said. Bailey chimed in and said that while the value of the collection is important, he knows that it is the love of the cards and not the money that means the most to Dmitri. "His love of these cards has made me emotionally attached to building this collection for him," said Bailey. "I am totally passionate about it. I want everything to be perfect and that means I have had my share of battles with Dmitri over things. I'm not afraid to make my opinion known. It's all for the cause of putting together the best collection we can."
Bailey pointed out that when you are putting a collection like this together, a person could have Bill Gates-type money and it wouldn't matter. "You can't just snap your fingers and say here's the money, where are the cards and have them appear," said Bailey. "This collection is the result of the work, time and money of a Major League player. It represents years of Dmitri's life and my life. I know there will be people who think that because Dmitri makes so much money it's easy for him to put a collection like this together. That's not the case. The money is only one part of it. This isn't some rich guy who is out of touch with reality, just sitting back and saying 'get me this and get me that.' I believe that even if he wasn't making the kind of money he makes, Dmitri would still be collecting, just not on this level. Dmitri has invested untold hours of his time in building this collection. His emotions are wrapped up in this project. This is a part of him. It has become a part of me, and it means a lot to both of us. If anything ever happened to even one card in the collection, it would be a very bad day for the both of us. The most valuable thing a person has is their time, so forget about the money, this collection represents the personal sacrifice of Dmitri's time and my time. Putting a collection like this together is not easy in any way." Dmitri laughed at that comment. "If it were easy we would have all the cards," he added. "But Dave is right, I get the same rush buying a six-figure card that any collector gets when they buy a beautiful, rare card no matter what the cost. I get the rush and then I hear from my financial advisor," he laughed.
Both Dmitri and Dave said they have a story that goes with every card in the collection. "I can tell you the story about each one and what I had to do to get it," said Bailey. "Some were easy – an eBay deal. Others included four or five dealers working together to do a big trade, and in one case, I had to fly to Las Vegas to finalize the deal. I remember once driving 11 hours to get a card and, when I got there, the guy decided he didn't want to sell it."
Bailey said that while he is in the trenches, building the collection, Dmitri is never far from the action. "Dmitri is right there with me all along the way," said Bailey. "When I'm chasing down something that's tough to get, I'm texting him every step of the way so he can experience the excitement with me. I know that in putting this collection together I'm doing the opposite of what a card dealer should do – I've gotten emotionally attached to it. There are times when I've been down at spring training with him and some of the players want to look at the collection and I'll just sit back in the distance and watch them look at it. I love to see their reaction but I'm also very possessive. If I see anyone handling them in a way I'm not comfortable with, I'm right over there. I love cards and this is a very important collection. I feel that if I died tomorrow, the work I have done in putting this collection together for Dmitri is something that is very important – something I'm very proud of. This collection has taken on a life of its own. I always say there are three of us in this thing – me, Dmitri and the collection."
Dmitri said that one of the things that brings him the most excitement is when he finds a key card he doesn't have. "It was exciting to have gotten the Tim McCarver card – a beautiful card we didn't have," said Dmitri. "It's always exciting to fill a hole." Bailey agreed. "It is definitely exciting to go out and bid on the highest quality pieces out there," said Bailey."
Among some of the standouts in the collection are five Norm Cash rookie cards. "The Norm Cash 1959 Topps card in a PSA 9 is worth between $3,000 and $4,000," said Bailey. "There are nine of those cards in the population report and Dmitri owns five of them. We don't have it in a 10 because there are no 10s. Dmitri and I both feel that even though we have a card in a 9 or a 10, when we find another there is no harm in buying it because you can never go wrong with buying the best. When you buy quality, you can never get hurt."
Other highlights of the collection are numerous Tony Perez 1965 Topps cards. There is only one Perez rookie in a PSA 10 known to exist and while Dmitri doesn't own that card, he does have eleven 9s. "He also has a Jim Palmer rookie that is extremely tough in a PSA 9 and nonexistent in a PSA 10," said Bailey. "There are seven Palmer rookie cards graded at 9 in the population report, and Dmitri has five of them. When you look through the population report there are many cases in which Dmitri owns every one of them. That is not something I would recommend for the average collector to do, no matter what their financial situation is. That ties up a tremendous amount of money. But Dmitri is so passionate about high-end cards and he knows they will only continue to increase in value. He also has over a half a million dollars worth of cards that are not a part of the rookie Hall of Fame collection, some of which are the hardest cards to find in 8s and 9s."
Dmitri said he feels that PSA has completely changed the hobby of card collecting. "It has changed the entire landscape," he said. "I mean, when I was a kid, you would go into a card shop and see an old beat up George Brett rookie card and the guy would want $50 for it. Well, that card was not worth $50 when it was all creased with rounded corners. That wouldn't happen today. Now, with PSA's grading standards, it puts the stamp on what the card is worth. Today, an old, crusty, beat up card would grade maybe a three, and most people don't want to waste their time or money on a card like that if it can be found in nice shape. They want a card that has quality – that is sharp and beautiful. When people see my collection, they get all excited and tell me that they used to have this or that card when they were a kid. They always say: 'I used to have that card but it sure didn't look like THAT!' Back then, people tacked their cards on the wall with little pins so they had holes in them and they were all creased up. Today it's so different. PSA has changed everything."
Outside of his high-end rookie card collection, Dmitri said he doesn't really collect anything else. "I may get a couple of game-used bats or a few autographed balls for my kids, but, for me, it's the cards," he said. "The cards are my passion – my sole focus. Other than that, I am an avid fan of professional wrestling, although I don't collect wrestling cards. I've gotten to know a lot of the professional wrestlers and, a couple of years ago, I did some things with World Wresting Entertainment. I participated in the 2005 Survivor Series in Detroit. I was a part of the show and that was a lot of fun."
But Dmitri's real fun comes from continuing to build his collection that travels in customized bullet proof cases, with suede linings and individual card holders that cost $2,500 a piece. "This collection means the world to me," said Dmitri. "I have put it in front of almost everything else in my life. Besides my family, health and career, it's the most important thing in the world to me. This collection is something that takes me away from everything – it's my happy place. When I show off this collection, I show it as my badge of honor. All the hard work I put in on the baseball field over the years has been very important to what I do professionally, but I am also very proud of the hard work I have done in putting this collection together. I love having a hobby that represents what I do. I have a lot of teammates and friends who like jewelry or cars – for me, it's baseball cards."
As for the future of the collection, Dmitri and Bailey are still working to fill in the holes and are also thinking about ways to share it with people. "Major League Baseball would like to explore what we may be able to do to display it to the public," said Bailey. "We are still thinking about how we want to handle that and what we want to do. We want to be careful in how we display it. If people don't really understand cards, they would really not have the full appreciation for this collection. They would have no idea how extremely rare some of the cards are. They wouldn't know the difference between a PSA 8 and a 10. But SMR readers and serious collectors do know the difference, so whatever we do, I want people who are involved in the hobby to be able to see it. We do want to work something out so that people who will really appreciate it do get the opportunity to see it."
Beyond that, Dmitri said that his plan is to continue to work on the collection for many more years and then turn it over to his children, 11-year old Owen, 9-year old Damon and 6-year old Layla. "I will ultimately pass it on to my kids – when they turn 30 – because if I give it to them when they turn 21, they'll turn it into beer money," Dmitri said with a laugh. "I don't want them to have it until they fully understand what it is and how rare it is. Today, they have no understanding of its worth in dollars and cents but what they do understand is what the collection means to me personally and sentimentally. Believe me, they do know what it means to me. I sit with them and I explain the cards and talk about the players. They know how passionate I am about these cards."
Dmitri and Dave stressed the fact that they are actively on the lookout for rookie baseball cards that have been graded PSA 8s, 9s and 10s. Dave Bailey will be available at the 29th National Sports Convention (July 30-August 3, 2008 at the Donald E. Stephens Convention Center, Rosemont, IL) to answer any questions. If you have something you believe they may be interested in, they would love to hear from you. You can contact them at: [email protected]