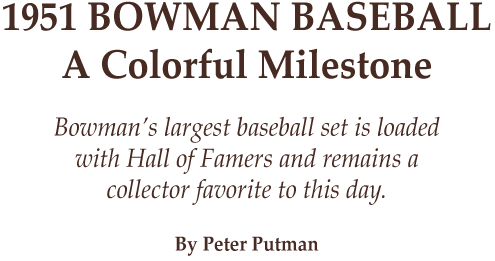 The second year of the fifth decade of the 20th century wasn't exactly off to a flying start. Just six years after World War II, America was enmeshed in yet another foreign conflict (the Korean War), and we were hearing more and more about the "Red Menace." The United States opened the Nevada Atomic Test site in January, and tested its first hydrogen bomb in May. A few weeks earlier, Ethel and Julius Rosenberg were sentenced to death for delivering atomic energy secrets to the Soviet Union.
Fortunately, there were plenty of distractions in 1951, including the first coast-to-coast telecast of a live sporting event (a football game between Pittsburgh and Duke), the first operating computer system (Remington Rand's $160,000 UNIVAC I, delivered to the US Census Bureau), and the first TV broadcasts of I Love Lucy, Dragnet, and CBS' longest-running soap opera, Search For Tomorrow.
As the year moved along, the first junction transistor was invented, Japan Airlines took off for the first time, the United Nations' headquarters in New York City opened for business, and Dennis The Menace appeared as a daily comic strip in newspapers. The 22nd Amendment to the Constitution, limiting presidents to two consecutive terms, was ratified, and Libya declared its independence from Italy.
But that was all stuff for grown-ups to ponder and worry about. Instead, kids blissfully looked ahead to the start of another baseball season and trips to the local candy store or newsstand to pick up one-cent or six-cent packs of Bowman baseball cards.
Bowman Gum, a subsidiary of Philadelphia, PA-based Haelan Laboratories, had evolved into the premier manufacturer of bubble gum cards over a period of three years, starting with its bare-bones, black-and-white 1948 set of 48 baseball players. The 1949 set added hand-colored photographs and expanded to 240 cards, while the 1950 offering switched to full-color paintings from photographs, adding 12 more cards.
Bowman's 1951 set would be its largest ever (and of all time, as it turned out), featuring a total of 324 players. Considering there were 16 teams with 25 players on each team's active roster, that meant 85% of them would wind up on a trading card – and that, in turn, meant chewing a lot of gum along the way to building a complete set.
THE YEAR
1951 was as memorable a year on the baseball diamond as it was off. While the two-time defending World Series champion New York Yankees had a relatively easy time winning the American League title by five games over the Cleveland Indians, the National League pennant race turned into an out-and-out dogfight. Trailing the Brooklyn Dodgers by 13 ½ games on August 11 and prematurely written off by Dodgers manager Charlie Dressen ("The Giants is dead!" he emphatically proclaimed on August 10th), the New York Giants proceeded to win 37 of their last 44 games, including seven in a row to end the season.
Frantic to hold on to the division lead, the Dodgers scratched out a 14-inning win over the Philadelphia Phillies on the last day of the regular season, putting both teams in a tie and forcing a three-game playoff to see who'd face the Yankees. The teams split the first two games, with Bobby Thomson leading the Giants to a 3-1 win at Ebbets Field. The Dodgers countered with a 10-0 rout at the Polo Grounds behind the golden arm of Clem Labine.
Game 3 is, of course, forever part of baseball lore, with Brooklyn blowing a 4-1 lead in the bottom of the ninth inning on Bobby Thomson's "shot heard 'round the world", hit off a high, inside fastball from Ralph Branca. What some fans may not know is that Branca had served up a few gopher balls to The Flying Scot earlier in the 1951, and had also lost Game 1 of the playoffs on another Thomson home run.
Historians have debated the wisdom of Dressen in putting Branca in the hot seat again, but the result made for great theater and lots of second-guessing over the subsequent decades. (Years later, allegations surfaced that the Giants had positioned coach Herman Franks in the team's centerfield clubhouse with a telescope to steal catcher Dixie Walker's signs and relay them to Thomson via the dugout.)
Other highlights of 1951 included St. Louis Brown's owner Bill Veeck's famous midget stunt, wherein three-foot, seven-inch Eddie Gaedel (wearing uniform number 1/8) burst out of a cake, took his batting stance at home plate and watched four straight pitches zoom by for walks during a 6-2 loss to the Detroit Tigers.
The Yank's Allie Reynolds pitched not one, but two no-hitters in 1951, edging his former Cleveland Indians team 1-0 on July 12 and getting plenty of run support in an 8-0 shellacking of the Boston Red Sox on September 28. Only two other pitchers have accomplished this feat, one being Nolan Ryan in 1973. The other? Detroit's Virgil Trucks, who tossed a pair of no-hitters just one year after Reynolds' feat.
The not-quite-ready-for-primetime rookie Mickey Mantle, wearing uniform #6 and playing shortstop, struck out 52 times by mid-July and was sent back to AAA Kansas City to work out his problems. The Giants ran off an impressive streak of 16 straight wins from August 12th to August 28th, while the St. Louis Cardinals played a doubleheader against two different teams (Giants and Dodgers) on September 13th. (Nope, it wasn't a Friday - it was a Thursday!)
The Giants' dramatic playoff win did them no good in the World Series, where the formidable Yankees won Games 2, 4, 5, and 6 to cop their third consecutive crown. The 1951 Series was DiMaggio's last hurrah (he retired after the season), while Mantle suffered a near-career ending injury to his knee, backing up DiMaggio on a fly ball (coincidentally hit by Giants rookie Willie Mays) in Game 2.
THE SET
For 1951, Bowman used a card size of 2 1/16" x 3 1/8," the same width as the year before, but longer. Most of the 324 cards featured vertically oriented player portraits, recreated as color artwork from photographs. 39 cards used a horizontal (landscape) orientation, and among those you'll find the key cards to the set –Mantle's true rookie card (#253) and Mays' true rookie card (#305).
The cards were issued in series, with the high-number cards (#253 - #324) commanding a premium over the rest of the set. Coincidentally, Mantle's first Topps card would also lead off the high-number series in 1952, and both cards are the most valuable of any regular issue Mantle baseball cards.
Only one card in the entire set used original artwork, and that card (#195) depicts first-year White Sox skipper Paul Richards as a caricature, most likely because he got the job after set production started. Other notable managers in the set included Casey Stengel (#181), Eddie Sawyer (#184), Jimmy Dykes (#226), Leo Durocher (#233), Chuck Dressen (#259), and Bucky Harris (#275).
Two Yankee coaches made it into the set as well, with Bill Dickey shown yelling at a player through cupped hands on card #290, and "Old Reliable" Tommy Henrich depicted swinging a bat on card #291.
In addition to Mantle and Mays, other prominent rookies from the 1951 Bowman set are Whitey Ford (#1), Ray Boone (#54), Joe Garagiola (#122), Wes Westrum (#161), Billy Pierce (#196), Monte Irvin (#198), Vern Law (#203), Gene Woodling (#219), Nellie Fox (#232), Jackie Jensen (#254), Jimmy Piersall (#306), and Joe Adcock (#232). John Pramesa (#324) forms the other bookend to the set.
You'll also find numerous Hall of Famers in the set. Aside from Mantle, Mays, Ford, Irvin, Fox, Stengel, and Durocher, some of the prominent residents of Cooperstown include Yogi Berra (#2), Robin Roberts (#3), Phil Rizzuto (#26), Bob Feller (#30), Roy Campanella (#31), Duke Snider (#32), George Kell (#46, with a printing error that reads, "No. 46 in the 1941 series), Johnny Mize (#50), Bob Lemon (#53), Enos Slaughter (#58), Pee Wee Reese (#80), Warren Spahn (#134), Larry Doby (#151), Ted Williams (#165), Richie Ashburn (#186), Frankie Frisch (#282), Bill Dickey (#290), and Al Lopez (#295.)
In fact, the only notable players missing from the 1951 Bowman set are Joe DiMaggio, who shows up in only three post-war baseball card sets (1948-49 Leaf, and 1951 and 1952 Berk Ross), Stan Musial, who appears in the 1948, 1949, 1952 and 1953 color Bowman sets, and Jackie Robinson, who was portrayed in the 1949 and 1950 Bowman sets.
Given the size of this set, it's remarkable how few error cards were printed. Aside from Kell's "1941" screw-up, card # 20 shows Del Crandall's last name spelled as "Crandell," while Bobby Shantz' last name on card #227 is misspelled "Schantz." Neither of these errors were ever corrected.
Yankee players dominate the set with 23 appearances. Bowman's hometown Phillies also had 23 players in the set, with the Dodgers grabbing 20 spots and the Giants claiming an equal amount. Players from Philadelphia's other "hometown" team, the Athletics, managed to show up 18 times.
THE VALUES
It will come as absolutely no surprise to anyone that the key card in 1951 Bowman baseball is Mantle's rookie, which currently SMRs at $18,000 in PSA NM-MT 8 condition. The Willie Mays rookie has also realized high prices at auction. SMR currently values it at $10,500 in PSA 8, with PSA Mint 9 copies tagged at $65,000.
Other high-value cards include the Ford #1 rookie ($7,850 in PSA 8), Berra's #2 card ($2,300 in PSA 8), #31 Campanella and #32 Snider (both $650 in PSA 8), #80 Reese ($525 in PSA 8), #165 Williams ($2,000 in PSA 8), #232 Fox ($600 in PSA 8), and the last card, #324 Pramesa ($525 in PSA 8).
Commons from #4 to #252 SMR at $75 in PSA 8, while commons in the high number series are valued at twice that amount. A complete set of 1951 Bowman cards in NM-MT 8 condition – if you could buy one intact – is valued at $79,185 in the current SMR, but rest assured it would go for quite a bit more.
To put that in historical perspective, a complete set in NM condition was priced at $1,495 in the June 1985 issue of Current Card Prices, with the Mantle card fetching $396, Mays bringing $305, and Ford's #1 card tagged at $75. (Ahh, for the good old days... )
CHASING THE SET
To date, PSA has graded almost 53,000 individual 1951 Bowman cards, with a total of 66 Gem Mint 10s, 1,592 9s, and 12,801 8s awarded. (For comparison, the 1952 Topps set has 116,275 submissions with 65 10s, 1,003 9s, and 12,885 8s logged.)
Only a handful of cards have been submitted less than 90 times, including #18 Gil Coan (80 submissions, resulting in 24 PSA 8s, one PSA 8.5, and one PSA 9), #21 George "Snuffy" Stirnweiss (89 submissions, 36 PSA 8s, and four PSA 9s), #33 Bob Hooper (86 submissions for 25 PSA 8s, with nothing higher), and #271 Tommy Wright (89 submissions for 14 PSA 8s and one PSA 9, making it a true "tough card" in high grade).
Other "low pop" cards include #4 Del Ennis (16 PSA 8s and two PSA 9s), #256 Ken Silvestri (17 PSA 8s and two PSA 9s), #265 Steve Bilko (18 PSA 8s and three PSA 9s), #276 Frank Quinn (19 PSA 8s and three PSA 9s), #280 Frank "Stubby" Overmire (17 PSA 8s and two PSA 9s), #289 Cliff Mapes (18 PSA 8s and one PSA 9), and #298 Joe Astroth (19 PSA 8s and one PSA 9).
Of all the cards in the set, only #33 (Hooper) and #266 (Harry Dorish) have yet to be awarded a PSA 9 grade. In contrast, eleven PSA 9 copies of card #49, Jerry Coleman, show up in the Pop Report, along with ten copies of card #157, Al Brazle. Ted William's #165 card has earned PSA 9 honors fifteen times, Gene Woodling's #219 entry has grabbed the Mint trophy ten times along with Cloyd Boyer's #228 card, and Nellie Fox's #232 card has tallied Mint 9 certifications an amazing 18 times!
How about the key cards? 1,150 copies of Mantle's rookie card have passed under the magnifying glass at PSA and 46 PSA 8s and nine PSA 9s have resulted, along with a solitary PSA 10 example. Contrast these numbers with his 1952 Topps rookie, which has been graded 924 times and awarded 29 PSA 8s, one PSA 8.5, seven PSA 9s, and three Gem Mint 10s.
Willie Mays' rookie card hasn't been graded as often – 929 times, to date – but a generous 71 PSA 8 grades have been awarded, or about one out of every 13 cards submitted. One copy has made it into a PSA 8.5 holder, while eight more rest comfortably inside Mint 9 slabs. No Gem Mint 10 grades have surfaced yet.
Of the bookend cards, 701 Whitey Ford have been scrutinized, resulting in 41 PSA 8 and three PSA 9 grades, while John Pramesa's card has earned 31 PSA 8s and 4 PSA 9s after 173 submissions.
THE WRAP-UP
The 1951 Bowman is definitely in the Top Ten list of all-time baseball sets. Many famous names of the 1930s and the 1940s were hanging up their spikes as future superstars like Mantle, Ford, Mays, Irvin, and Fox stepped into the limelight, so the set is a great snapshot of the period with 27 Hall of Famers, quite a few famous rookies and managers, and a timeless design.
If Near Mint or better cards are a bit too pricey for you, building a mid-grade 1951 Bowman set is a reasonable proposition if you are willing to spend some time searching through albums at shows and bidding in online auctions. Low number commons currently SMR for $20 in EX-MT 6 condition, with high numbers priced at $42 each in PSA 6 and $30 each in PSA EX 5. Either way, you'll have a nice piece of baseball history when you're done. Good luck!