"Say hey" to the 1966 Topps Baseball set.
For many hobbyists, this offering – which leads off with one of the Say Hey Kid's most coveted singles – requires an introduction.
"This set is probably not as popular as the '65s and '67s, but it has an appeal beyond the other sets which is difficult to explain," said Mark Wagner, owner of the No. 8 Current Finest Basic 1966 Topps set on the PSA Set Registry.
Frank Merz, proud proprietor of the Registry's No. 10 Current Finest Basic set, agrees.
"You don't have the Nolan Ryan or the Tom Seaver rookies, but there are a number of rookies in there," he said, noting that the cardboard debuts of Jim Palmer (#72), Fergie Jenkins (#254) and Don Sutton (#288) are part of this issue.
The maiden singles of these hurlers headline the 598-card set. Released in seven series, the 1966 cards were available in wax packs and cellos. The League Leader cards (#215 to 226) are the sole subset in this issue.
"The National League Batting Leaders card with Clemente, Aaron and Mays on it is probably the best leader card ever," said Dick Weigle, who has owned the Registry's top Basic Set since 2002.
Team cards – with their fronts showcasing the position the club finished in 1965 – are also included. Merz notes that there's no Houston Astros team card. Veteran hobby dealer, Scott Susor, says the reason for this is that the Astros were embroiled in a legal dispute over their name.
"After they changed the name from Colt .45s to Astros, they were sued by the makers of Astroturf over the use of the name Astros," he explained. "When Houston built the Astrodome, complete with Astroturf, they renamed the team the Astros. But the makers of Astroturf claimed a copyright on the 'Astro' name and sued to prevent the team itself from using it. Topps had to follow the court injunction."
Card fronts boast a player photo with the team name in a diagonal strip in the upper left corner. The player's name and position are highlighted in a bar across the bottom. The pink-orange backs feature biographical information, statistics and cartoons.
Merz points out that the diagonal strips with the team name are color-coded.
"Every National League team is paired with an American League team that's set up the same way, like the Cardinals and Tigers, which both have the yellow stripes," he said.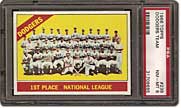 Printed in Canada, the 1966 O-Pee-Chee cards share the Topps design, but they were produced in much smaller quantities.
"The reverse is the only printing difference. The O-Pee-Chee cards feature 'Printed (Ptd.) in Canada', rather than the 'Printed in U.S.A.,'" explained Wagner.
An extremely scarce Venezuelan Topps set was also unveiled that same year. This set featured the first 370 cards of the regular Topps series. Collectors were urged to paste their cards into an album. As a result, these cards are often found with paper missing from their backs.
"The Venezuelan cards are printed on cheaper card stock. There is no reference to where they were printed. The paper stock is more 'yellowed' in appearance. The centering is poor, and they were printed in very limited quantities," explained Wagner.
Cards from the high-number, 1966 Topps series are the most difficult to track down. Within those high numbers, there are 43 cards designated as short prints. Hall of Famers Willie McCovey (#550), Billy Williams (#580) and Gaylord Perry (#598) are among the biggest names in short supply.
"The high number series was very scarce," noted Chris Hansen, owner of the Registry's No. 5 Current Finest Basic Set.
A Master 1966 Topps set has also been created on the Registry. To complete this set, hobbyists must track down a series of variations. For example, four cards – Merritt Ranew (#62), Bob Uecker (#91), Dick Groat (#103) and Alex Johnson (#104) – boast pasteboards with or without sale/trade information on their backs. Singles without the transaction information generate a premium.
Three versions of the Don Landrum single (#43) have also been documented: one depicts the Cubs outfielder with a button showing on his pants, another version showcases him without the button and the final incarnation reveals a partial button. The partial button is the most elusive. Four different checklists also have two versions.
Several uncorrected errors have been identified as well. The back of Palmer's rookie, for example, describes him as a lefthander. On top of Palmer and the aforementioned Jenkins and Sutton, other rookies in this set are Don Kessinger (#24), Mickey Stanley (#198), Roy White (#234), Bobby Murcer (#469) and Horace Clarke (#547). The last regular singles of legends Sandy Koufax (#100) and Robin Roberts (#530) are also included, as are pasteboards of baseball immortals Willie Mays (#1), Pete Rose (#30), Mickey Mantle (#50), Roberto Clemente (#300), Roger Maris (#365) and Hank Aaron (#500).
"You have a good blend of old guys on their last legs – like Mantle, Whitey Ford and Koufax and then the new guys like Jim Palmer that played until the 1980s," said Jay Wolt, owner of Cavalcade of Sports in East Berlin, Pa. "Oddly, there was no Steve Carlton. His rookie was the year before."
Weigle shares similar sentiments.
"I think the 1966 set has a very good selection of Hall of Famers," he said.
Deemed double-prints, the Rose and Mantle appear to be readily available. In contrast, the Mays single, being the set's first card, is elusive in flawless form. Of the 1,304 Mays cards graded, there are no PSA GEM MT10s and just 19 PSA MINT 9s. A PSA 9 example sold for $3,200 on eBay in July 2008.
Like the Mays single, the set's last card, Gaylord Perry, was also subjected to additional wear. Of the 476 evaluated, just 16 have been deemed PSA 9 or higher. A PSA 9 Perry sold for $838.03 in a Mile High Card Company auction in January 2007.
"Obviously, the first card and the last cards in the set are usually the ones that are the most difficult because, in the old days, kids put rubber bands around them," said Weigle.
Hansen agrees.
"The first and last card are notoriously harder to find in good condition because they're always at the top and bottom of the stack," he said.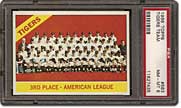 The Aaron single (#500) is also difficult to find in pristine condition. Wagner says that poor centering often hampers this card. There has yet to be a PSA 10 Aaron. A PSA 9 sold for $2,150 on eBay in June 2008.
Another Hall of Famer's single that's tough to find centered is Tony Perez (#72). There are no PSA 10s of this card and just two PSA 9s. One PSA 9 fetched $1,600 on eBay in June 2008.
"The centering on that card is horrendous," said Hansen.
Common cards that are evasive in high-grade include Mel Stottlemyre (#350). Just five PSA 9 Stottlemyres exist (with no examples grading higher). One sold for $666.66 on eBay in July 2008.
Merz points out that the final card from this set to boast a PSA 9 copy (no examples have graded higher) was the Cubs Rookies card (#482), featuring John Boccabella and Dave Dowling. Hampered by poor centering, this single only has one PSA 9 example.
"On September 26, that sold for about $1,600 on eBay," shared Merz.
Another elusive card plagued by bad centering is the Giants Rookies (#511), showcasing Bob Barton and Tito Fuentes. Just two PSA 9s exist (no PSA 10s). A PSA NM-MT 8 sold for $147.50 on eBay in February 2008.
"I don't know if any of them exist in really good shape," said Hansen.
The high-number Cardinals Rookies (#544) single, featuring Joe Hoerner, George Kernek and Jimy Williams, is also difficult to find in top form.
"The Number 544 Cardinals Rookies is the key high number," said Wagner. "It usually sells for well over $400 (in PSA 8) and is always difficult to find centered."
Tilt centering and diamond cuts are the most common condition issues with 1966 Topps cards.
"Many cards feature a tilt cut. Some commons are almost always tilted," noted Wagner.
Hansen concurs.
"I don't think there are a lot of nicely centered, good-looking 1966 cards out there," he said.
These tough-to-find cards and the stellar player collection appeal to the relatively small group of 1966 Topps Set Registry enthusiasts.
Yet to enjoy the popularity of its contemporaries, the 1966 Topps set remains an underrated offering that more hobbyists should "say hey" to in the future.
---
Please feel free to contact Kevin Glew at [email protected] if you have any additional information or comments. Frank Merz, Mark Wagner and Mastro Auctions provided pictures for this article. Please note that the Population Report figures quoted are those as of press time.