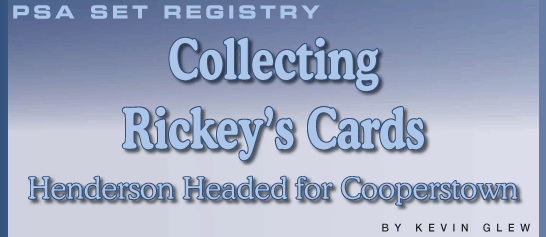 Before Manny was being Manny, Rickey was being Rickey.
Over the course of his 25-year big league career, Rickey Henderson was one of the first athletes to talk about himself in the third person.
One story goes that when the legendary base stealer was seeking a contract with the San Diego Padres, he left a message on the answering machine of GM Kevin Towers that said: "Kevin, this is Rickey. Calling on behalf of Rickey. Rickey wants to play baseball."
Another instance reportedly unfolded while Rickey was with the Pads in 1996. Henderson was looking for a seat on the team bus when a teammate offered him the front seat, explaining to Rickey that he had "tenure." To which Rickey responded, "Ten years? What are you talking about? Rickey got 16, 17 years."
So talented and productive was Rickey, however, that teams overlooked his quirks. After he broke Lou Brock's stolen base record on May 1, 1991, Henderson proclaimed that he was now "the greatest of all-time." While he was roundly criticized for his candor, it's hard to argue that, when it comes to base stealing, he was simply telling the truth.
His 1,406 stolen bases represent one of Major League Baseball's most untouchable records. He also owns records for most stolen bases in a season (130 in 1982), most career runs (2,295) and most leadoff homers (81).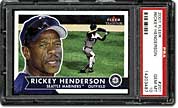 "He's the best leadoff hitter of all-time," said Matt Taylor, owner of the top Henderson Basic Set on the PSA Set Registry.
"When I was younger, I knew that he was not only a Hall of Famer, but I was watching one of the best to ever play the game. It was just a treat to watch him," said David Griffin, now 35 and owner of the Registry's No. 2 Basic Set.
Henderson, soon to be enshrined in Cooperstown, has inspired fans like Griffin to collect his cards. Four Henderson sets – Basic (170 cards), Master (693 cards), Basic Topps (23 cards) and Master Topps (166 cards) – have been created on the PSA Set Registry.
One of the toughest Henderson cards to track down is his 1977 Chong Modesto A's minor league single (#5). Released as part of a 23-card team set, this single showcases Henderson's first name spelled "Ricky." A 1977 team set that included a PSA MINT 9 (OC) Henderson sold for $1,321 in an American Memorabilia auction in September 2007.
Another minor league issue that's tough to find in flawless form is Rickey's 1979 TCMA Ogden A's card (#9). Taylor and Griffin say that this card was produced in smaller quantities than his 1980 Topps rookie. Of the 312 submitted to PSA, there are just five PSA GEM MT 10 examples. A PSA 9 copy fetched $167.50 in an eBay auction in July 2008.
The 1980 Topps rookie (#482) however, is Rickey's most coveted card.
"That's the Holy Grail of the Rickey Henderson collector," said Taylor.
The veteran hobbyist notes that the surface on the rookie makes it difficult to uncover in top condition.
"I think the finish on the card is the flaw. The photo doesn't have a real clear finish," said Taylor.
Norberto Salinas, proud proprietor of the No. 3 Master Henderson set, has witnessed similar issues with the photo.
"Sometimes it's out of focus," he said.
Of the 9,132 graded, there have been just 10 PSA 10s. One PSA 10 sold for $4,263.60 in a Mastro Auction sale in April 2007.
"It's one of those bellwether cards that everyone is looking to collect," said Taylor.
Henderson's 1981 Donruss card (#119) is also evasive in pristine condition.
"That was the first year that Donruss produced cards and they had a lot of issues with the centering," noted Salinas.
Griffin agrees.
"That card has very bad centering," he said "You'll find miscut copies on eBay all the time. Finding a true PSA 9, that's very nicely centered, is tough."
Of the 251 evaluated, there have been 13 PSA 10s. One PSA 10 sold for $153.51 on eBay in September 2008.
Another elusive Henderson is his 1990 Score McDonald's card (#5). B.A. Murry, owner of Bam! Cards in Carbondale, Ill., indicates that the Score McDonald's issue was a 25-card set originally distributed at 11 restaurants in Idaho and Eastern Oregon for a three-week period in 1990.
"The supply of cards is apparently limited to those actually released in this region," he noted. "Because of the soft card stock and blue borders, these cards often will show some flaking or chipping at the edges."
Seven McDonald's Hendersons have been graded and there are two PSA 10s.
His 1991 Donruss Elite single (#7) is also difficult to uncover in top condition. With a production run of 10,000, this card showcases a picture of Henderson, as well as bronze marble borders that are susceptible to chipping. Of the 22 submitted, there has yet to be a PSA 10.
Henderson's 1993 Finest Refractor (#86) is another elusive insert. With a reported print run of just 241, this is arguably Henderson's most high-profile '90s insert. The rainbow tint of the Refractor distinguishes it from Rickey's regular 1993 Finest card. Of the 88 Henderson Refractors graded, 17 have received a PSA 10 grade.
Aside from tracking down these tough-to-find singles, hobbyists say that the largest obstacle to completing the Henderson Basic and Master sets is the volume of cards.
"I think the biggest challenge is the number of cards out there and trying to get them all," said Salinas.
Competition can also be fierce, and it's bound to become more heated as Rickey enters the Hall of Fame.
It has been reported that prior to some games, Henderson could be spotted standing naked in front of a mirror repeating "Rickey's the best!" It was a strange, immodest practice no doubt, but if Henderson was talking about base stealing or scoring runs, who can argue with him? What Rickey says about Rickey is the truth.
---
Please feel free to contact Kevin Glew at [email protected] if you have any additional information or comments. David Griffin provided pictures for this article. Please note that the Population Report figures quoted are those as of press time.
---
Copyright © 2020 PSA – A Division of Collectors Universe. Nasdaq: CLCT. All rights reserved.