Playing second fiddle isn't easy.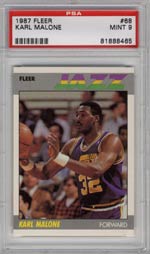 Just ask John Oates. One half of a hugely successful music duo, he's been overshadowed by his taller and more charismatic bandmate, Daryl Hall, for more than 30 years.
What does this have to do with sports cards? Well, the 1986-87 Fleer Basketball set is the Daryl Hall of hoops issues and the 1987-88 Fleer set is the John Oates.
Like Hall, the 1986-87 set – with its who's who of basketball rookies – still commands considerable attention. The 1987-88 offering, on the other hand, remains in the background, out of the limelight.
"The 1986 Fleer is like the big dog and the 1987 doesn't get any acclaim whatsoever," said D'Orsay Bryant, who owns the No. 1, 1987-88 set on the PSA Set Registry.
Released in wax packs, the 1987-88 Fleer issue consists of 132 cards. Each pack also boasts an All-Star sticker that's part of an 11-card insert set. Unlike the 1986-87 issue, this series boasts few rookies. A.C. Green (#42), Ron Harper (#49) Detlef Schrempf (#97) and Otis Thorpe (#109) head the rookie class.
Renowned basketball card dealer, Steve Taft, has heard that fewer 1987-88 cards were printed than 1986-87 cards.
"I can't offer any proof, but that's always been the rumor and/or presumed truth, due to the fact that it seems like there's more 1986-87 Fleer around," he said.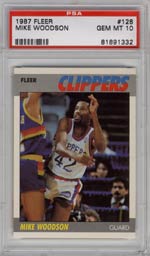 John Nguyen, who owns the Registry's No. 5, 1987-88 set, also subscribes to this theory.
"For every 1987-88 wax box, I probably see at least 10 to 15, 1986-87 (wax boxes)," he said.
Bryant concurs, adding that one of the biggest challenges to completing his set was finding the cards.
"The production levels were so low that the cards, quite frankly, weren't out there," he said.
The volume of cards graded by PSA also supports this theory. As of press time, more than five times as many 1986-87 cards had been graded as 1987-88 cards.
Those that do collect this unheralded issue, however, are drawn to it for a variety of reasons. The size of the set (132 cards) is one attraction.
"They're (basketball issues) shorter sets, so you don't have as many commons, unlike baseball, where even if you're a baseball fan, you can't name half the players," explained Tony Munich, who owns the Registry's No. 6, 1987-88 set.
Barry Call, proud proprietor of the Registry's No. 8 set, agrees.
"It (the size of the 1987-88 set) was small. If you are patient, it's doable," he said.
Cards from the set remain affordable in raw condition.
"The prices are still very low, but I think (there's) a lot of room for growth in the future," said Nguyen.
One reason this set may increase in value is the number of second-year star cards it boasts.
"Most of them are second-year cards, and second-year cards are generally worth a lot in other sports," said Munich.
Nguyen agrees.
"These second-year player cards seem undervalued," he said.
Among the sophomore singles are Charles Barkley (#9), Patrick Ewing (#37), Karl Malone (#68), Hakeem Olajuwon (#80) and Isiah Thomas (#106), but the most valuable is, of course, Michael Jordan (#59). Of the 6,734 Jordans graded, there have been 72 PSA 10s and 1,287 PSA 9s.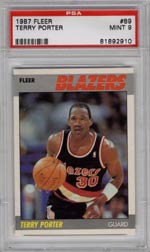 "It's (the Jordan) probably easier to get than a lot of the other cards because everyone sends in Jordan cards to be graded," said Call.
Bryant says the Jordan card inspired him to collect this set.
"I started off with that one (the 1987-88 Jordan) and I thought the card was so elegant – I loved the borders, the printing on it. It was very different from the '86-87 Fleer, but that second-year Jordan card is one of the most elegant really ever produced," he said.
The most difficult star to uncover in high-grade is Larry Bird (#11). Of the 596 graded, there's only been one PSA 10. Nguyen says poor centering and problems with "the registry" of the picture often prevent the Bird from garnering a gem mint grade.
The fact that Bird is card No. 11 may also be a detriment, notes Call. Though a 1987-88 Fleer sheet was not uncovered in research for this article, it's believed that this set was produced in 132-card sheets, with 12 rows of 11 cards across. This would mean that Bird is likely the last card in the first row, making it vulnerable to cutting problems.
Nguyen bought his PSA 10, 1986-87 Bird for $500, but he believes a 1987-88, PSA 10 would likely fetch "double to three times" that price.
Another condition sensitive card is the checklist, the set's last card.
"The checklist was at the end and that was difficult, too," said Call.
Munich concurs.
"A lot of people actually check them off... The first and last card of the set usually have a premium because they're getting handled differently in boxes," he said.
Some relatively common condition issues with these cards include centering problems and print flaws, such as dots or specks on the cards.
"I think there's a lot of issues with centering," said Call.
Nguyen agrees.
"They're hard to find centered, both top to bottom and left to right," he said. "They have a lot of the same printing and focus defects as the '86-87 Fleer set."
These condition issues, combined with the set's "John Oates" status, could mean that there's an opportunity for it to rise in value.
"It's got a lot of the same players from the golden era of basketball – like the '86-87 set, but (it's) very undervalued in my opinion," said Nguyen.
"The 1987 set is really an underappreciated gem," added Bryant.
So with a little recognition, the 1987-88 set can stop playing second fiddle to the 1986-87 set, but that could take some time. After all, it's difficult to come out of the background and into the limelight, just ask John Oates.