Larry Bird lends credence to the adage that good things come in threes.
The Celtics' legendary No. 33 captured three MVP awards and three championships during his 13-year NBA career. He also won the All-Star game's three-point competition three times and averaged just over 33 points per game in college.
In fact, the No. 3 has become so associated with Bird that one fan in Oklahoma City asked for his sentence to be upped to 33 years (from 30 years) after he was convicted of robbery and shooting with the intent to kill in October 2005.
But, perhaps, the greatest compliment paid to No. 33 came from No. 23, Michael Jordan, who deemed Bird the player he'd most like to have taking a shot for his team with the game on the line.
"He (Bird) had a great all-around game," said Larry Brauchie, who owns the No. 1 Bird Master Set on the PSA Registry.
Renowned for his unparalleled work ethic, Bird was a consistent scoring threat and a solid defensive player. More than anything else, however, he's remembered as the top clutch performer of his era. With this type of resume, it's no wonder that so many hobbyists are pursuing his Basic (21 cards) and Master sets (91 cards) on the PSA Registry.
"In the middle '80s, when basketball pretty much ruled, I used to love watching those Celtics games. I still have them all on DVD," said Barry Call, who owns the Registry's No. 3 Larry Bird Basic Set.
"I played basketball in school (1978 to 1982)... right when Bird took flight at Indiana State. My buddies and I loved watching him," explained Dave Wyse, proud proprietor of the No. 2 Bird Basic Set.
Brauchie's appreciation for the all-star Celtic also dates back to his college days.
"I was in college the same time Bird was and we had the same first name. I was going to school in Sioux Falls and he was in Indiana," he said.
Of course, the most coveted Bird card is his 1980-81 Topps rookie. The Boston Hall of Famer is showcased on six cards in the 1980-81 Topps set, but his most sought-after single is the three-panel card that also features Julius Erving and Magic Johnson. The perforations between each panel on this card invite collectors to tear them apart. Separated panels sell for significantly less than cards in their original form. A number of other condition issues also hamper the Bird/Erving/Johnson card.
"There's a print dot on the bottom right-hand corner that I ran across quite a bit when I was looking for my Bird (rookie)... I guess it's just a little speck of ink that came out in a lot of cards," said Fred Moase, who owns the No. 4 Basic and Master sets.
Brauchie has witnessed similar print flaws on this card.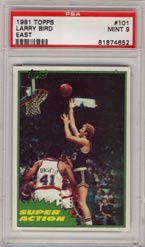 "They exhibit snow and black marks on them," he said, adding that centering and corner problems are also common.
Of the 4,915 Bird/Erving/Johnson cards graded (as of press time), there are just 17 PSA 10s.
"There hasn't been a big influx of that coming in a (PSA) 10... I know there's not enough 10s to go around," said Moase, noting that this card is also coveted by those working on the Dr. J, Magic Johnson and Hall of Fame rookie sets.
Call agrees.
"You can't find those, and if you find one, you don't want to give it up," he said.
Another Bird that's been difficult to track down in high-grade is his 1982 Indiana State card.
"It's (the Indiana State card) a Police/Safety issue, (that was) typically distributed through local police departments," explained renowned basketball card dealer Steve Taft.
Brauchie points out that PSA 8 is the highest grade one of these cards has received. He attributes this card's condition sensitivity to its "soft" stock. Taft adds that the borders also readily show wear.
"(The) powder blue border is susceptible to slight touches on the corners," he said.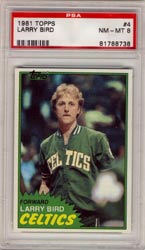 The 1985 Prism/Jewel Bird stickers are also elusive in top condition. Printed on flimsy stock and reportedly distributed in vending machines, the main Bird sticker, as well as a secondary single with Bird and James Worthy, are sometimes miscut or showcase surface scratches.
A PSA 8 example of the main Bird sticker was offered for $200 on eBay in August. So far, only 20 (as of press time) of the main Bird Prism/Jewel stickers have been sent into PSA and just five have been graded as high as PSA 9.
Bird's Panini stickers have also been challenging for collectors to uncover. Bird stickers were produced in 1985 and from 1987 to 1991.
"There's only a few people that have had any and a lot of their supply has dried up," said Brauchie.
Moase has had a similar experience.
"They're Spanish (note: there are also Italian versions) and they weren't even released, for the most part, in this country, so they're difficult to track down," he said.
Bird's 1987-88 Fleer (#11) has also been evasive in gem mint condition. Of the 590 evaluated (as of press time), just one has been deemed a PSA 10. Brauchie says that centering and print defects plague this card.
Another elusive card is Bird's 1990 Upper Deck Prototypes single (#33). Upper Deck spokesperson, Don Williams, says that this card and a Magic Johnson single (#32) were likely disseminated in limited quantities to NBA employees and card distributors to promote their 1991-92 NBA set.
"In 15 years, I've only seen one guy (that guy is Steve Taft) that had those (1990 Upper Deck Prototypes) for sale," said Brauchie.
Taft says he has not seen any major condition issues with these cards.
"Those I've seen are pretty consistent, just a matter of corner wear being (PSA) 7,8, or 9 quality," he said.
The value of these cards has fluctuated over the years.
"These used to go for $1,500 to $3,000 each. Then a few more surfaced and they dropped into the $300 to $500 range ($300 to $400 for Magic and $400 to $500 for Bird). Now, I see them up a bit because they just have not been around (that I've seen the past year or two)," said Taft. "I think I'd say Magic is $400 to $500 and Bird $500 to $600. This would be my thinking for a clean, ungraded example or a PSA 8. In a (PSA) 9 grade, I'd think a premium would be appropriate over these prices."
Eight Bird Upper Deck Prototypes singles have been evaluated by PSA, with the top grade being PSA 9.
Securing these tough singles is the fun and frustrating part of completing the legendary No. 33's Registry sets. More and more collectors seem to be embracing the challenge: A PSA 10 Larry Bird rookie (with Magic Johnson and Dr. J) sold for a whopping $6,433.33 in an August eBay auction. The winning bid proved that for one lucky collector good things do, indeed, come in threes.