"Rarity gives a charm; so early fruits and winter roses are the most prized."
– Marcus Valerius Martial
Martial's words may seem prophetic to hobbyists pursuing the 1951 Topps Major League All-Stars set. Sometimes deemed the most elusive post-World War II issue, this series is one of the hobby's "winter roses."
"It's taken me two years to even find the five or six that I have. It's very, very difficult," said Jeff Bonito, who owns the PSA Registry's No. 3 set.
Eric Pugh, whose set ranks second on the Registry, agrees.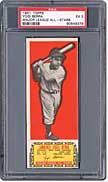 "You just don't find these cards," he said.
An "early fruit" from Topps' first year of baseball cards, this series boasts 11 singles measuring 2-1/16" by 5-1/4" each. Card fronts feature black and white player photos surrounded by perforations on a red background. A yellow plaque highlighting the player's name, personal information and a facsimile autograph adorns the bottom. Further biographical data is featured on the back along with instructions on how to fold the cards to make them stand up.
Though similar to the Connie Mack's All-Stars set, which was produced in the same year and features 11 retired legends, the Major League All-Stars set showcases active players.
"The Major League All-Stars are 10 times harder to find than the Connie Macks," said Pugh.
Bonito concurs.
"If you look for Connie Macks, you can find them any day of the week. They're no problem. They're all over the place," he said.
Details on how the 1951 Topps Major League All-Stars were originally available are sketchy.
"The only way that I've seen these (or the Connie Macks) distributed is in the large 1951 clear-bag fun packs," said Bob Fisk, owner of the Registry's top set.
These packs contain a full set of 1951 Topps Red Backs (52 cards), a game card and five of the all-star cards, explains Fisk.
"You can't tell whether the all-stars are Connie Macks or Major League All-Stars without opening the pack," he conceded, "and I can't convince anyone to break one open so I can see."
Bonito points out that the Major League All-Star cards may have been attached in panels. The detachment tabs on the top and bottom near the corners of the cards seem to support this theory.
The most high-profile player in this set is Yogi Berra.
"The Berra is tough because when someone gets it they tend to hold onto it more than the others," said Bonito.
Other Hall of Famers include Larry Doby, George Kell, Ralph Kiner, Bob Lemon and Phil Rizzuto. It's an impressive list until you consider who was not included. Fisk questions why players like Warren Spahn, Bob Feller, Stan Musial, Jackie Robinson, Ted Williams, Joe DiMaggio and Duke Snider were snubbed. Contractual obligations with Bowman are the most common reason given for these omissions, but some of these legends were included in the Topps Red Backs set issued in the same year.
Another Cooperstowner in this set is Robin Roberts. Along with Jim Konstanty and Eddie Stanky, Roberts is one of the three short print cards that were reportedly not issued with the others.
"My guess is that these (three short print cards) came out the back door of Topps," said Fisk.
Contractual issues are again often cited to explain why these cards have surfaced less than others.
"(The) Popular reason is that they (Roberts, Stanky and Konstanty) were under contract with Bowman (all three appeared in '51 Bowman set). That doesn't make sense to me because Stanky is card #48 in the (Topps) Red Backs set," noted Fisk. "If they were going to pull him from the Major League All-Stars, why wouldn't they pull him from the Red Backs?
"Another thing that doesn't make any sense is why didn't Topps replace the three (short prints) with other all-stars that they had under contract? Why couldn't they use Spahn (featured in Topps Red Backs, #30) instead of Roberts, Feller (Red Backs #22) instead of Konstanty, and Doerr (Topps Blue Backs #37) instead of Stanky?"
Just one graded example each exists of Roberts, Konstanty and Stanky. A PSA 1 Stanky was sold for $18,484 on eBay in 2006.
"Quite a few of the Registry guys made a run at the card. I was the underbidder with a top bid of $18,400. No telling what the winning bidder had as their bid. I was crushed. If I had it to do over again, I would have bid significantly more," said Fisk.
Pugh also bid on the Stanky card.
"They're virtually impossible and when you see one up for auction, it's almost a once in a lifetime opportunity. In looking back, I wish I had bid $35,000 for that (Stanky) card because that's a museum piece," he said.
On top of being rare, these cards are also hampered by a variety of condition issues.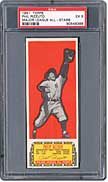 Fisk says these singles are typically found with "severe centering problems" and that the perforations around the photos can be troublesome.
"(The) perforations were fragile causing even those that were carefully handled to spontaneously fall apart," he said.
A number of young baseball fans also obeyed the folding instructions on the back of these cards, thus ruining them for high-grade collectors. Creases are also prevalent.
"A lot of them have a natural crease, a little wrinkle between the player's head and the top of the card. I don't know why that is, but it's extremely common to see a natural wrinkle," said Pugh.
With all of these condition issues, it's not surprising that only one card has been graded as high as a PSA 8; a Phil Rizzuto achieved that lofty status and was sold by Mastro Auctions last September for $10,779.60.
Despite the scarcity of high-grade singles and the costs of obtaining them, Set Registry enthusiasts remain determined to complete this issue.
"Completing the set is like winning the lottery," said Fisk. "You might get one chance in your life to buy a Stanky, Konstanty, and/or Roberts, and if you aren't able to, you might as well tell your grandchildren to keep their eyes open for the next ones."
"The rarity is obviously a huge appeal for me," explained Pugh. "Even a Mickey Mantle rookie, there's hundreds of them. There's only a handful of these Major League All-Stars."
So Martial was right. Rarity has, indeed, charmed these collectors. And if they could track down the Roberts, Konstanty and Stanky cards, they would have their three "winter roses."
---
Please feel free to contact Kevin Glew at [email protected] if you have any additional information or comments. Bob Fisk provided pictures for this article. Please note that the Population Report figures quoted are those as of press time.