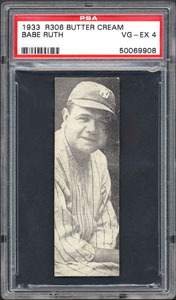 Watchung, New Jersey. The economy may be on the ropes, but economic caution in the high-end baseball card and memorabilia market was nowhere in sight at Robert Edward's record-setting May 3, 2008 auction. The most anticipated baseball card and memorabilia auction in the world always generates great excitement and strong prices, but nothing could have prepared collectors, dealers, and market watchers for the shocking record prices at the spring REA auction, even in the midst of economic uncertainty and softer prices for rare and historic baseball items elsewhere.
The stunning across-the-board record final prices on all nineteenth and early twentieth century baseball cards and memorabilia totaled a staggering $9.07 million dollars across 1670 lots. The 1914 Baltimore News Babe Ruth rookie card in Very Good condition sold for an astounding $517,000, more than twice its previous auction record price, and even more than the auction record price of the T206 Wagner in this same condition. In fact, this is the most any card has ever sold for at auction in the history of the collecting world, outside of the famous Gretzky-McNall T206 Wagner. This auction also featured a T206 Honus Wagner. This iconic card, which is extremely valuable in any grade, was in the lowest grade possible (Poor condition) and sold for an astounding $317,250, by far a world record price. The previous T206 Wagner record for this grade was $192,000 in 2007.
The record prices for the two most valuable baseball cards in the world were just the beginning. "This was the single most successful baseball auction in the history of the collecting world," said REA president Robert Lifson. "We have no control over exactly what comes to the marketplace for auction, so we judge ourselves by the things that are in our control, trying to do a great job in every way possible. But we really had the material this year." Prices at REA are traditionally always very strong, but there was concern that the larger forces of the economy would impact prices, especially for big-ticket items. "Everyone was expecting the market to be softer, especially since prices have been lower elsewhere, but the exact opposite happened. The results speak for themselves."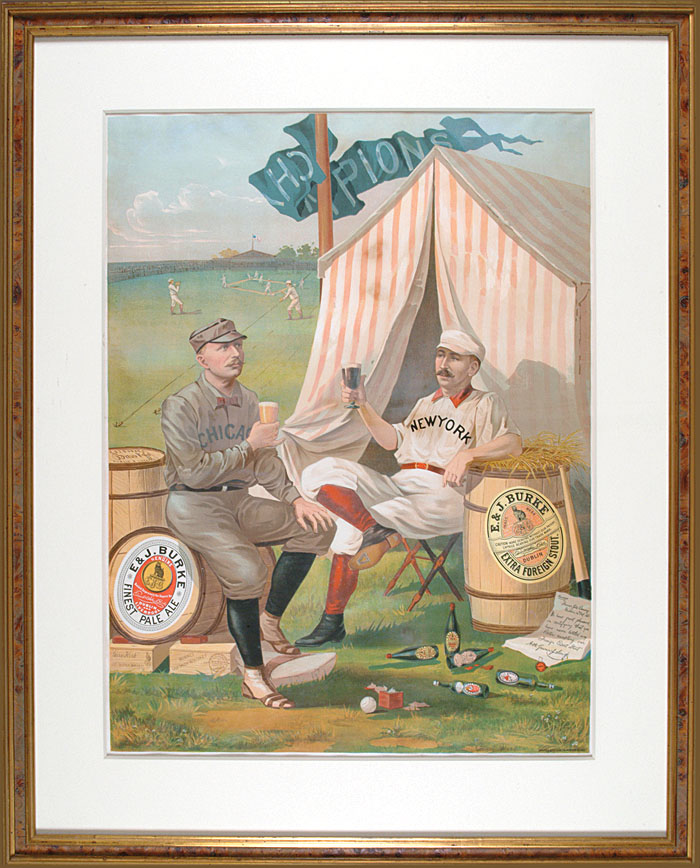 The 1889 "Anson-Ewing Beer Poster," featuring two great nineteenth-century stars endorsing Burke Ale, sold for an astonishing $188,000, setting a record for a baseball-related advertising poster and a record for any American advertising poster featuring a product of any kind. The recently rediscovered 1862 Knickerbockers team photograph, discovered in late 2007 in the former home of Walter Avery (the last surviving Knickerbocker player), sold for $58,750, setting a record for an 1860s baseball photograph. The R306 Butter Cream Confectionary card of Babe Ruth (PSA VG-EX 4), one of card collecting's most legendary rarities, and which was saved in the same family since 1933, joined the elite $100,000+ club, selling for a record $111,625. A complete set of 1909-1911 T206 White Border tobacco cards, all PSA-graded and averaging Excellent condition, sold for $176,250. The Nagy example of the famous T206 Ty Cobb with Ty Cobb back, graded Fair, sold for an incredible record price of $64,625. This very card was purchased at auction by the consignor for $28,970. "He thought he was going to lose a few dollars because of the economy," said REA officials. "Instead it sold for more than double what he paid. That's a pretty big difference for such a major high-profile rarity. This is not an isolated incident. This happened all over the place in the auction."
The total $9.07 million in sales for the auction set a new world record for a multi-owner all-consignment baseball card and memorabilia auction. This total also represents a new world record for any multi-consignor auction in which the auction house, auction house executives, and employees are prohibited from bidding in the auction. In fact, the $9.07 million dollar auction total is also a new record dollar volume ever to be hammered down in a single day in the history of sports collecting, surpassing the previous record of $8.7 million set by REA in 2007. No other sports card or memorabilia auction in the history of the field has ever sold anywhere near this dollar volume in a single day. Even the number of catalogs shipped was a record!
The auction results at REA are widely recognized as providing the most important and respected snapshot of the vintage baseball card and memorabilia marketplace of the entire year. "We work really hard to make everything perfect and the real collectors and most serious buyers really appreciate what we do. The disclosure policies of the REA auction process, our focus on there being no conflicts of interest, the unparalleled confidence that bidders have in REA, all of these factors naturally contribute to strong results and the market's confidence in these results," explains Lifson. "The fact that that REA bidders don't have to worry about shill bidding, and so many other common fraudulent industry practices, and the fact that we are activists against the fraud, crime, and corruption that plague the field, these are all elements that promote bidder confidence. We try to protect our bidders. Our bidders never have to worry about bidding on a fake T206 error card at REA. Our customers never have to worry about the auction house or its employees bidding against them. And our prices are real. That may sound like an unnecessary statement, but in this field it isn't. When we say that a Josh Gibson signed postcard sold for a world-record $81,200, or report any other incredible price, or bid level for bidders to contemplate topping during the auction, the results and bid levels are real, and bidders know this. It makes a big difference. The most serious bidders can and do bid at REA with the ultimate confidence in the integrity of the auction process. It shows in the prices."

That is an understatement. Record prices were set on countless items, both in cards and memorabilia, and spanning all eras. The extraordinary results leave no doubt that every item was sold to the person or institution that was willing to pay the most. The 1670 lots, offered on behalf of 249 different consignors, were won by an incredible 637 different bidders, illustrating the power of the marketing and auction process, and the breadth of bidder interest. Successful bidders included some of the nation's most prestigious museums and corporate institutional collections, as well as representatives from numerous Major League teams. "There was a tremendous amount of institutional bidder interest, maybe more than ever before. Museums were clearly adding to their collections. We obviously had some material that just happened to fit in to some important institutional collections." By any measure this was one of the most carefully assembled, important, and successful baseball card and memorabilia auctions in the history of collecting. "We set record prices across the board" reports Lifson. "All areas of the auction received a tremendous response and very strong prices. Nineteenth-century baseball items were unbelievable, as always, as were all early baseball cards, advertising and display pieces, graded cards, Babe Ruth items, autographs, memorabilia, non-sport cards and artwork."
Thousands of bidders from all over the world participated. Exactly 24,575 bids were placed and more than 99% of the lots sold. The average lot sold for $5,435, more than double the high-end estimate. "Prices were significantly higher than most consignors expected" according to REA president Robert Lifson. "Part of this, of course, is due to having great material, but part of this is also because all of the most serious collectors in the world are comfortable bidding at Robert Edward Auctions. Our Honest-Auto Bid system allows bidders to place limit bids and know that they are the only ones in the world that know their limit. The fact that we are truly an all-consignment auction, maybe the only one in the field, and the fact that we don't allow auction house executives, employees, or the auction house itself to bid, is also very confidence-inspiring to serious bidders. Compared to some companies, Robert Edward Auctions is a small firm. But that's actually part of our strength. We pay attention to details. We do everything better. No matter what criteria you have, we believe that we do the best job in the world for buyers and consignors. Our philosophy has always been very simple: If we do a great job, great things will happen. We don't take any shortcuts in processing collections. Bidders have confidence in our expertise and opinions. We don't own the material so we naturally have more credibility than dealers or auction houses that are also dealers. Our commitment to research and authentication is universally recognized as unparalleled. Our expertise in general is highly valued by bidders in a way that is very rare for an auction house. There are many collectors that only bid with us. It's not an accident. We go out of our way to do a better job. It shows in the prices realized."
Other Highlights:

Nineteenth-century cards and memorabilia were extremely strong, setting record after record, as is always the case at REA. The 1887 Kalamazoo Bats tobacco card of John Ward sold for an astounding $141,000, by far setting a new world record for any nineteenth-century baseball card ever sold at auction. This was one of three newly-discovered 1887 Kalamazoo Bats tobacco cards of New York players consigned by a Cooperstown-area family. The three cards, which the family had thought were worth hundreds of dollars (not thousands), sold for an incredible total of $190,937. The N172 Old Judge Cigarettes card of John Ward, a particularly outstanding example graded MINT 9 by PSA, sold for an incredible $29,375. A small original-owner collection of 57 Old Judges in mixed grade (reserve $2,000, estimate $4,000+) brought a surprisingly strong $23,500.
As is always the case at REA, all Babe Ruth items were red hot. Babe Ruth's 1938 Brooklyn Dodgers cap from his coaching days sold for $70,500; Ruth's bat dating from 1921 sold for $94,000. The 1927 Yankees team-signed ball, naturally signed by Ruth as well as all his teammates, realized $38,187. The Babe Ruth signed sepia Hall of Fame postcard sold for $44,062, a new record price for any signed Hall of Fame postcard for any player ever. Even Babe Ruth's spittoon (reserve $500), a gift to a business associate (apparently as a joke) sold for $14,100!
A few of the many significant card highlights in the auction include: 1952 Topps #311 Mickey Mantle, graded EX/NM, sold for $35,250; 1916 Sporting News card of Babe Ruth Near Mint condition (PSA NM 7), his first card as a Major Leaguer, sold for $44,062. Jim Thorpe from the same 1916 M101-5 Sporting News set, graded NM-MT 8 (OC) by PSA, also sold for $44,062, a world record in any condition for this significant card. A complete set of all six 1911 M110 Sporting Life cabinet cards, offered individually, sold for an incredible total of $133,362, including $41,125 for Ty Cobb, a record price for any M110 Sporting Life cabinet card. The collection of sixty-nine 1903 E107 Breisch-Williams caramel cards, mostly in low-grade, sold for a combined total of $96,643, for an incredible average of $1,400 per card. The 1894 Mayo's Cut Plug set of forty-eight cards, which were also offered individually, sold for a total of $129,308. The 1916 Holmes-To-Homes Bread card of Joe Jackson, purchased just a few months ago by the consignor on eBay for $4,000, sold for a little more: the final price in the REA auction was $32,312.

Complete PSA-graded sets were on fire: The 1914 Cracker Jack set of 144 cards, all graded by PSA, sold for $88,125; the 1934 Goudey Gum near-set (89 of 96 cards), also graded by PSA (average grade 7.12) sold for $64,625; two 1952 Topps sets in mixed grade, each with a reserve of $5,000, sold for $26,437 and $32,312 respectively. The 1954 Topps set (average PSA grade 7.42) sold for $22,325; a 1956 Topps set, with every card graded PSA 8, was hammered down at $38,187; and the 1957 Topps set, also graded PSA 8, sold for a staggering $41,125. Even more recent PSA-graded sets sold for big money: a PSA-graded 1969 Topps Super set (average grade 9.60) sold for $17,625; a PSA-graded 1971 Topps set (average grade 8.10), sold for $29,375; a 1972 Topps set (PSA grade average 8.50) sold at $23,350; and a 1973 Topps set (PSA grade average 8.51) sold for $10,575.

Additional rare card results include: 1915 E145 Cracker Jack #103 Joe Jackson (graded EX-MT 6 by PSA) sold for $26,437 (275% of the $9,500 SMR guide price); Christy Mathewson, also from the classic 1915 Cracker Jack set (graded NM/MT+), sold for $16,450; a 1911 T210 Old Mill Tobacco card of Casey Stengel, graded VG-EX by PSA and featuring the "Ol' Proffessor" as a minor leaguer in his earliest days as a ballplayer, sold for an amazing $41,125, setting a new world-record price for this classic card; 1933 Goudey #144 Babe Ruth in PSA 8 NM-MT condition realized $23,500; and an 1887 Kalamazoo Bats New York Mets player card in Excellent condition sold for $26,437. A collection of ten Voskamps Coffee cards featuring 1913 Pittsburg Pirates players, saved in the same family since the year of issue, sold for $44,062, including $17,625 for Honus Wagner graded VG; the E90-1 American Caramel company card of Joe Jackson in Good condition sold at $16,450, and a second example that was trimmed but had an impressive Nr/Mt appearance sold for $20,000. An original-owner shoebox collection of 722 1949 Bowman baseball cards, an unusual year for such a large group of Bowman bubble-gum cards, did not escape notice: the final price for the lot was $26,437. An original-owner collection of thirty-six rare 1910 Clement Brothers Bread cards, consigned directly from a family that has saved them since 1910, sold for $57,868, including $11,750 for the highlight card of Hall of Fame pitching star Addie Joss.
As strong as cards were, a case can be made that memorabilia was even stronger:

Stan Musial's 1953 Cardinals jersey sold for $44,062; a 1939 letter written by Lou Gehrig discussing his illness, with a reserve of $10,000, sold for $41,125, a record for a Gehrig letter; Wilcy Moore's 1927 Yankees uniform sold for an incredible $64,625; Josh Gibson's 1932 Homestead Grays player contract with a reserve of $5,000 sold for $32,312; an extraordinary newly-discovered panoramic photograph of the American Negro Giants including the legendary Rube Foster was offered with a reserve of $5,000 and was hammered down for $35,250. A 1972 Hank Aaron jersey graded A9 by MEARS sold for $29,375. Ken Boyer's rookie 1955 St. Louis Cardinals uniform (graded A10 by MEARS) sold for $22,325, a record for a 1950s non-Hall of Famer flannel. A 1919 World Series program at Chicago, for Game One of the infamous "Black Sox" scandal, with a reserve of $2,000 sold for $17,625. Early World Series press pins, which have long been depressed in price, sprang to life, selling extremely strongly, including a record $15,275 for a 1915 Phillies press pin.
The auction also included an impressive selection of select items from other sports, Americana, nonsport cards, and original card artwork, all of which sold extremely strong, including: A Michael Jordan rookie jersey graded A10 by MEARS sold for $50,000; a 1959 Jim Taylor jersey Green Bay Packers jersey sold for $22,325, and a 1962-1965 Jim Brown Cleveland Browns jersey realized an extraordinary record $70,500.
Many other auction records were shattered for pre-1948 baseball cards, nineteenth-century baseball cards and memorabilia, non-sport cards, and Americana. Further information and complete auction results are available online at www.RobertEdwardAuctions.com
Copies of the 724-page full-color premium catalog are also still available free. Go to www.RobertEdwardAuctions.com, click "Free Catalog," and fill in name and address. Robert Edward Auctions is currently assembling its next sale. For further information contact: Robert Edward Auctions, PO Box 7256, Watchung, NJ or call (908)-226-9900.