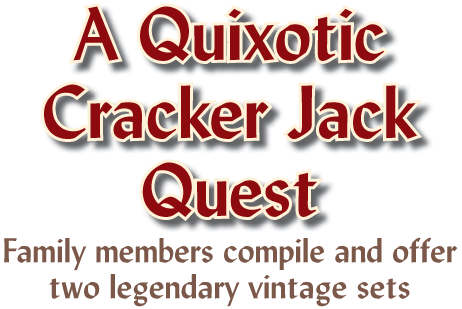 If you were to travel from coast-to-coast asking sportscard dealers and collectors what particular cards they believe to be the most iconic to any specific sport, chances are good that the majority would be in agreement that the Cracker Jack cards are the ones most associated with America's Pastime.
These same collectors and dealers would probably also agree that the quest to amass a set of Cracker Jack cards is a challenging endeavor that could only be described as being Quixotic. In 2006, that challenge was taken on by a Seattle businessman, Gary Dent, and his son-in-law, Brian Kappel, who have gone on to compile a full complement of the 1914 and 1915 Cracker Jack issues. And, after completing the two sets, Dent and Kappel made the decision to offer the iconic cards for sale in a spring 2008 auction that will be conducted by Robert Edward Auctions.
THE HISTORY OF CANDY COATED POPCORN, PEANUTS AND A PRIZE
Within the world of confectioners, it is widely accepted that it was the candy making brothers, Louis and F.W. Rueckheim, who first offered a concoction of molasses covered peanuts and popcorn in 1893 at Chicago's first World's Fair billed as the World's Columbian Exposition. Having received a favorable response to their product by fairgoers, Louis spent the following three years perfecting the recipe and trying to figure out a way from keeping the candy-coated popcorn from sticking together. In 1896, Louis provided a sample of their product to a salesman who proclaimed the snack to be "crackerjack!" F.W. thought the adjective was appropriate and had the name "Cracker Jack" trademarked.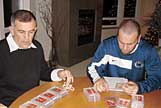 Over the following two decades, Cracker Jack became a staple at local drug stores and ball games. They were indelibly ingrained into American popular culture in 1908 when the third line of Jack Norworth's song "Take Me Out to the Ball Game" asked for "some peanuts and Cracker Jack."
CRACKER JACK TEAMS UP WITH AMERICA'S PASTIME
While Americans had become enamored with Cracker Jack's taste, in 1912 the sweet treat offered up more than just a good munch by offering "A Prize in Every Box." Two years later, in 1914, Cracker Jack teamed up with Major League Baseball to become one of the first non-tobacco companies to offer baseball cards with their product.
The first series of Cracker Jack cards were a 144-card set that was only available from within the boxes of Cracker Jack. The following year, the company expanded the way in which fans could collect their cards by making them available by mailing in coupons or a quarter. Considered to be one of the most aesthetically appealing of vintage cards, the early Cracker Jack cards were printed in color and featured players against a bright red background. Today, these cards are considered to be some of the most sought-after of vintage cards. And while the 1915 set can be amassed if one is willing to shell out the finances, the 1914 set is extremely difficult to complete even when money is not an object.
The 1914 Cracker Jack cards are not just difficult to find in high-grades, they are tough finds in any condition. The 1915 Cracker Jack cards were available through a redemption offering and could also be purchased outright along with an album from the manufacturer. That fact, along with a substantial modern day find, have made the 1915 set a bit easier to come by in both condition and price. That is not the case with the 1914 cards. The only way to come by those cards was to pull them out of a box of Cracker Jack. When you factor in that these cards were printed on a lower quality, thinner paper than the 1915 issue, and that they were exposed directly to the candy which caused staining, you can begin to see why they are so very difficult to come by, not just in high grades, but at all.
1914 AND 1915 CRACKER JACK SETS TO HIT THE BLOCK
In a move that is certain to generate serious interest of baseball card collectors, Dent and Kappel have decided to part with the two complete PSA graded sets they have worked so hard to compile. Robert Lifson, the president of Robert Edward Auctions who will be representing the sale of the sets in their April 2008 auction, says this is a significant offering of two incredible sets. "The 1914 and 1915 Cracker Jack cards are everything a vintage card should be and they are one of the offerings in the history of card manufacturing that falls into the top tier of the most classic cards of all time," said Lifson. "Putting sets like these together is something that just doesn't happen in the hobby. Granted, the 1915 set comes up from time-to-time, but that's not true of the 1914 set."
Lifson went on to point out that while the 1915 set does become available at times, this set is one that will be a very special offering. "The great thing about this particular set is that they have put together one that is in relatively good condition," said Lifson. "They are not fresh out of the factory, but in some cases fresh out of the pack, with a stain or two, and perhaps a trip around the playground with some of them. And when it comes to their 1914 set, this is significant, first because it is such a difficult set to compile and, secondly, because it is in a relatively high grade for a set that is this difficult."
THE MEN BEHIND THE AMASSMENT
So, just who are these two men who have successfully taken on the challenge of amassing one of the toughest sets in the hobby? One, is a lifelong collector who grew up with a passion for sportscards and was working at a card shop before he was in high school. The other, had very little if any interest in sports as a child and never collected much of anything till he was an adult.
Gary Dent was born and raised in Oregon. As a kid, he didn't have much of an interest in sports and never gave a thought to collectible cards. For over two decades, he worked for the Tandy Corporation as a regional sales manager for the Radio Shack Division and for the last 15 years has worked as a commercial real estate broker. His son-in-law, Brian Kappel, was raised in upstate New York. Brian, unlike Gary, was born with the collecting gene being as that his parents bought, sold and collected all sorts of antiques. A collector of baseball cards and "Star Wars" memorabilia from the time he was very young, Brian attended and graduated from Penn State and went on to be hired as a designer for Nike where he met Gary's daughter, Michele, who was also working for the company. Brian subsequently moved to Oregon, married Michele, and now works as a designer for Gallagher Designs in Portland.
While these two men could not have been further apart when it came to collecting, Gary, the consummate businessman, was always on the lookout for a sound investment, while Brian's enthusiasm for the hobby was contagious.
Gary is quick to admit that he never collected baseball cards as a kid. "There were no professional teams in the Northwest and my dad wasn't a big sports fan, so I never really got into sports or collecting cards," said Gary. "In fact, I didn't really collect anything. I wasn't a collector type. As a kid, I was into things like "Gunsmoke" and "Have Gun Will Travel."

That all changed when Brian came into his life. "Brian was from upstate New York and was a hardcore, love-em-no-matter-what New York Yankees fan," Gary explained. "He started collecting baseball cards when he was 10-years old and, when he was very young, he and his buddy started a baseball card shop. So, when my daughter and Brian got married, he was the one who got me involved in sports and baseball cards. Then about a year ago or so, he came to me and brought up the subject of putting a card set together as an investment. I was kind of intrigued and asked him what he thought would be the most challenging set to assemble and he said that he thought it would be the 1914 Cracker Jack set. So I thought it sounded like fun. That's how I got started in card collecting and how Brian became my partner in crime in putting together these Cracker Jack sets."
Brian, who says that collecting cards is something he has done all of his life, clearly remembers the first pack of baseball cards his mom ever bought him. "From that moment on, I was hooked," he laughs. "After I married Michele, and started to spend time with Gary, we began to talk about my card collection and I was telling him what a great investment they can be. So, as a self-made businessman who is always looking for a good investment, he started asking more questions and we started kicking around the idea of getting more seriously into baseball cards. He asked me what I thought was a good set to get into and I told him I thought the Cracker Jack cards would be the best."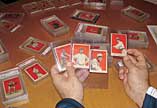 Brian says that he believes that putting these sets together has done much to strengthen the relationship between him and his father-in-law. "We have definitely become closer by doing this," says Brian. "We are in constant dialogue, like any partners would be. It's a back-and-forth thing – sharing our thoughts and ideas and a fusing of his knowledge from a business standpoint and my knowledge from a baseball card point of view."
Gary admits that he was not really aware of what the financial layout would be to compile sets like the 1914 and 1915 Cracker Jack cards, but went on to say that as with any other hobby, the more you get into it and learn about it, the more it gets into your blood and the less you think about the money. "You also have to remember, when you get into something like, this you aren't spending money all at one time," Gary explained. "You spend it in chunks as you go along. So it really isn't that horrifying until you are well into it and you sit down and start adding up what you have spent. But that said, I can tell you that the fun factor overshadows the money part of it. Brian was doing this purely out of his love for baseball and cards while I did it as someone who had somewhat of an interest in baseball and from an investment approach that then graduated into a love for collecting cards."

Brian said he was not surprised at all that Gary became enamored with cards once they began their collection. "While Gary never collected cards as a kid, I think that for anyone who has the propensity to enjoy what collecting brings, the collecting of cards grabs you and brings you in no matter what your age is. When you get involved, you experience that same euphoria that we who collected cards as kids did when we opened packs and got a card we were looking for."
Gary said that at one time he did collect some old Paladin western stuff. "But to be honest, I only did that to get even with my younger brother who had gotten a head holster when we were little boys and I was always envious of that," he said with a laugh. "Other than that, I have never really been the collector type. So for me to now become a collector is all because of Brian who really worked to keep me focused! Then, the more I learned, the more I got into it, and the more excited I got about it."

Gary went on to say that while he may have come to card collecting late in life, he is now as passionate about it as if he had been involved for years. "The thing that is truly amazing about collecting cards is that after you get going, it becomes a numbers game," said Gary. "You first start thinking I have 84 to go, then 75 to go and as you hit those milestones it becomes more and more exciting. Like when we finally got the Christy Mathewson card. I started to think that we own this little piece of American history and you really begin to have a love for it. So, while I first got into this, from an investment standpoint, I have come to a point where I am beginning to understand what Brian has said all along, that we are going to have a tough time letting go of our little piece of American history. It really is interesting to see how it evolves from an investment, to the excitement of playing the numbers game, to becoming something you fall in love with."
While Brian began this endeavor as the more sentimental of the two, he is approaching their decision to sell the collection with pure pragmatism. "For me, these Cracker Jack cards have always been something special. To me, they are the seventh inning stretch – they are "Take Me Out to The Ballgame" – they are the beginning of "Field of Dreams," they are really a part of the iconography of baseball. At the end of the day, this has been a lot of fun. To put a set like this together was euphoric. It was a great experience. We started this collection with two Cracker Jack cards I had received as a kid. Having worked in a card shop, I was always more into the vintage cards and was always trading out my new cards for older cards. We really began this endeavor with my two cards. So, while I am excited to see those cards become a part of such an important set, there is also a bit of melancholy on my part to see those two cards go. That said, I think there is also a part of me that enjoys the satisfaction of completing the set and now moving on to what may be next. I would say there is about five percent of me that is sad to see the sets go and ninety-five percent of me has the feeling of satisfaction and accomplishment that we were able to do it. With the 1914 set, we knew that the common cards would be the most difficult to find so we held off on purchasing some of the big dogs till we had the smaller harder to find cards. When it comes to the big cards, the Mathewson was by all means a big deal for us. Gary and I were both surprised to be able to get that card for the price we got it for. I think, to be honest, we were both a little shell shocked and astonished when we actually got that card that we had targeted."

Brian was also pragmatic in his decision to have each of their cards graded by PSA. "Our decision to go with PSA was based on that fact that I have always had great appreciation for what they have brought to the hobby," said Brian. "When a card is graded by PSA, you don't have some dealer claiming that a card is mint. You know for a fact that you have one because there is actually a standard. I also think that PSA's Population Report has been vital to our building of these sets. Just knowing that there have only been say seven of a specific card ever graded by PSA makes you feel better about spending a little bit more to get the card because you know the chances are not great that you will be able to get one. Once we hit the twenty-five percent mark, the PSA Web site really became a valuable tool for us. That was when we realized what a valuable resource the PSA Population Report is. When you realize that there are only three Del Pratt cards in the population you dig in and say OK we really have to focus on a Pratt if we are going to put this set together. When you start crunching the numbers, you get a pretty clear understanding of what cards you have to target and what you are going to have to spend."
GARY'S COLLECTION REFLECTION
As Gary and Brian prepared the sets for sale, the cards themselves traveled from their owner's possession, to the PSA vaults, and then on to the auction house. As the duo now prepares to part with the sets, Gary said he was in total agreement with Brian's feelings that, while there may be a bit of sadness in parting with the cards, the thing he loved the best was putting the collection together. "I think that while there is a huge satisfaction in being able to say that you own such a prestigious collection of cards, I would have to say that, as I look back, it was the hunt and the challenge which was certainly the biggest part of the enjoyment. And now, with the completion of this set, we are definitely looking forward to what our next set will be."
Gary also shared some of his other personal thoughts and reflections about the collection with "Sports Market Report."
Sports Market Report: Be honest Gary, is the excitement really just in the hunt? Isn't there excitement in owning the set?
Gary Dent: (Laughs) There is excitement in both. The excitement of getting each new card is of course a great part of the fun of compiling sets like these. But I was recently sitting at my desk and there was a Miller Huggins card sitting in front of me. I was just looking at it and there he was, sitting there looking back at me relaxed with this red brim on his baseball cap. You look at that card and you can't help but to think that each one of these cards is a unique piece of art by themselves. And then you start to think, this guy was born six years after the end of the Civil War. That kind of blows you away when you think that you own this card that is almost 100 years old. It amazes you. In this crazy business world it is nice to be able to have a great hobby that gives you the opportunity to hold 100 year old cards in your hands – to own a unique piece of American history that most people will never even have the chance to see much less to own.
SMR: As someone who got into the collecting of cards much later than most, was your wife understanding when she became aware of the financial commitment it would take to compile these sets?
GD: My wife was very excited about the whole thing. She was especially excited with our acquisition of the Christy Mathewson card. Between Brian and myself we were able to convince her that he price we paid for it was a great one and that we were very fortunate to have obtained it for what we did. She's been a real trooper and has supported us all the way through this challenge.
SMR: Did you and Brian approach this collection with the desire to keep within a certain grade level.
GD: As far as grading goes, we grew into it. We decided we were going to simply take a look at what was available with each card in the two sets and then as a two-fold approach we took into consideration that many of these cards were going to be so hard to get that we didn't want to be too finicky about grades. We decided to start out by buying what was available to complete a set and then continually assess where we were and, if at any time we didn't like the condition of a card we had, we would focus on trying to upgrade it and then sell the lesser grade card. That was really our approach through the whole thing.
SMR: Do you have an idea as to what the collection may be valued at?
GD: As far as the value of the collection, I've had a lot of talks with Robert Lifson, the president of Robert Edward Auctions. He's a great guy who is incredibly knowledgeable, and from what I have learned from him is what is almost romantic about these cards – no one really knows what they are worth. I have talked to collectors and dealers all over the United States, people who know everything there is to know about these cards and this hobby, and nobody really knows what a set like this will bring at auction. So I'm not being coy when I say that I didn't know what the collection is worth or what it may bring. I, and seemingly no one else, really know.
SMR: Do you have any favorites in the collection?
GD: As far as favorites cards, yes, I do have a few favorites. I really like the Del Pratt card, and while no one knows who Del Pratt was, that is the reason he intrigues me. Everyone talks about the Ty Cobb and Christy Mathewson cards as the really cool ones to get, but the Del Pratt card is the hardest to get. PSA has only graded three of them. I was told when we first started to put this collection together that when and if we could get the Del Pratt card that would put us into the major leagues. The odds of us getting that card were as close to zero as you can get. When we got that card it was such a major sense of accomplishment because we always knew we could get the Ty Cobb and Christy Mathewson and Joe Jackson cards – getting those cards was just a matter of money. But getting the Pratt card was THE challenge. So when we got that card, we really had the feeling of huge accomplishment. Besides that, the Christy Mathewson card is obviously very special. You can't get a card like that and not feel very, very good about it. Another one is the Grover Alexander card. The reason for that is kind of a personal one – he played for the old Portland League, so that's one that kind of hits a tender spot for me.
SMR: During this process you have met and dealt with numerous dealers and collectors. What was that like?
GD: What is extremely interesting to me, as a person who has come to this hobby later than most, is that I can't even begin to tell you how many people I have talked to about Cracker Jack cards and every single one I have contacted has been helpful. It's a great part of the hobby, getting to know so many different people and appreciating their help. In my opinion, I find card collecting to be a very friendly and helpful society of collectors. I look at some of these guys who are on such a bigger scale than me, collecting multiple sets at the same time, and I wonder if that is where I will be in the future.
SMR: How important was it that this collection be fully graded by PSA?
GD: I think that PSA makes the card better simply by their name being associated with it. Brian and I had decided right at the beginning of this endeavor that when we got close to completing the set, we would have each one of the cards graded by PSA. We felt that by offering this as a PSA graded set it would give our hard work, and the cards themselves, more integrity than if we went with someone else. That was a very strong feeling from both of us right from the start.
SMR: Gary, you said you weren't ever much of a sports fan. Has putting this collection together changed that?
GD: (Laughs) While I was never a sports or baseball fan growing up, what this endeavor has done is it has gotten me very excited about being a New York Yankee fan. As a kid, even though I wasn't a baseball fan, I, of course, knew about Mickey Mantle and the other very famous players. But, I have become a big baseball fan and putting these sets together was by all means the catalyst for that.
SMR: And so what's next for you?
GD: We have thought about putting together a T206 set and there are also a few other sets that I think would be fun to get into, but really, we have been so deeply focused on the 1914 and '15 Cracker Jack cards that we really haven't given much thought to what we will do next.
SMR: Do you have any other thoughts you would like to share with our readers on having compiled these legendary sets?
GD: As far as my feelings about these cards, and card collecting in general – for all of those people out there who are finding themselves in a situation in which they are not getting along with a brother, or father, or a son-in-law, Brian and I have always had a great relationship, but when you get involved with something like what we have, it becomes a real partnership. You start communicating about this third-party thing that you both fall in love with. So for me, I will always have a love for these Cracker Jack cards because by engaging in the process of putting the sets together, they brought me and Brian even closer together. For me, this has become so much more than putting together a set of cards. It became a situation in which two friends were working together and forming a closer relationship. That is the part of this that has meant the most to me.