The Internet is an amazing resource – a wealth of information, on any subject, available at our fingertips 24-hours a day. What did we ever do prior to the information highway? For purposes of authentication, the various photographic images and film footage available from MLB.com have proven to be a tremendous help in identifying equipment used by Major League players. Collectors are utilizing these resources to familiarize themselves with the player's equipment as they scour the Internet for purchases and auction opportunities.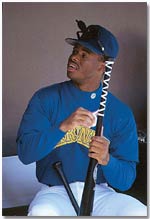 There is no question that these Web sites offer valuable photographic imagery detailing player's game-used equipment, and for the purposes of this column, game-used bats in particular. But several collectors refuse to accept the authenticity of a game-used bat unless they can locate a corresponding on line photo. This month's column will look at the pros and cons of authenticating with available photographic imagery.
We'll start with the pros. What is better than a photo match? In our minds it's the best source of authentication available. Not a match of a model, but an actual photo match of the bat in question. You can't ask for more. All questions are removed when a player is seen at the plate or on deck with the bat being offered.
Photographs also convey, with clarity, player characteristics. Label up or down grip, pine tar location, taped handles and knobs, player numbers on the knob, and the type of bat, are all clearly identifiable in photographs. No question, photos tell the story.
The cons of relying on the available photographic resources are that the actual number of plate appearances captured by photographers during any given season is relatively few. Taking into consideration that a majority of Major League starting players go to bat somewhere between 550 and 650 times per year and you can begin to understand that photos do not exist of each one of those trips to the plate.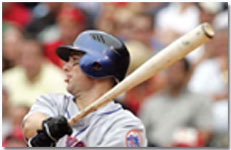 As an example, we took a look at the available photos on one of the most popular Web sites offering photo imagery for the New York Mets All Star third baseman David Wright. We researched the 2005 and 2006 season and put together the following information.
In 2005, Wright made 647 plate appearances consisting of 575 at bats plus 72 walks. Photos available on the Web's most popular site for photographs that covered games between April 3 and August 28, offered photos of roughly 129 games or 516 of Wright's 647 plate appearances. When viewing the photographs, we can identify only 29 different plate appearances. That represents just 5.62% of Wright's total plate appearances during the time period.
The 2006 season saw the Mets advance to the NLCS before being eliminated by the St. Louis Cardinals. The extended season enabled Wright to amass 690 plate appearances. For 2006, we found 80 different plate appearances represented in photos taken of Wright from April 3 to October 19. The 80 at bats account for 11.6% of Wright's total plate appearances during the season.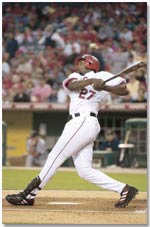 What do these percentages convey? In our opinion, available photography on the Internet gives the viewer a good idea of bats the player has used as well as the player's use characteristics. But, by no means does it eliminate models that are not pictured. The percentage of at bats is simply too small to draw concrete conclusions. We can understand a collector's preference for a bat by which the model can be identified in a photograph. But lacking a photo the model should not be overlooked, especially if it contains identifiable player use characteristics. A perfect example is a player like Vladimir Guerrero. Here's an instance where a player sometimes uses a different bat in each plate appearance during a game. Guerrero has used so many different models even we can't keep tract – Louisville Slugger, Glomar, Rawlings, SAM, X, Rt.66, and the list goes on. We haven't looked, but it's quite possible the camera lens has missed one or more models used by Guerrero. But all used Guerrero bats share the same characteristics, namely, heavy pine tar, ball marks on all sides of the barrel, and his number "27" on the knob.
I think you'll agree that available Internet photography should be viewed as an additional step in the authentication process, but not the only one. While a valuable asset, it can also mislead the collector and cause acquisition opportunities to be missed. Player characteristics, as we have indicated in several prior articles, should always receive the strongest consideration in determining a bats use by the player.