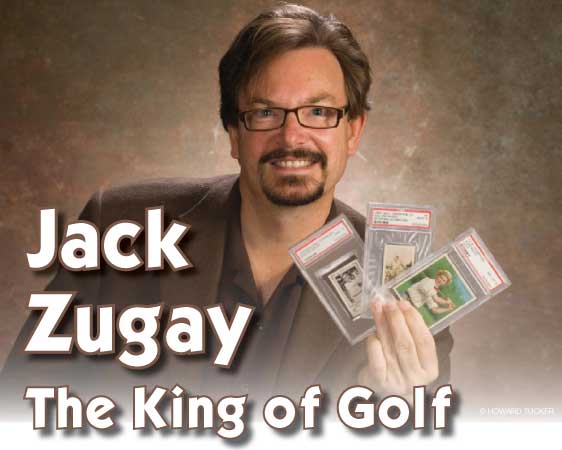 In the realm of collecting, few things offer as much diversity as the hobby of amassing collectible cards. While sportscards, especially baseball offerings, are the most popular, football, basketball, hockey, boxing and NASCAR cards also have great appeal with collectors. For those whose interests lie outside the sports arena, there is a plethora of choices that range from political to Pokémon. Whether one is attracted to, The Lord of the Rings, Star Trek, Harry Potter, the Transformers, The Beatles, Disney, Garbage Pail Kids, The Partridge Family, Batman, The Beverly Hillbillies, or any other person, place or thing that has crept into the consciousness of popular culture, there has most likely been a collectable card created to pay homage to the genre, and to be collected by the collector.
Within the world of sportscard collecting, there is one genre, up until this past decade, that has been largely overlooked by most collectors – golf cards. While hardcore golf card enthusiasts are aware that there are key golf cards in the 1932 U.S. Caramel and the 1933 Goudey Sport Kings sets, most card collectors are probably surprised to learn that golf cards were even being produced by major manufacturers before that.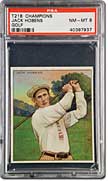 While the Twentieth Century certainly produced its share of legendary golfers, it was only the names of Arnold Palmer, Jack Nicklaus, Ben Hogan and Bobby Jones that were somewhat recognizable by those outside of the golf world. That changed in the late 1990s with the professional arrival of Tiger Woods. Like Babe Ruth or Muhammad Ali, Tiger transcended his sport. There was no need to know a putter from a pitching iron to recognize his name and know why he was famous. Still, despite the coming of Tiger, the popularity of collecting golf cards has continued to be dwarfed by that of baseball, football, basketball, boxing, and just about any other sport with the exception of tennis.
Ask most sportscard collectors how many golf cards they own and with the exception of those who have stashed away a Tiger offering or two, most will give you a blank look. That however is not the case with Jack Zugay, who Joe Orlando, the president of PSA and PSA/DNA and the editor of Sports Market Report, calls "The King of Golf cards."
A dedicated and distinguished golf card collector, Zugay grew up near Pittsburgh, Pennsylvania. An avid Steelers, Penguins and Pirates fan from the time he was a youngster, his passion for card collecting began with the baseball cards of the early 1960s. "Roberto Clemente was my favorite," Zugay recalls. "Once, during a pregame fielding practice at Forbes Field, my younger brother and I waited for Clemente to come back to the dugout down the right field line knowing that he often signed autographs if he had time. He noticed my brother holding out his baseball glove and singled him out asking him if he would be using the glove after he signed it. Of course my brother said he wouldn't. However, not even a week went by before we did use the glove to play catch in the backyard being as that it was the only one we had between us. We have often thought about that glove and wondered how much it would be worth today."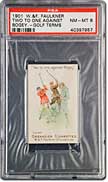 Zugay attended Center Area High School in Monaca, Pennsylvania where he played on the school's basketball and golf teams. Graduating in 1972, he went on to earn a Bachelor of Science degree in Accounting from Indiana University of Pennsylvania. "I then completed my MBA from the same university in 1977. I became a Certified Public Accountant in 1980 and a Certified Financial Planner in 1989."
In 1978, Zugay left Pennsylvania for Cleveland, Ohio where he was hired by Wathall & Drake, a small public accounting firm. "Two years later, I continued my career with International Management Group, the world's largest sports marketing firm," said Zugay." At IMG, I was the treasurer and CFO responsible for running the financial operations of the Arnold Palmer family office. I oversaw the reporting and managing duties of financial statements, tax preparation, investments, real estate, risk management, and financial planning for the Palmer family." Continuing his service with IMG until 2006, Zugay again made a career move when he was offered a position with KeyBank's Wealth Management. Serving as the company's vice president, he was put in charge of financial planning for their ultra high net worth clients that had been defined as those with a personal net worth in excess of $10 million dollars.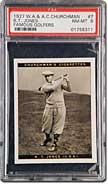 Today, along with his demanding career, Zugay still has a feverish passion for playing golf and collecting golf cards. He is a self described "divorced empty-nester" whose two children are currently attending college. "Max, my oldest, is a junior at the University of Akron, and my younger son, Jack, is a freshman at Miami University," said Zugay. "Both have aspirations of entering law school upon graduation. As for me, my personal life now consists of spending time with my girlfriend, Carolyn."
Sports Market Report recently coaxed The King of Golf away from Carolyn to spend a little time with us. We asked him about how he first got interested in golf cards and what he thinks the future holds for the genre.
SMR: What was the genesis of the collecting bug for you?
JZ: I think I was born with the collecting bug, but it was spurred on by my Uncle's collection of coins. I still dabble a bit with coins, but my passion is collecting golf cards.
SMR: What is it that you specifically collect?
JZ: Mostly vintage golf cards from 1900 up through the pre-World War II era.
SMR: What was it that attracted you to these cards?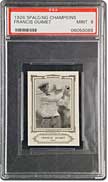 JZ: Initially, my attraction was a combination of the relative scarcity of the cards from that era, and the fact that numerous "name" stars were included in those offerings such as Bobby Jones, Walter Hagen, Gene Sarazen, Tommy Armour, Harry Vardon, Francia Ouimet, Joyce Wethered, Glenna Collett, and others. I have always been a big fan of golf history and the evolution of the game. I also have great appreciation for how difficult it is to master. Another thing that has always attracted me to golf is the integrity of the game. Did you know that Bobby Jones once penalized himself one stroke in a United States Open for seeing his ball move after he addressed it and then went on to lose the tournament by one stroke? When later asked why he penalized himself when no one else saw the ball move, Jones replied: "Because I did."
SMR: As an authority on golf cards, where do you see their place in today's world of sportcard and memorabilia collecting?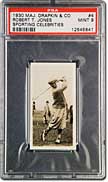 JZ: Collecting golf cards is still in its infancy. Although the game of golf itself is the number one participant sport in America, very few collectors are even aware that golf cards were issued over 100 years ago and that they still exist today for those willing to look. It remains a mystery to me why collectors have been so slow in seeing the value that exists in this area of sportscard collecting. The prices of rare golf issues have been steadily climbing thanks to Sports Market Report and PSA. I can remember attending the National Sports Card Show a while back and having difficulty finding anyone who even knew anything about golf cards. That has changed dramatically and I believe that change is credited to PSA grading, the SMR price guide, and also to the Internet. It has become my goal to help educate those in the sportscard collecting hobby so that they can become more aware that golf cards offer some of today's best values, and that they are also readily obtainable.
SMR: You mentioned the steady increase in value of rare golf cards. Can you give us an example of some of the cards you put in this category?
JZ: Some of the more difficult and rare golf issues include the 1901 W. F. Faulkner Golf Terms, the 1901 Ogden's Guinea Gold series, the 1914 Marsuma Famous Golfers & Their Strokes set, the 1927/1928 Churchman Famous Golfers Series of Twelve Sets (Large variety), the 1928 Millhoff Famous Golfers Set, and the 1931 Churchman Prominent Golfers Set (Large variety). There are also many odd issues of golf cards that were included in various other sports sets throughout the 1920s and '30s. These would include issues from the United States like the 1926 Spalding Champions set, the T218 Mecca Champions, the 1933 Sport Kings, and the 1932 U.S. Caramel series. Early Bobby Jones cards are also very rare and desirable. However, bar none, the rarest of all the Bobby Jones' cards is his 1932 offering from the German issue Abdulla & Co. What makes this card so valuable is that it had an extremely limited production. No one knows for sure how many were made, but the scarcity of this card is very well known amongst golf card collectors. The second reason this card is so rare is due to the fact that most of them were made to be glued into an album within a collection of other sports stars including Babe Ruth. One can be sure that is why only a single PSA 8 example, with none higher, has ever been graded.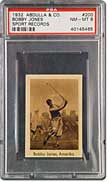 SMR: How large is your personal collection?
JZ: My collection consists of well over 500 cards. I have been fortunate to meet and exchange cards with several other collectors throughout the world. I owe a great deal of my rare cards to those I acquired from fellow golf collector Richard Quiring. I would also be remiss not to mention some of my English suppliers and contacts such a Lee Graves, Shaun Galsworthy, Alan France and many others. Here in the United States, I find numerous cards through other valuable contacts such as Dave Schrader of Bagger's Sportscards and Dave Johnson, a private collector in Nebraska.
SMR: What are some of your favorite cards?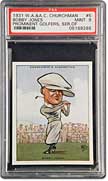 JZ: I like the cards of players such as Bobby Jones – golfers from the golden era of sports – the Roaring Twenties.
SMR: Jack, we're going to ask you to take out your crystal ball and tell us what you think may be hot in this genre over the next three to five years?
JZ: Well, obviously Tiger Woods is the most noteworthy golfer of this generation and I expect him to continue as such for quite some time. That said, collecting Tiger Woods cards can be tricky if one is to want an issue that will continue to increase in price along with his popularity. Most of Tiger's cards were mass produced, so my advice is to be very careful and only deal with someone who really knows what they are doing when it comes to golf cards. Some of Tiger's signature cards do fetch nice prices in higher grades, but my collecting efforts are not of the Tiger era. There has also been quite a recent interest in collecting Jack Nicklaus cards. The 1981 and 1982 Donruss Nicklaus examples in PSA 10 will always garner high prices and I believe they will always continue to be sought by collectors.

SMR: How important is PSA to the sportscard hobby and business?
JZ: It has been a huge blessing. Without PSA, the hobby of collecting sportcards in general, and golf cards specifically, would be left to a fragmented group of dealers and collectors. That would mean it would take much longer for the interest in golf cards to ever grow and be enhanced. I am often asked to assist SMR with respect to accurate golf card pricing, and to comment, for buyers and sellers alike, on the scarcity, value and offer price of golf cards. Along with SMR, I also recommend that collectors get the golf card collecting bible – "The Price Guide to Golf Cards I and II" – a 1994 and 1995 tobacco and non-tobacco set of price guides published by Philip Smedley and Bruce Berdock. My hat is off to them for this collaboration. Without them, I would not be able to have the vital tools needed to make an informed buying decision.
Jack Zugay said he would be honored and delighted to share further knowledge with SMR readers who may be interested in getting into collecting golf cards. He can be reached for questions at (440) 339-4559 or [email protected]
Zugay, who assists SMR with respect to accurate golf card pricing, is also committed to sharing his knowledge and wisdom with new golf card collectors.