With Sammy Sosa and Frank Thomas belting milestone homers this season, the 1990 Leaf set may soon inflict a "Big Hurt" on hobbyists' pocketbooks again.
In recent years, this groundbreaking product – which features rookies of the aforementioned sluggers – has dropped in value. Nevertheless, it has maintained a respectable collector following, and most hobbyists would agree that it represents the apex of the Leaf brand.
"It just seems to me that there was a confluence of great players in 1990," said Steve Fought, who owns the No. 4 and No. 11 sets on the PSA Set Registry. "Everything came together with the '90 Leaf set: great players everywhere, interest in the hobby, great quality control, great composition and color (and) high quality stock. I believe it's the best set of the era."
Dick Weigle, who has amassed an entire PSA 10 set, agrees.
"I thought it was a very nice set from the day it came out," he said.
Billed as the reintroduction of the Leaf brand, this 528-card offering was released in two series. The first series (#1 to #264) was issued approximately six weeks prior to the second (#265 to #528).
Distributed in foil packs, the player cards feature color photos on the front and back. The fronts also showcase the player name, position and team logo. The backs are gray and boast biographical information and statistics.
"I like the style of the card. I think it's very elegant," noted Allan King, proud proprietor of the registry's No. 2 set.
On top of the Sosa (#220) and Thomas (#300) rookies, this set also includes the inaugural singles of Larry Walker (#325), John Olerud (#237), Dave Justice (#297) and Albert (Joey) Belle (#180) and sophomore issues of Randy Johnson (#483) and Ken Griffey Jr. (#245).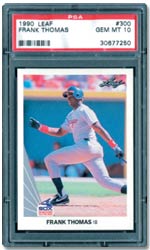 Griffey (#245) is one of the most difficult cards to obtain in PSA Gem Mint condition. Of the 6,116 graded (as of press time), just 3% have been deemed PSA 10s.
"That's a beautiful card... (If) you put all the Ken Griffey Jr. cards down on a table and looked at them, I think that card would jump out at you," said Fought.
The veteran hobbyist also marvels at the number of other stars and Hall of Famers in the set, including Eddie Murray, Greg Maddux, Ozzie Smith, Tom Glavine, John Smoltz, Nolan Ryan and Roger Clemens.
"It's really kind of the golden age of baseball. It's got a lot of Hall of Famers and a lot of great players in there," said Fought. "You keep going through there and it's just one great player after another."
But Weigle says the stars are generally not difficult to uncover in high-grade, it's the common players' cards that pose a challenge.
"You could find Nolan Ryan's cards graded, but man, you try to find Pete Harnisch or somebody like Eric King," he said.
Nine cards in the set only have two PSA 10 examples (as of press time): Eric Show (#115), Phil Bradley (#138), Lance Parrish (#195), Bill Spiers (#203), Ben McDonald (#249), Joey Cora (#366), Gene Nelson (#477), Mike Sharperson (#490) and Nelson Santovenia (#502).
The most elusive single in pristine condition is the set's first card. This unnumbered card does not boast a photo or a checklist; it merely says "The Leaf Set" on the front and includes a brief history of the brand on the back.
"It's the first card. It has no number. It's probably pressed against the front (of the box in sets)," explained Fought. "A lot of factors make that card a difficult one for a lot of people."
Fought says it's possible that some collectors might have thought this card was a promo card and thrown it away. Whatever the reason for its scarcity in high-grade, it wasn't until recently that a PSA 10 example was discovered.
"For the longest time, there were zero 10s, then all of a sudden, out of nowhere, there were like seven of them," explained King.
The first card was the final card that Weigle needed for his set. He discovered that the same person owned all seven PSA 10 examples (as of press time) and he was able to secure one for his set.
"I must have submitted 10 of those and never got anything above a (PSA) 9," he said.
Overall, however, cards from this issue are not hard to find in mint condition.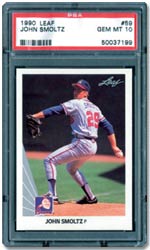 "The thing with '90 Leaf was that it was one of those really premier cards at the time, so when you were buying them, you kept them in good shape, except for probably the introductory (first) card," explained Nick Friedrich, who owns the registry's No. 5 set.
Fought, who has purchased 10 raw sets over the years, agrees.
"The quality control on this set was very high," explained Fought. "When I got those 10 (raw) sets, I didn't have trouble picking a card that I was 90% sure would come back a (PSA) 9."
Only occasionally will you see problems with the corners and centering on these cards.
"I'd say that centering is a big issue. If you go through a lot of raw cards, most of them will not be perfectly centered," explained King.
Friedrich concurs.
"If you do go through a couple hundred (cards)... a lot of the times you do find that the left-to-right centering is off," he said.
Ultimately, the legacy of the 1990 Leaf Set will be its role as one of the hobby's first premium sets. The Sosa and Thomas rookies will always be revered as two of the top cards of their era. These days, PSA 10 examples of Sosa and Thomas are selling in the $50 to $80 range. But with these sluggers achieving milestones this season, the value of this set is bound to increase. And, when this happens, it may once again inflict a "Big Hurt" on hobbyists' pocketbooks.