The 1990-91 O-Pee-Chee (OPC) Premier Hockey set might soon be renamed the OPC "Primeau" set.
Each hobbyist interviewed for this article touted Keith Primeau (#91) as one of the set's most difficult singles to find in high-grade.
"I personally tried to send in about 10 (Primeaus) to PSA and they always came back (PSA) 9s," said Darren Styles, who now owns a complete PSA 10 set.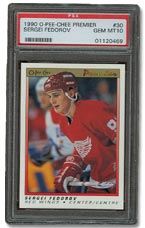 The veteran collector once saw a Gem Mint Primeau sell for $85.
"I've sent probably a good dozen of those (Primeaus) in and I've yet to get a (PSA) 10," added George Jackson, proud proprietor of the registry's current No. 5, Premier set.
Primeau was also the last card that Gunther Clemens, whose set was named PSA's Best Modern Hockey Set in 2003, needed. The longtime hobbyist can't recall a specific condition issue plaguing this single.
Aside from Primeau, this 132-card offering also boasts rookies of Jaromir Jagr, Mike Modano, Mats Sundin, Sergei Fedorov, Curtis Joseph and Jeremy Roenick. Distributed in wax packs and factory sets, these cards showcase a large color photo on their fronts, as well as the player name, team and position (noted in both French and English). The backs showcase a second picture, statistics and biographical data. This groundbreaking product represented OPC's first foray into high quality, premium cards.
"I almost compare it to when Upper Deck came out with baseball. This took hockey cards up to that next level," noted Jackson.
The player selection is one of the set's drawing cards. Not only does it include the aforementioned rookies, it also features the inaugural singles of Rob Blake, Owen Nolan, Bobby Holik, Peter Bondra, Alexander Mogilny, Petr Nedved, Mike Ricci and Tie Domi.
"I think this set is probably going to beat anybody from a rookie standpoint – other than the '51 Parkhurst, where everybody was a rookie," said Clemens.
Styles agrees.
"I think it's the top set for a rookie crop produced, probably since '84-85 (OPC), when you had (Dave) Andreychuk, (Steve) Yzerman, (Cam) Neely, (Chris) Chelios, and (Tom) Barrasso," he said.
It also appears to be the first OPC issue in which the company stepped up their quality control.
"It's probably one of their first years of (OPC) getting clean cuts... It's really a clean cut set," explained Jackson.
"That was about the best (OPC) set that ever came along... Prior to that OPC cards were strictly off-center and the edges were really rough and everything. This was the first set that was really, really nice," explained Clemens.
With the extra care paid to these cards during the production process, hobbyists say that there are rarely serious condition issues.
"I guess one of the problems is on the outside borders. I've noticed print defects on them, but not major (print defects)," said Jackson.
Styles has also witnessed some centering problems.
"For some reason, if you look along the top edge of a lot of the cards, they weren't cut straight... There's like a 30-degree angle tilt on them. I know a lot of cards were ruined because of that," he noted.
As with most sets, the first (Scott Arniel) and last cards (checklist) of this offering are sometimes damaged.
"The checklist (#132) is a pretty low (PSA) population (Report card)... At one time, I was only one of two people that had a (PSA) 10," said Jackson.
As of press time, there were 11 PSA 10 checklists.
Three cards (as of press time) from this set have only seven PSA 10 examples: Pat Elynuik (#28), Troy Gamble (#34) and Darren Turcotte (#123). Turcotte is particularly difficult to find in pristine condition.
"I know that whenever I got them (Turcottes) in foil packs they were one of the worst ones for centering," said Styles.
"I seem to recall some centering problems and print flaws (on the Turcotte)," added Clemens.
The stars in this issue are generally not difficult to track down in top condition. The Jagr card (#50), for example, has 1,112 PSA 10 examples (as of press time), while Fedorov (#30) and Modano (#74) have 504 and 456 Gem Mint copies respectively. Of the 991 Roenicks (#100) evaluated by PSA (as of press time), there have been 342 PSA 10s.
Collectors should, however, be leery of counterfeits of Jagr, Fedorov and Roenick. Subtle differences distinguish the fakes from the real cards. Of course, purchasing a card already graded by PSA will ensure its authenticity, but if you're buying raw singles, you should note that the fake fronts showcase wider borders than the real cards, as well as a reddish tint to the portraits. The counterfeit backs also boast a blurred NHL logo, compared to a clear emblem on authentic examples.
This set has decreased significantly in value since its peak in the early '90s. The key in this offering is a Jagr PSA 10 rookie, which is valued at only $40. Fedorov and Modano are the second-most coveted singles, with Gem Mint examples priced at $30 each. This set also boasts sought-after superstars like Wayne Gretzky, Mario Lemieux, Patrick Roy, Steve Yzerman, Brett Hull and Joe Sakic.
So, while the price of these cards is low right now, hobbyists believe that the value of this set will rebound in the future.
"There are a lot of guys with a Hall of Fame future in there... This is a packed set, no doubt about it," said Jackson.
Clemens agrees, "In due time, down the road, I think it's going to be one of the top sets," he said.
By that time, maybe this set will be known as the OPC "Primeau" set.