Almost everything about the 1975 Topps Mini set is small – its card size, the number of states it was distributed in, and, for much of its life span, its collector following.
In recent months, however, its popularity has started to grow.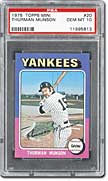 "There's been ebbs in the collection process where not too many collectors are around and I'll get pretty good deals. Those days are over now," explained T. Allan Bergquist, whose mini set was named the PSA Set Registry's best modern baseball set in 2005. "In fact, there are people that are willing to put up some monster bids and it's a lot harder to win a card now, unless I want to pay too much for it."
Brian Daniels, who owns the No. 9 set and put together hundreds of raw mini sets when they first came out, concurs.
"There's about 40 people on the (1975 Topps Mini PSA Set) registry and about two years ago, there was maybe 15. It's more than doubled," he said.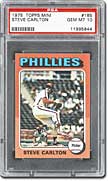 Call it a "mini" renaissance of sorts for this offering, which duplicates the design and player selection of the regular, 1975 Topps set. The major difference, of course, is that the cards are 20% smaller.
Reportedly distributed in Michigan and California, these were issued in wax packs, cello packs and rack packs. Boasting rookies of Hall of Famers George Brett, Robin Yount and Gary Carter, as well as the inaugural singles of Jim Rice, Fred Lynn and Keith Hernandez, this set's star power is unrivalled among '70s sets. Also included are the last regular issues of Bob Gibson and Harmon Killebrew, and Hank Aaron is featured on the set's first and last cards.
"He's (Aaron) the book-ends of the set, which is what is fairly cool about the set," said Jeffrey Brewer, who owns the Registry's No. 3 set.
And while production numbers haven't been released, it's believed that far fewer minis were produced than regular 1975 Topps cards. Despite their comparative scarcity, however, the minis command only a modest premium over the regular cards. Daniels says that Bergquist, whom he regularly communicates with, persuaded him that this was one of the most difficult sets to build in high-grade.
"He convinced me a while ago that this was the hardest set from the '60s and '70s to put together in (PSA) 9, because proportionately there's far fewer (1975 Topps Mini) PSA 9s and 10s out there," said Daniels.
Like the regular 1975 Topps cards, the Minis boast different colored borders that are vulnerable to chipping. The mixture of colors also makes these cards susceptible to print flaws such as smudges. Many Minis are also miscut or have centering problems.
"Topps put these cards out at 15 cents a pack. I don't think their quality control department was functioning. They didn't seem to care," said Bergquist, adding that he has heard of collectors opening wax boxes in which almost every card was off-center.
Also confounding the problem is that some cards were cut smaller than others at the factory. Brewer says the cards that have the yellow and green borders tend to be affected.
"(It's) like they (the yellow and green bordered cards) were all lined up on the top row of the sheet or something," he said.
Bergquist agrees, but he adds that other cards have also been impacted.
"This problem is not isolated to the yellow and green bordered cards," he said. "It is also seen quite a bit with the yellow and red bordered cards – probably second-most frequently to the yellow and green bordered cards."
One card with yellow and green borders that can be found in this smaller size is Claudell Washington (#647), a single that Brewer deems "the absolute toughest card in the set."
"In all the boxes I bought, I got one raw Washington and it was cut 80/20 top to bottom," he said.
Bergquist agrees, "That's (the Washington card) seriously plagued by poor centering. I've opened pack after pack and, if you can even find him . . . the bottom is cut where the name is."
Of the 14 Washingtons graded by PSA (as of press time), there has been just one PSA 9.
Frank Tanana (#16) is another difficult card to obtain in pristine condition.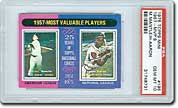 "There's only two people that have it (the Tanana) in (PSA) 9 or better. I'm one of them," said Daniels, adding that the card has centering issues.
Bergquist points out that three other common players – Steve Rogers (#173), Tommy Davis (#564) and Andy Etchebarren (#583) – actually have no unqualified examples graded higher than a PSA 8.
The Brett (#228) card is the toughest Hall of Famer rookie to obtain in high-grade. Of the 1,329 submitted to PSA (as of press time), there have been just five PSA 10s and 96 PSA 9s.
"The color varies on it. There's some you'll see that are very light colored and they obviously were running out of ink or something," said Bergquist.
Even more elusive in mint condition is Hank Aaron (#660), the set's last card. Of the 389 sent in to PSA (as of press time), just one has received a PSA 10 grade and 21 have been deemed PSA 9s. Aside from the regular condition issues associated with the last card of a set, Bergquist notes that the Aaron is also hampered by centering issues.
"You'll see it diamond-cut a lot," he said.
Collectors seem to agree that the toughest superstar card to track down in high-grade is the Bob Gibson Highlights card (#3). Of the 90 submitted to PSA (as of press time), just one has graded as high as a PSA 9.
"There is one (PSA) 9 and there has always been one since I started the collection," noted Bergquist. "It is always off-center to the right or left."
With its impressive roster of Hall of Famers, first-rate rookie selection and comparative scarcity, the 1975 Topps Mini set, though increasingly popular, is still very much a sleeper in the hobby.
"I think it's a tremendous investment. Part of what I see is that the true vintage cards – the turn of the century stuff – is now so expensive that people like me who have children don't want to spend $5,000 or $6,000 a card to finish a set, we're selling those and putting money into stuff like the '75 Minis," added Daniels.
So, while almost everything about this set remains small, the number of collectors pursuing it is getting bigger – and this number is bound to keep growing in the future.
---
Please feel free to contact Kevin Glew at [email protected] if you have any additional information or comments. Jeffrey Marren at Mastro Auctions and T. Allan Bergquist provided pictures for this article.