The 1964 Topps Stand-Ups set has become a "standout" in the hobby.
With its colorful design, Hall of Fame player selection and relative scarcity, this 77-card offering is coveted by a growing group of collectors.
"In the last few years, I think the (1971 Topps) Greatest Moments, the Stand-Ups and the (1969) Supers have all become much more popular," noted David Glickfield, who owns the registry's No. 5 All-Time Finest Stand-Up set. "I think the reason is they're relatively small sets. They have great eye appeal and they're harder to get."
"It (the Stand-Ups set) has a good player selection. It's got great Hall of Famers. The pictures are very simple," added Shane Leonard, who sold his set in 2002. "I think people said, 'You know what? This is a great set to start to build and it's not going to wear me out and it's not going to lose my interest."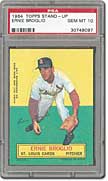 Of the 77 cards in this issue, 22 are single prints and 19 are Cooperstowners, including cards of hobby heavyweights like Mantle, Mays, Clemente, Koufax and Aaron. Details on how these cards were originally distributed have been difficult to uncover, but experts seem to agree that they were available in one- and five-cent packs.
The 1964 Topps Stand-Ups were the first Topps issue to feature a die-cut design since the 1951 All-Star sets. Showcasing full-length player photos, these unnumbered, blank-backed cards boast fronts with a yellow top half that includes instructions on how to manipulate the cards. The bottom front is green and it presents the player's name, team and position.
So far, just over 7,200 1964 Topps Stand-Up cards have been graded by PSA. In comparison, more than 77,000 regular 1964 Topps cards have been submitted.
"What I like about them (Stand-Up cards) is the relative scarcity compared to a mainstream issue," said Glickfield. "There's just not as many of them out there as there are of, say, a regular 1964 Topps card."
Also captivating collectors is the set's flashy design.
"It's a beautiful set, especially if it's in great condition, " said Joe Wilson, whose tied for the No. 2 position on the registry.
As attractive as it is, however, the set's design also poses condition issues. The colorful borders, for example, are susceptible to chipping.
"Because of the colored borders, they're tough to find (in high-grade)," said Glickfield.
"They're like '62 Topps, because of that green and yellow border, you really have to look closely," added Wilson.
Leonard has heard that some hobbyists have also altered the borders on these. Similar to hobbyists that touch up the corners on the 1971 Topps cards with black markers, shifty collectors have employed a similar tactic with yellow and green markers on the Stand-Ups.
Adding to the condition sensitivity of these cards is the fact that they were designed to be handled.
"They're a punch out. You're supposed to punch the player out and stand it up. As kids, that's what you did," said Glickfield.
The centering – particularly top to bottom – can also be problematic.
"People say there's no borders, so it can't be centered. That's not true. There's that little tiny plaque that has their name in there, and I was always making sure that was centered left to right and also looked like it was centered top to bottom," said Leonard.
One card hampered by centering problems is Hall of Famer Billy Williams, who's also a single print. Of the 67 Williams' cards graded by PSA, there has yet to be a PSA 9.
"He's got major centering problems (top to bottom)," noted Glickfield.
Another Cooperstowner who's difficult to find in pristine condition is Carl Yastrzemski. PSA has labeled just four Yaz cards as Mint or better. Because these cards are not numbered, collectors have traditionally organized them in alphabetical order, notes Glickfield. As a result, Yaz is often on the bottom of stacks and subjected to additional wear and tear.
"Both of my raw ones (Yaz cards) had a little bit of a crease in the back," said Glickfield.
Wilson agrees that Yaz is tough because he's often the last card.
"He's the very last card and he's a short print," he said.
Mickey Mantle is the most coveted card from this issue. And while there have been 10 PSA 9 Mantles, Glickfield has seen centering problems on The Mick as well.
"I've seen some really nice examples, but that top to bottom centering will just keep that card from getting an (PSA) 8 (grade)," he said.
One non-Hall of Famer who's elusive in high-grade is Jack Baldschun, who's also a single print. Of the 49 Baldschuns submitted to PSA, the highest grade recorded has been PSA 8.
"He's probably the hardest one to get," said Glickfield.
"If memory serves me right, I think that card was always centered to the low side (top to bottom)... It was really, really off-center low," added Leonard.
Like Baldschun, Hal Woodeshick is a single print and hard to find in top condition. Only one Woodeshick has graded as high as a PSA 9. On top of the regular condition issues associated with these cards, the Woodeshick, like the Yaz, was close to the bottom of the stack if the collector organized their cards alphabetically.
With all of these idiosyncrasies, it's not hard to see why it hasn't been easy for hobbyists to complete this set in high-grade. But it's these challenges, coupled with the set's investment potential that has inspired hobbyists to pursue it.
"I think people probably think they're (1964 Topps Stand-Ups) undervalued," said Wilson.
"I've seen Stand-Ups as one of those things which have not only held their value, but have probably appreciated over time," added Glickfield.
---
Please feel free to contact Kevin Glew at [email protected] if you have any additional information or comments. Pictures for this article were provided by Jeffrey Marren at Mastro Auctions.