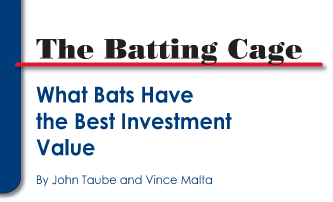 In recent years, with the increased popularity of game-used bats as a collectible, a frequent question we receive from new collectors is what bats they should buy that we would consider to be a good investment. That question is usually followed with the collector's short list of current stars that include, Albert Pujols, Derek Jeter, Alex Rodiguez, Manny Ramirez, and recently, Ryan Howard and Robbie Cano. While current star caliber players present good opportunities, we believe that many new collectors are overlooking the best investment opportunities – vintage bats. For the purposes of this article, let's define vintage as any bat made prior to 1980. This month's column will discuss what we believe are good investments in both modern day and vintage game-used bats.

Simply put, buying the bats of most current players can be a risky investment. There are just too many variables that are out of the collector's control that can affect the price of modern bats. With rising stars, such as Ryan Howard, Dan Uggla, Robbie Cano, Jose Reyes and David Wright, injuries, the suspected use of performance enhancing drugs, and declining sales of their memorabilia can all affect your investment. Glaring examples are Rafael Palmeiro, Sammy Sosa, Mark McGwire, Nomar Garciaparra and Barry Bonds. Five years ago, who would have predicted that game-used bats of these players would be worth anywhere from 30 to 50 percent lower than what they were selling for in 2001. What exacerbates the high risk of modern players is the rapid acceleration in the price of their bats as soon as they have a big year. The big year is generally followed by a contract with a vendor to sell the player's game-used equipment, and, before you know it, the bat you paid your hard-earned money for has declined in value.
If you insist on buying current players for investment, we recommend that you first focus on players that have played for at least five to seven solid years. That track record will give you a good idea as to what to expect from the player in the future. Second, try and find early career bats. Third, make sure the bat you buy will grade GU 8 or higher. Another important point is to look for players with career numbers that will assure them election to the Hall of Fame. There will always be collectors who will buy lumber that has been swung by a Hall of Famer. Players like Derek Jeter and Alex Rodriguez still hold good investment opportunity even if there is an ample supply of their bats. Both players are Yankees and, by the time they retire, they will have amassed terrific numbers. Both players should join the 3000 hit club, and Arod could break most of the game's offensive records. It must be also noted that this is a good time to buy Arod's bats due to his poor playoff performances. If the Yankees make the playoffs this year, and Arod gets a few key hits, look out, the prices of his bats will jump. We recommend early career bats of current and vintage players because early career bats are much more rare than late career bats. When the players were still establishing themselves, there was much less of a demand for their equipment. Once the player becomes a star or superstar, and an active market is established for his equipment, the bats appear. Perfect examples are Jim Thome, Gary Sheffield, Andruw Jones and Manny Ramirez. The list could go on. For all the aforementioned players, look at the number of rookie era bats or early career bats you can find in comparison to bats from the last few years. It has been our experience that rookie era and early career bats command premiums of 50 to 100 percent and, in some cases, even more.
A note must be made for a majority of the players from the Dominican Republic, Venezuela, Cuba, and others that can be categorized as Latin-American players. This list has many of the games biggest stars including Vladimir Guerrero, Manny Ramirez, Miguel Tejada and Miguel Cabrera to name a few. The prices of the bats of these players have peaked, declined and are languishing. To some extent, the problem some of these players have in becoming more popular with American fans is that their skill in speaking the English language is limited. By not having a conversational grasp of English, these players have less commercial appeal for product endorsements and interviews, both of which serve as platforms to project their image and give fans the opportunity to get to know them.
If you walked into the offices of Smith Barney, Merrill Lynch, Bear Sterns or any other investment firm, and asked them how they felt about investing in game-used bats, either vintage or current, you can be sure they would all label it as a high-risk. We would agree. With vintage bats, the risk is smaller and, in our opinion, vintage bats present greater upside potential. At this point, many readers may be looking at the relatively soft vintage market, especially with Babe Ruth bats, and question our thinking. Well, remember, all investments are subject to peaks and valleys. It's natural for them to ebb and flow. When it comes to Ruth's bats, let's just say the market had gone through a period of "irrational exuberance" after his Yankee Stadium first home run bat sold for $1.265 million dollars. Great Ruth bats came out of the woodwork like there was no tomorrow and collectors paid a ton of money for them. Unfortunately, for those who have chosen to sell them in the last year or so, they have realized losses. Collectors should always maintain a realistic time frame to realize appreciable gains on their purchases. We never recommend a quick "flip" of an item. We believe it is better to hold on to a bat for at least 36 to 48 months. Right now, the Babe is in a slump, but we all know he'll break out of it, and when he does, look out.

Let's take a look at the values of a few vintage bats over the past five years and see how they have performed. A few names that come to mind that have done very well are the bats of Eddie Murray, Frank Robinson, Duke Snider, Roberto Clemente and Willie McCovey. With all these examples, the values have more than doubled and, in the cases of high-graded bats and rare models, values are even higher.
Five years ago, Eddie Murray bats were selling for between $350 and $450. Today, his bats sell for between $650 and $850. These values are for bats that grade GU 7 to GU 8. Higher graded bats break at over a $1,000, and you may be familiar with the Murray bat graded GU 10 that sold for $6,725. True you can still find bats in the $450 range, but these are generally lower graded bats with little use or fair player characteristics.
In our opinion, Frank Robinson is one of the most underrated power hitters of all time, and the prices of his bats reflect this, even with appreciable gains over the last five years. Nice Robinson gamers that sold for $1,500 five years ago are difficult to find today for less than $2,500. Higher graded bats and bats from the 1950s and 1960s command premiums from $1,000 to $2,500. Still, we believe those bats are under valued. Bats that can be purchased in the $2,000 to $3,000 range are great deals.
The same is true of Willie McCovey's bats. Nice bats that have been used by "Stretch" used to sell for anywhere from $1,200 to $1,500. You can still find lower graded bats in that price range, but higher graded bats are consistently selling in the $2,000 to $2,500 range, with early models from the 1960s selling for over $3,000.
The value of Duke Snider's gamers is dependent on one player characteristic – a criss-cross taped handle. A few years ago, nice Snider bats were selling for $10,000 to $12,000, with bats without a taped handle bringing 50 percent less. Today, nice high-graded Snider bats sell for over $17,000, with lower graded bats bringing between $7,500 and $10,000.
In the case of Momen Clemente, his bats have doubled in price over the last five years. It seems every auction has a Clemente bat, with nicer examples consistently bring $7,500 to $9,500. Early Clemente models from 1954 to 1960 have sold for anywhere from $15,000 to $25,000.

Other bats that come to mind are those that were swung by Thurman Munson, Al Kaline, Brooks Robinson, as well as many common players. Higher graded models of these bats have seen 100 percent gains in the past five years. Pre-War common and star caliber players have seen similar gains. Bats of Yankees, Cubs, Dodgers and Giants players are among the most popular with collectors.
Throughout this discussion of investment quality bats, you'll notice we refer to the higher valued bats as "graded." I think everyone will agree that bats with higher grades are realizing greater prices than non-graded bats. While some may feel that grading is too subjective, there is no question that collectors feel more confident with graded bats, hence the higher prices. Any questions pertaining to player-use and authenticity are answered with a graded bat. Collectors with an investment philosophy don't need any surprises when it's time to sell, unless it's more money than they expected.
---
John Taube is the owner of J.T. Sports. With well over two decades of experience, his expertise on physical attributes of game-used bats and dating have pinned him as one of the world's leading experts in bat authentication and grading. Working in conjunction with Vince Malta, Taube has an ongoing commitment to expand the existing knowledge of game-used bats. With over 35 years of combined expertise, bat experts Taube and Malta are the formidable team for PSA/DNA's game-used bat authentication service. Their reputation and integrity is second to none in the hobby. The duo exhibits strong attention to detail, expertise with labeling variations and insight to restoration. Most importantly, both share a commitment to provide the hobby by adhering to the most standardized and recognized game-used bat evaluation criteria.
You can contact John and Vince in regard to column ideas, suggestions and questions by e-mailing them at: [email protected]. For information specifically on having bats authenticated or graded by John and Vince log on to www.psadna.com and click on "Professional Bat Authentication".