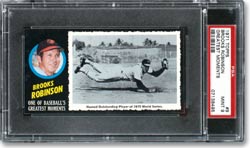 Like any good mystery, this one has clues, rumors and intrigue.
And despite the Sherlock Holmes-like efforts of a group of hobbyists, there are still unanswered questions about the 1971 Topps Greatest Moments set.
Why, for example, do some cards showcase wax stains when no one has seen a wax pack? How can a set highlighting great performances by the top players from the early '70s not feature Hank Aaron or Roberto Clemente? And will there ever be a PSA 10 card from this set? So far, over 2,700 singles have been submitted and there has yet to be a gem mint example.
"A (PSA) 9 in Greatest Moments is really a (PSA) 10," explained Shane Leonard, a Texas-based collector who owned the registry's top set from 2002 to 2005.
Boasting just 55 cards, this set should be relatively easy to build. But the general scarcity of the singles, coupled with their condition sensitivity, has made assembling a high-grade set almost impossible.
Measuring 2-1/2" by 4-3/4", these oversized cards feature career highlights of the top players of the era. Hobby publications list 22 cards as double-prints and 33 as single-prints. Similar to the regular 1971 Topps issue, the fronts feature unforgiving black borders. A portrait photo and action shot are also included on the front, while the backs exhibit a newspaper-style format that describes each player's highlight.
The consensus is that this was a test issue available in wax packs in select stores in the Brooklyn area.
"That set was only distributed in the New York area. It was not distributed nationally, as far as retailing," explained Scott Susor, a longtime hobbyist, who was selling and collecting cards in the Detroit area in the early '70s.
Hobbyists tend to believe that these cards were disseminated in packs, despite the fact that they have never seen one.
"It's like dinosaurs. I compare this set to dinosaurs... Yeah, you've got proof that there were dinosaur bones, but we have never seen a dinosaur, right? It's the same thing with this. Yeah, we've got proof that there were packs, but nobody's ever seen a pack," explained Leonard.
The veteran collector has, however, seen an unfolded, empty wax box. This box and the fact that he has seen wax stains on cards are "clues" that these originated from wax packs.
Clay Hill, an acquisitions director at SCP Auctions, Inc., owns a hand-collated set. He thinks he remembers Card Collectors Company, a defunct mail-order business based in New York, selling these sets. Susor believes he bought his set from this same company.
"I want to say I paid $45 for it," recalled Susor.
Plagued by condition issues, cards from this set are difficult to uncover in mint condition. One source of frustration is the fragile black borders.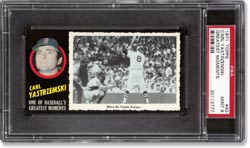 "They chip, the same thing as the (regular Topps) '71s, but that's not as big a problem as the centering problems," explained David Denmark, who owns the registry's fourth All-Time Finest set.
Leonard agrees, adding that a number of cards have also been miscut.
"There's a lot of diamond cuts," he said.
Leonard notes that there are 10 cards -- Clyde Wright, Carl Morton, Sal Bando, Bert Campaneris, Reggie Jackson, Alex Johnson, Hoyt Wilhelm, Bill Melton, Rico Carty and Joe Pepitone -- that often have a "gash" in their right edge. Believed to have occurred during the printing or cutting process, this flaw is related to where the cards were on the sheets.
Two series of sheets were manufactured for this issue: the double-printed sheets boast 22 cards (11 rows of two cards), while the single-printed sheets include 33 cards (11 rows of three cards). The "gash" hampers cards in the third row from the top and third row from the bottom on each sheet.
"Usually it (the gash) looks like a thumbnail. It's a half-moon circle... And it's (in) the same spot on every card," explained Leonard.
Denmark has witnessed the same defect on these cards.
"Obviously the whole stack was thrown against something... and the rails dinged into the cards in just two rows," he said.
Adding to this set's intrigue is a fire that reportedly took place at Card Collectors Company that destroyed and damaged a significant volume of stock from this issue. Legendary hobby dealer Stan Martucci remembers this fire.
"When you come across Greatest Moments today, you will find water-damaged cards," he said.
Denmark first saw this water damage when he was leafing through stacks of these cards at a show in 1976.
"Within those stacks of cards, some of them had water damage. That has a big impact, because how many of the stacks were destroyed completely?" he said.
All of these issues make almost any card from this series tough to find, but the Thurman Munson (#1) is considered the crown jewel of the set. Of the 47 Munsons graded by PSA, there has yet to be an unqualified example that has graded higher than PSA 7.
"I've sold my two PSA 7s (Munsons) for $2,500 each," said Leonard.
The Munson was located in the top row of the double-printed sheets, making it susceptible to cutting flaws.
"Not only was it the first card of the set, but it's horribly miscut," said Leonard.
Denmark agrees, "The cards that were in the top row of the sheet and the bottom row of the sheet were always cut off-center."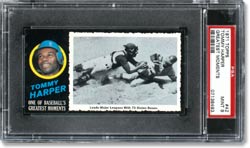 Another star that does not have any unqualified examples that have graded higher than PSA 7 is Lou Brock (#27). Leonard says the centering is generally "horrible" on the Brock cards.
A number of "common" players are also difficult to uncover in high-grade. The Jim Perry (#10) card, for example, is typically miscut and commands around $2,500 in PSA 8 grade, says Leonard.
Bud Harrelson, the last card of the set, is also elusive in mint condition. Of the 28 cards that have been sent into PSA, just one has graded as high as a PSA 8. Denmark points out that the Harrelson is in the bottom row of single-printed sheets, making it vulnerable to condition problems.
"The Munsons are cut too close on the bottom and the Harrelsons are cut too close on the top," noted Denmark.
But Leonard contends that the toughest single to track down in pristine condition is Joe Pepitone (#53). Of the 35 submitted to PSA, only one has received a grade as high as PSA 8.
"It's a single-printed card, but it had the 'gash,'" explained Leonard.
With the dearth of high-grade examples, competition for these cards can be fierce. Hobbyists say rare PSA 9 commons have been known to sell in the $2,500 to $3,500 range.
"There's a very strong demand... Even medium-grade sets do pretty well," said Hill.
Denmark says the number of PSA submissions has grown substantially since he started on the registry.
"When I first started collecting it, the population (on the PSA Population Report) was under 1,000 and that was only four or five years ago. So it kind of exploded when people were seeing that big dollars were being had," he said.
And the demand is likely to grow in the future, as supplies of this enigmatic issue continue to dry up.
"I think it's a pretty rare product and one that people will start really noticing later on down the road as being the hardest test issue set other than the (1968) Topps 3-D," said Leonard.
Perhaps a new batch of collectors will be able to solve the mystery surrounding this set. Who will be the first to find a wax pack? Why is there no Aaron or Clemente card in this set? Is there a PSA 10 card out there? For now, these questions remain unanswered and the mystery continues.