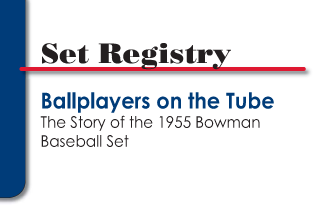 On March 25, 1954, the first color television sets rolled off the assembly line of RCA's factory in Bloomington, Indiana. Costing $1,000 at a time when a three-bedroom house sold for $9,000 or a new car for $2,000, they were expensive. Like today's high-definition TVs that show more "standard" images than HDTV, there wasn't a lot of use for them at first because most shows were aired in black and white. NBC began airing a few shows in color by 1957 and Color TV became standard for all networks beginning with the 1965-'66 TV season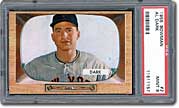 Throughout the 1950s and '60s, NBC's Game of the Week and "home city" brought baseball to a larger audience. Television sets brought players into American homes and gave fans an idea of what they actually looked like. Instead of seeing pictures on baseball cards, fans could watch their favorite player throw a ball or take a swing. Mickey Mantle, Ted Williams, Jackie Robinson, Hank Aaron and Willie Mays are icons of the sport in a much bigger way than players from earlier eras, and television exposure had a lot to do with that.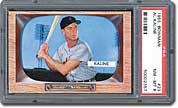 One year after the first color TV models rolled into department store showrooms, Bowman printed its new baseball cards for 1955. For the eighth straight year, the Philadelphia gum maker issued cards showing baseball players. The collector could buy a one card penny pack or a six card pack for a nickel, both included that most important stick of gum. The cards kept the 3 3/4" by 2 1/2" dimensions Bowman had used in 1953 and 1954 and were slightly thinner than Topps cards. In 1955, both were horizontal but Bowman cards were formatted in a way that collectors wouldn't confuse them with Topps cards... the 1955 Bowman set looked like color TVs.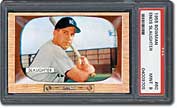 The 320 cards all have a wood grain border that gives a vintage console TV appearance. Cards 1-64 feature a blond-colored border and cards 65-320 feature a darker, cherry-colored wood. Inside the border, a "picture screen" surrounds the player's photo. Below the player is a television faceplate with UHF/VHF dials that makes the visualization perfect. Topps would later resurrect the "TV set" look for its football and hockey sets in 1966 and the 1970 Brady Bunch series.
When it came to bubblegum cards, kids of the 1950s had their choice ... Topps or Bowman. While 1955 Topps cards looked almost like a horizontal version of 1954 Topps cards, 1955 Bowman cards were different. It was not the first use of television in a baseball card design. The 1950 Drake's set featured black-and-white player photos inside a black border shaped like a TV screen but they were not a national issue. The 1955 Bowman cards are seen today as a classic example of 1950s nostalgia, but the set also has its share of detractors. Some of today's collectors aren't impressed with the set because of its unusual format but others love them.
One of the biggest problems collectors had with these Bowman cards was the addition of 31 umpire cards in the final series. Jocko Conlan, Jim Honochick and Cal Hubbard are now in the Hall of Fame and these are some of the only cards they ever had. When they first appeared in gum packs, kids weren't all that interested in seeing umps on their baseball cards. Umpires and coaches have trivia questions on the backs of their cards, in the place where statistics are found on player cards.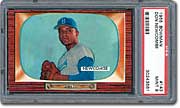 The backs are also interesting. Many have the standard career highlights but some quote the featured player. "The Best Hitter I've Ever Seen," "My Favorite Baseball Story," "My Childhood Hero," "My Biggest Thrill in Baseball" and "My Advice to Youngsters" can be fun to read. The advice usually is along the lines of "keep practicing," "work hard" or "live clean." Stan Musial, Ted Williams and Joe DiMaggio were listed among the best hitters; Warren Spahn and Bob Feller are picked as top aces. The stories often mention a player's memorable event like the first game or home run, while others feature "memorable games."
One of the more unusual stories is found on the back of card #4, Eddie Waitkus. He starts off "My Biggest Thrill in Baseball" with the unlikely words "In 1949, I was shot by a deranged girl." He goes on to explain how he returned to the Phillies after the incident, helping them win the 1950 pennant and how he met his wife while in the hospital... she wasn't the woman who shot him.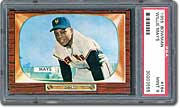 Perhaps the funniest story is related by Virgil Trucks on card #26:
"It was my first year in the big leagues. I was pitching against the Boston Red Sox. The first hitter was Bobby Doerr. He doubled on the first pitch. The next hitter did the same, and the next one tripled, again on the first pitch. Ted Williams came to the plate. He hit the first pitch too, for a home run. Manager Del Baker came to the mound and asked Bob Swift, my catcher, 'Doesn't Virgil have it today?' Swift answered, 'How do I know? I haven't caught one yet!'"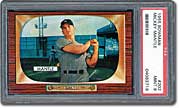 Stories like that won't be found on a modern card.
Fans of certain players needed to keep a scorecard if they wanted to know which set to collect. If a kid wanted a Mickey Mantle card, he had to go with Bowman. Ted Williams's fans were forced to choose Topps. Fans of Stan Musial were out of luck because he wasn't in either set. There was a very short list of players featured on both companies' cards such as HOF'ers Willie Mays, Hank Aaron, Ernie Banks and Al Kaline.
Some collectors frown on the 1955 Bowman set because there isn't a "big name" rookie like Koufax, Clemente or Killebrew. Elston Howard and NL Rookie of the Year Bill Virdon were exclusive to Bowman for 1955, but they are the strongest rookies in the set. In those days, kids paid little attention to rookie prospects, but the better rookie cards in the 1955 Topps set turns some collectors away from Bowman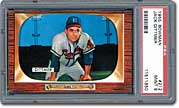 The Brooklyn Dodgers finally won a World Series in 1955, but collectors of the team are forced to collect both Topps and Bowman cards if they want a truly complete team set. The Dodgers had 32 total cards in 1955 but only six of them, Gilliam, Podres, Hoak, Hughes, Zimmer and Hodges were in both sets. Robinson, Amoros, Spooner, Black, Labine, Snider and Koufax are only found on Topps cards. Campanella, Reese, Furillo, Newcombe, Erskine and Loes are among the 14 found only on Bowman cards.
Kids didn't realize it at the time, but there would no longer be a choice between Topps and Bowman after 1955. For most, the realization would come the next year when the only cards to be found anywhere were inside Topps gum packs. A comparison of the two companies' 1955 sets would explain why some kids were surprised that Bowman could disappear after being swallowed whole by Topps.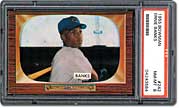 From 1952-'54, Topps went after Bowman's business with a vengeance. During those years, both companies fought to get exclusive player contracts but Topps came out with larger sets. In 1955, Bowman had more cards in its set, 320 cards compared to the 206-card Topps se ... the smallest base set it has ever issued. To the observer of 1955, it appeared that Bowman was beginning to beat Topps at its own game.
Despite the larger numbers in its 1955 baseball set, Bowman had been declining as a card company. After making a stunning color set in 1953, expenses likely forced the company to release its final 1953 series as a separate black and white set. In 1954, the baseball cards featured lesser-quality photos and many different card variations due to poor preparation. Even the 1955 baseball set mixed up the Bolling brothers and Ernie and Don Johnson (due to similar last names) can be found with each other's backs as well as their own. Erv Palica's card is found with or without a "traded" note on the back and some of Harvey Kuenn's cards spell his name "Kueen" on the back.
Warren Bowman, the gifted entrepreneur who started the company, had retired by 1952 and took a lot of the company's creative dynamic with him. It seems the 1955 baseball set was the company's attempt to shoot for the moon and, while it produced a classic set, it ultimately wasn't enough to stop Topps from winning the turf war.