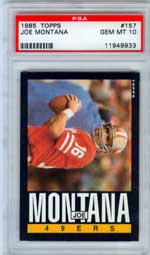 These collectors are working some "Montana Magic" on the PSA Set Registry.
No, they may not be leading teams to miraculous, late-game comebacks, but they are zealously committed to completing their Joe Montana player sets.
The registry lists four Montana sets, including a Basic (66 items), Master (304 items), Basic Topps (16 items) and Master Topps (60 items).
The Basic Topps Set was created after Greg Pietsch submitted a request for it in 2002, so it's only fitting that the California-based collector owns the No. 1 set. A diehard Cowboys fan, the determined hobbyist was inspired to collect Montana after meeting the all-star quarterback during the Pro Bowl festivities in 1982.
"I had my whole Cowboys outfit on. I think I was 9 or 10 at the time. I'm 35 now," he recalled. "We went to the hotel where the players were to get autographs and there was a swarm of people just around Montana. He walked right up to me in my Cowboys hat and said hello."
Mike King, owner of the No. 1 Master Topps Set, hasn't met Montana, but he shares Pietsch's enthusiasm for the eight-time Pro Bowler.
"He (Montana) played his best games under the most pressure," said King. "I just liked that. I admired that."
Dave Mullen, whose Basic Topps Set ranks fifth on the registry, has similar feelings. The lifelong 49ers fan considers Montana to be "the greatest quarterback ever."
Of course, no Montana collection would be complete without the legendary pivot's rookie card (1981 Topps, #216). Hobbyists say that Montana's inaugural single is not difficult to find in high-grade. The PSA Population Report reveals that of the 8,316 submitted, 56 have been evaluated as PSA 10s and another 878 have been deemed PSA 9s.
"A lot of it with that card comes down to centering . . . The borders are kind of narrow on that year just with the design, so it doesn't take much for it to look slightly off-center," explained King.
Collectors also have to be wary of counterfeit rookies. Fortunately, the Montana fakes are low quality reproductions with fuzzy text and graphics that makes them somewhat easy to spot. Print dots also plague the color areas on the counterfeits; these areas are solid ink on the real rookies.
A scarcer rookie item is Montana's 1981 MSA Holsum Disc. Sponsored by Michael Schechter Associates (MSA) and Holsum (an American bread company), these circular discs were distributed in specially marked packages of bread. A black and white photo, along with personal data about each player adorn the front of these collectibles. Only five of these discs have been graded by PSA, with the sole PSA 10 example (pictured with this article) fetching $298.24 in a Mile High Card Company auction this past Spring.
A more mainstream card that's difficult to undercover in pristine condition is Montana's 1985 Topps single (#157). Mullen says that the black borders on these cards make them susceptible to chipping. So far only 11 of the 768 cards submitted have been graded as PSA 10s.
Even more elusive in gem mint condition is the 1986 Topps card (#156), of which there has yet to be a PSA 10 example. Pietsch has submitted approximately 40 cards to PSA without receiving a PSA 10 grade.
"What makes '86 difficult is you've got diagonal green lines against a black-lined border box (around the photo). It gives you the deceiving impression that it's off center more than it would be to the left/right," explained Pietsch.
King adds that the '86 card's green borders also tend to showcase wear and its centering is inconsistent.
Another elusive item is Montana's 1987 Ace Fact Pack issue. Shaped like playing cards and distributed in the United Kingdom (U.K.), these cards feature a photo and personal information about each player. To obtain the Montana card, hobbyists initially had to purchase the 49ers team set. The scarcity of these cards in North America helps explain why ungraded Montanas from this issue sell in the $175 range. Just three 1987 Ace Fact Pack Montanas have been graded by PSA; one card received a PSA 10 grade, while the other two were deemed PSA 8s.
Two other U.K. issues are also tough to track down in high-grade. King says that the 1987 Topps American U.K. Montana (#29) is particularly difficult. Part of an 88-card set, the 1987 U.K. cards were miniature versions of the regular 1987 Topps cards.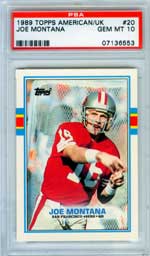 "The size is different. The backs (on the U.K. versions) are totally different (than the regular Topps). The (U.K.) backs are all color. The actual front of the card is exactly like the American version (only a miniature version of it)," explained King.
On top of its scarcity, condition issues also hamper this card. Of the 18 submitted to PSA, only one has been deemed a PSA 10.
"One of the problems, too, from that year is they're rough cut, kind of like the '79 O-Pee-Chee Hockey," said King, who adds that PSA 9 examples of the 1987 U.K. Montana generally sell in the $25 to $40 range.
The 1989 Topps American U.K. Montana (#20) is also challenging to find. Released as a 33-card set in the U.K., these cards are identical to the regular Topps cards except their backs are printed on white stock and feature a bright yellow background. Only one PSA 10 Montana from this issue exists.
"The problem with the Montana in '89 U.K. is they came in a boxed set and Montana is always in the back," explained King. "So the Montana always gets dinged corners."
King notes that PSA 9, 1989 U.K. Montana cards generally fetch $30 to $50 each.
On top of tracking down tough cards, hobbyists also have to compete against a growing number of Montana enthusiasts.
"You see that more and more people have started the set (Basic Topps set), which is great," said Pietsch. "There was only my set for the first year or so."
So with these dedicated collectors, coupled with more hobbyists embracing the Hall of Fame quarterback's cards, you can expect the "Montana Magic" on the PSA Set Registry to continue for the foreseeable future.