Reza Tabatabai: Director of Grading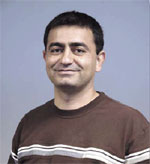 Born in Iran in 1968, Reza Tabatabai came to the United States when he was nine years old. An avid fan of soccer and the National Football League, Reza played organized soccer for close to ten years. "Today I enjoy officiating soccer games," says Reza. "I started to referee soccer games over twenty three years ago, and I currently officiate college soccer games when I have the time."
Reza, who earned a Bachelor of Science degree in business finance from Fresno State University in 1990, was an avid PSA graded card collector for many years. Prior to coming to work for PSA, he heavily pursued high-quality PSA graded football cards throughout the 1990s and, by the latter part of the decade, decided he should use his years of collecting experience to transform his passion into a career. "Based on what I had learned over the years through collecting, I thought it would be a good idea to pursue a job at PSA," says Reza. "I was put through a testing program and, shortly thereafter, I was offered a position."
Today, as a senior member of the PSA grading team, Reza is renowned for his vast knowledge in all areas of collectible trading cards. A resident of Orange County, California, Reza says that along with the personal fulfillment he receives from his work, he also enjoys working with the other PSA graders. "The group of guys that work for me are the best in the industry, and the best PSA has ever had," says Reza. "Most of the guys have been with me since I started back in 1998, and a few of them have even been here longer than that."
Reza says that he usually tries to get to work as early as possible. "I am normally in sometime between 7:00 and 7:30 am," he says. "As graders, we go through the same routine every day - looking at a wide variety of vintage and modern cards. Some may think that what we do would become so routine that it would be easy to lose interest. Nothing could be further from the truth. I have graded hundreds of thousands of cards since I started at PSA, and no matter how many cards I see, I learn something new every day."
Having been named PSA's Director of Grading in 2002, Reza says that he is extremely proud of the work he and PSA have done over the years to bring strength and security to the hobby. "PSA has been a tremendous help to the sportscard market. Anyone who buys or sells cards knows it is much safer to buy and sell PSA graded cards, compared to raw cards. All anyone has to do is run a search on eBay and you will rapidly see the popularity of the PSA brand when it comes to graded cards. This is also true with most high-end auctions. And along with the standardization and confidence PSA has brought to the marketplace, the PSA Set Registry has taken the entire sportscard hobby to a new level."
Reza says that he feels he is uniquely qualified for his position as a card grader because, as someone who personally collected high-grade cards for so many years, he knows how collectors think and react. "I know how exciting it is to find a card that you need and to have that card grade well," he says. "It is almost like an addiction. Having been on the other side, I always remember that there is a person behind the cards I am grading. I hope that they will be pleased with my work no matter how their card grades. I always want them to know that, whether they agree with my grading or not, I approach every card with the highest level of care, experience and fairness. I think I am a very easy going and approachable person and that translates to my work as well."
When not busy grading cards, Reza enjoys spending time with his wife and catching collegiate sports on the tube. "I really enjoy watching college sports, particularly football and basketball. As for professional sports, the NFL is by far my favorite sport to watch. I have been a big Pittsburgh Steelers fan since the late 1970s."
As much as Reza enjoys his free time, he is quick to point out that he equally enjoys his work for PSA. "The best part of working for PSA is that I get paid to look at cards," he says laughing. "Seriously, I have a great job. It is an extremely satisfying feeling to see an order filled with great cards. No matter how many times a submitter gets an order back in the mail, it is always exciting for them to see how their cards graded. Believe me, I know, I've been there. I know that opening that box is a great rush."
Steve Van Maanen: Assistant Director of Grading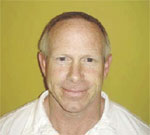 "A lot of thoughts go through your head when you see a really old card that looks like it just came out of a pack," says Steve Van Maanen, PSA's assistant director of grading. "Whenever one of our graders gets a card like that, we make sure that the other graders see the card as well so that everyone can appreciate it. That's one of the things I love the most about working for PSA. Not everyone gets to see a special piece of hobby history."
Raised in Lakewood, California, where he still lives today, Steve started collecting cards when he was just seven-years old. "I used to make a little money by helping my brother with his paper route," Steve recalls. "Then I would use that money to buy baseball cards."
Soon after young Steve discovered cards, he began collecting sets and, by the time he was nine-years old, he had begun to educate himself on the condition and quality of cards. "I first started grading cards around 1997," says Steve. "I had always been fascinated with the grading process and began working with some of the PSA graders. That was right around the time PSA was really taking off. I learned how to grade by working with the other graders who had been there."
As in any profession, timing is one of the most crucial elements and, that is by all means the case with Steve's work for PSA. "I came along at a great time. PSA was really beginning to grow and they needed people who knew cards and knew what they were doing when it came to grading. I was in the right place at the right time," he says with a laugh. "I had begun my work on the coin side in 1987, when I was just 19-years old, with PCGS (Professional Coin Grading Service). But my true interest had always been in cards. So, in 1993, when the opportunity arose, I moved over into PSA."
Today, the health and fitness obsessed Van Maanen says his days are intense but always interesting. Steve says that while PSA graders are trained to grade cards from virtually all eras, each individual grader has developed their own area of expertise and are assigned cards based on their strengths. "When we receive cards, they are distributed to graders based on their particular skill and expertise. That means we would not have one of our modern card specialists grade a 1956 Topps Willie Mays card."
Steve's first step in the PSA grading process is to make the determination that a card is, in fact, authentic. As every card collector knows, counterfeits are not uncommon with some of the hobby's most sought-after cards, and rookie card reprints that have been manufactured by the hundreds of thousands are often submitted as originals.
Once Steve determines that the card is authentic, he then checks it for any possible alterations. A card's condition is of course, one of the utmost importance and, knowing this, "card doctors", as they are called, will do what they can to enhance the condition of cards by the use of ink to correct imperfections or wear, scissors and razors to eliminate worn edges as well as other techniques.
After a card is deemed to be unaltered by Steve's well-trained eye, the actual grading process begins. At PSA, every card that is submitted is graded by a minimum of two graders.
Using PSA's universally accepted grading scale; Steve focuses on various characteristics of the card such as the crispness of the corners, color, edges, centering, surface, print clarity and overall eye appeal.
"I do the same thing over and over again everyday," says Steve. "But it never gets boring for me because what I do is very interesting. I've worked half of my life here - 20 years next year. Now, I am one of PSA's senior graders. I thoroughly enjoy what I'm doing and I get to see tons of really great cards. It's by all means a unique job. I love my work, which is something very few people can say. I am very interested in what I do and I think that is what keeps me motivated."
Steve says that along with all of the great cards he sees, the thing that he likes the most about working as a PSA grader is the confidence he gives to the collectors who send their cards in for grading or buy on the open market. "The people who buy cards today really know what they are getting," says Steve. "PSA has completely changed values, consumer confidence, and literally everything about the hobby. Sometimes I see cards and all I can do is look at them and wonder where they came from and how something that old could be in such great condition. It's really fascinating."
Today, when not lending his expertise to PSA's top notch grading department, Steve enjoys spending time with his wife and their two daughters. A die-hard family man, Steve says that spending time with his family has eclipsed the time he used to spend working on his own personal card collection. "I really don't collect much anymore," he shrugs. "I just don't have the time. When I'm not working, we like to take family vacations. We love to go to Reno with the girls and my parents. We're not very exciting, just sort of laid back."