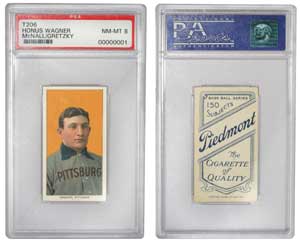 The world's most valuable baseball card, the famous 1909 Honus Wagner card that once was owned by hockey star Wayne Gretzky, has been sold by a Las Vegas, Nevada sports memorabilia collector for a record $2,350,000.
"It's the highest price ever paid for a baseball card. It's the Holy Grail of baseball cards," said Joe Orlando, President of Professional Sports Authenticator (PSA) of Newport Beach, California, the company that certified the authenticity of the fabled card. PSA (www.PSAcard.com) is the world's largest sports memorabilia authentication service and a division of Collectors Universe, Inc. (NASDAQ: CLCT).
The anonymous buyer is identified only as a Southern California collector.
The seller is collector and business executive Brian Seigel of Las Vegas, CEO of Emerald Capital LLC, an asset management company. In July 2000 he paid a then-record $1,265,000 for the card at a public auction.
"I enjoyed owning the card for over six years, and in fact, it was never for sale. But I received an unsolicited call out of the blue late last year from a California collector who wanted to buy it. After thinking it over for a while, I decided to sell, and the two of us agreed on a price," explained Seigel.
"Previous owners usually kept it locked up; however, I displayed the card as frequently as possible at major sports collectibles shows around the country. When I lived in Orange County California I even took it to several Cal State Fullerton baseball games and to elementary schools to teach children about baseball card collecting."
The card was also displayed at the Ronald Reagan Presidential Library and Museum in Simi Valley, California in March 2003, and at opening bell ceremonies for the NASDAQ stock exchange in New York City on July 22, 2005.
"The Wagner card gave me a tremendous amount of pride, excitement and pleasure. I hope the new owner will have the same satisfaction I enjoyed over the years," said Seigel.
The Wagner card is legendary among collectors, according to Orlando.
"Only about 60 or so of these century-old cards of Pittsburgh Hall of Fame player Honus Wagner are known to exist, and most have creases or other signs of serious handling. This particular one was preserved in spectacular condition. On a scale of one to ten, it's graded an eight, by far the finest known," said Orlando.
SCP Auctions, Inc., which now owns a minority interest in the card, conducted a news conference at Dodgers Stadium on February 27, 2007 to announce the sale.