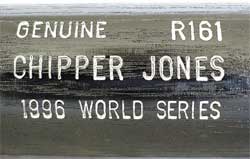 For almost 80 years, the Hillerich & Bradsby Company (H&B), maker of the famed Louisville Slugger, has been making World Series bats for use by players of Major League Baseball's most coveted sporting event. At the beginning of each year, hand selected top quality wood is set aside for making these very special post-season bats.
H&B's shipping records indicate that World Series bats were shipped to players as early as 1927, and while quantity was usually not stated in pre-1930 records, it is believed that each position player received two bats for their use in the World Series. Since these bats are not ordered by the player, and are sent by H&B promotionally, the model and dimensions of each bat are usually identical to the player's most recent shipment.
World Series bats are usually very easy to spot; however, from 1928 to 1949, World Series bats were branded no differently than standard professional bats. Starting in 1950, World Series bats were branded with the year of the event, either above or below the player's branded name, and until the mid-1980's, the team name was branded below the player's name. For instance, in 1985, instead of a team name, American or National League was branded below the player's name. From 1950 to 1952, pitchers bats were generically stamped "PITCHERS", but then, in 1953, each pitcher would receive one bat with their name branded at the barrel.
In 1974, H&B specially branded some World Series bats with a very large centerbrand and "Powerized" logo, to be more visible on television.
Starting in 1976, World Series bats were made in a standard model number and length. For instance, every 1976 World Series bat was made in a 34-inch length. While the model and length may vary each year, from 1976 to 1988, World Series bats were "generically" made and shipped to the team for the fall classic.
H&B resumed making specific game model bats for each player in 1989, even though the bats were not branded with a reference to the World Series. Instead, 1989 World Series bats (as well as 1989 All Star bats) were stamped with a large "Louisville" on the back of the barrel. This logo was very visible to television viewers and as it turns out baseball offi cials. As a result, bat-makers were banned from having any trademarks appear at the barrel end of bats made for Major League play. Collectors may recall that, in 1990, the words "Louisville Slugger" did not appear below the player's name, because of this rule. One word of caution, large Louisville logo Rickey Henderson and Bo Jackson bats were made available for sale to the public and should not be confused with 1989 World Series and All Star bats.
Post-1989 H&B World Series bats usually have the Model number above and "World Series" with the year branded below the player's name, this includes all ALCS and NLCS bats as well. Since 1999, H&B has been the official bat of Major League Baseball and no other bat-maker may use the words "World Series" on their bats, as Major League Baseball owns the name of the event.
World Series bats occasionally are available on the collector market, as some have made their way out of the clubhouse or come directly from ballplayers. More special yet are those World Series bats that have been used in the World Series by a player.
Interestingly, some bats surface that some deem "phantom" World Series bats, which were made in anticipation of a team reaching the World Series, but instead have been eliminated in the playoffs. These bats were made and shipped for a timely arrival for the start of the World Series.
Lastly, prior to 1999, most notably Adirondack/Rawlings made World Series bats for player use, the earliest known dating back to 1952. Individual player Adirondack World Series bats have surfaced as early as 1955 and are specially foil stamped between the centerbrand and barrel brand. Later Adirondack/Rawlings bats have the year and the Event stamped below the player's name at the barrel brand . Starting in 1996, Rawlings stamped a "WS" to identify the bat as a World Series player bat, with no other special brandings on the bat.