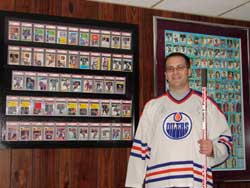 Call them the great ones of "Great One" collecting.
Yes, a number of determined Wayne Gretzky enthusiasts are putting together high-grade sets of the former NHL superstar.
"Gretzky has always been my hero," said Frank Marci, who has focused his Master Set on PSA 9 or 10 O-Pee-Chee (OPC) cards of the Great One in an Edmonton Oilers uniform.
John Woody, whose Basic Gretzky set was named top modern hockey set of 2005 by PSA, is also a longtime admirer of No. 99.
"I watched Gretzky play in person and I never saw another hockey player move and play as smoothly as he did."
Marci and Woody are just two of the hobbyists pursuing Gretzky sets on the PSA Set Registry. Missing only the 1995 Topps card, Woody is No. 1 on the Basic Set (81 cards) registry, while the closest collector to finishing the Master Set (740 cards) is approximately 38 % complete.
The Great One's most coveted card is his 1979-80 OPC rookie (#18). The sole PSA 10 example fetched $62,374 in a Mastro Auctions sale in August 2005 and has since been resold for $80,000.
Like most OPC cards from this era, rough cuts, as well as centering issues, plague the Gretzky rookie. The card's blue borders also accentuate imperfections. Marci looked long and hard before settling on a PSA 9 example for his set.
"That's the crown jewel of the collection," he said of his mint rookie.
Collectors looking to uncover high-grade, raw OPC Gretzky rookies should be wary of counterfeits. Gerry Chartrand, owner of Gerry's Sports Cards in Dorval, Que., says that collectors should look for an orange (or yellowish) spot on Gretzky's left shoulder and for a "tiny bit of ice" under the Great One's skate near the bottom border to ensure the card's authenticity.
Steve Hart, owner of the Baseball Card Exchange in Lynwood, Ill., adds that the edges of Gretzky rookies are another telltale sign.
"The problem with the counterfeits is they really don't reproduce the rough-cut edges. All the OPC Gretzkys should have a rough cut on the edge," he said.
The safest way to buy an authentic Gretzky rookie, however, is to purchase it from a reputable dealer or in a PSA holder.
A number of laser cut rookies also exist. Marci says these cards boast uncharacteristically "pristine edges." And while PSA has declined to grade these cards, they can be found in other grading companies' holders.
"That's another reason why a pristine Gretzky rookie in a PSA holder is so elusive," explained Marci.
Gretzky's other early singles are also tough to find in gem mint condition.
"Both the OPC and the Topps in hockey are just incredibly difficult to find nice," said Woody.
The veteran collector adds, however, that hobbyists are more likely to find graded examples of Gretzky's early cards than his later singles.
"The first year of every issue is what everybody's saving and I think 100 years from now you're going to find that there's 10,000 graded Gretzkys from the first year and there's only three from 1994."
Two "early" Gretzky cards that are tough to track down in mint condition are his 1979 Sportscaster card (#77-01) and his 1980-81 OPC Record Breaker (#3) single.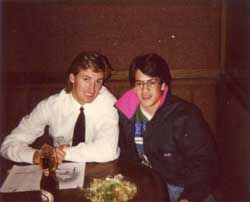 The Sportscaster cards were sold in several countries from 1977 to 1979. Measuring 4¾" by 6¼", these oversized singles featured stars from a variety of sports, including baseball, basketball, football, and hockey. Available by mail order, a series of 24 cards were generally shipped out on a monthly basis until collectors opted out of receiving them.
The Gretzky from this issue has been known to fetch several hundred dollars. A PSA 8 Great One - the only PSA graded example - was bid up to $760 in an eBay auction in September, but the reserve was not met.
Another difficult card to uncover in pristine condition is the 1980-81 OPC Record Breaker. Of the 60 submitted to PSA, there has yet to be a PSA 10 example. Marci says the top to bottom centering is usually off on this card.
"They're pretty much always centered low than centered high," said Marci, who owns a PSA 9OC of the card and would like to upgrade.
In the future, Woody believes that some of the more recent Gretzky cards will be the toughest to obtain. He cites the Great One's 1996-97 Upper Deck Black Diamond Triple Diamond (#180) single as an example. Reportedly, only one card from the Triple Diamond series was included in every 30 packs of the Black Diamond product. With 30 different Triple Diamond cards, Woody estimates that the Gretzky would surface in one of every 900 packs.
"In addition, all 1996 Black Diamond cards are considered to be 'condition sensitive,'" noted Woody.
Aside from their elusiveness, newer singles also present a challenge in that they're being added fairly regularly to the Basic and Master sets - a practice that tests the fortitude of these collectors. Marci points out some older cards - including the 50-card, 1982-83 Neilson's set and the majority of the Red Rooster cards (released in the early and mid-'80s) - have also yet to be listed on the Master Set.
"Box bottom cards - including Topps, OPC, and even JELL-O Pudding - also present a problem due to condition," said Marci.
Another challenge these collectors face is outbidding fellow enthusiasts.
"There's still incredible competition for the first couple of years (of Gretzky cards)," said Woody.
Despite these challenges, however, Marci has persevered, and with his recent purchase of a PSA 9 OPC rookie, he considers his set complete. He says the inspiration for his set came largely from his personal interactions with the Great One. At a game during the 1989-90 season, Gretzky handed Marci a stick. Marci later had No. 99 sign it.
"It's one of the greatest days of my life," recounted Marci of meeting his hero and having the stick autographed. "I look back on that and I think of those few minutes that Wayne Gretzky spent with me and I have nothing but admiration for the man. He's just one of the greatest human beings on the planet. I'm really glad to have a huge collection of his (memorabilia) and it's something very special to me that I'm going to hand down to my kid."