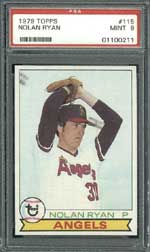 Completing the 1979 Topps Baseball set in high-grade is proving to be a tough "Hill" to climb for collectors.
Aside from the Ozzie Smith rookie, it's the card of journeyman catcher Marc Hill (#11) that hobbyists seem to mention most when discussing this issue.
So far, only one of the longtime receiver's cards has been submitted to PSA and that single, owned by Jack Rudack, a Chicago native who has the No. 3 set on the PSA Set Registry, was graded a PSA 8.
"It (the Hill card) has a smudge in the team banner," explained Frank Smith, a Washington native who owns the top-ranked set on the registry. "And almost every card I've seen has that smudge."
And while the Wizard of Oz rookie is the set's most desirable single, a pristine Hill is likely the most coveted common of the 726-card set. Available in wax packs, rack packs, cello packs, and vending boxes, this set includes 66 double-printed cards.
The fronts of these cards boast a large photo, accompanied by the player's name, position, and a team banner along the bottom. Also featured is a baseball in the lower left that showcases the Topps logo.
Personal and season-by-season statistics, as well a "Baseball Dates" section, which features trivia about historic events, are showcased on the card backs. Depending on how many years the player has toiled, a paragraph of biographical information may also be included.
Among this issue's subsets are League Leaders and Record Breakers. Similar to previous years, "Prospects" cards are also part of the set. Unlike past issues, however, these cards showcase three prospects from the same team.
Hobbyists say that the All-Time Record Holders subset - boasting cards featuring legends like Ty Cobb, Cy Young, and Walter Johnson - is one of the set's highlights.
"It's a neat subset and I think the other appeal to it now is the fact that a lot of those records don't stand anymore," said Smith.
One of this generation's most notorious error cards is also in this set. The Bump Wills card (#369) was issued in two variations: one with a team banner saying Blue Jays and another with his correct team, the Rangers. Both cards generally sell for the same amount.
On top of Ozzie's inaugural issue, this set also bears the rookies of Bob Welch, Bob Horner, Pedro Guerrero, Carney Lansford, and Willie Wilson, not to mention singles of more than 20 Hall of Famers.
"If you're into '70s baseball, it's the end of the decade and the superstars of that whole era are in there," said Allon Kesselman, a collector based in Phoenix, Ariz., who owns the No. 5 set on the registry.
And this abundance of superstars is one of the reasons Jeff Bublitz, owner of the eighth ranked set on the registry, is attempting to complete this issue.
"It has many of the stars that I liked to watch when I was growing up," he said.
Smith, too, enjoys the high volume of Hall of Famers, but he also savors the action photos on these cards.
"In 1978, there was a lot of portrait pictures in the cards. In '79, they came out with a lot of action shots, mainly of the stars," he said.
Another allure is the condition sensitivity of this set compared to other '70s issues.
"I love the fact that the cards are hard to find in premium grades," said Bublitz.
In fact, pristine singles are so difficult to uncover that this set remains the only '70s series that no one on the PSA Set Registry has finished.
"From 1977 through 1981, I have bought about 4,000 to 5,000 raw, unopened cards from each year. I am certain the '79s are harder to find in nice shape," said Rudack.
Hobbyists say the biggest flaw on the 1979 cards is bad centering.
"It's very difficult to judge the centering with that team banner at the bottom. It makes a card that's low, look OK," explained Smith.
The savvy hobbyist adds that print lines and roller marks are also fairly standard and that the paper stock seems less durable.
"The actual card paper seems to be softer than '78," he said.
The set's most high-profile card is also one of its toughest to obtain in mint condition. Of the 3,133 Ozzie Smith rookies (#116) submitted to PSA at press time, only close to 5% of them have graded a PSA 9 or better. In comparison, approximately 37% of all other singles sent in to PSA for this set have graded PSA 9 or better.
"I think of the '70s cards, it's hard for me to think of one that is harder to get in nice shape than that Ozzie Smith card," said Kesselman.
The centering - which is generally off top to bottom - as well as a "fuzzy" picture and various print defects are what makes the Wizard's card so tough, notes Smith.
Another single that is difficult to find in mint condition is Dave Winfield (#30). So far 146 cards of the Hall of Fame outfielder have been evaluated by PSA and there has yet to be one deemed worthy of PSA 10 status.
"It has lots of centering problems and the picture itself is not a very good quality picture. It has a lot of snow white speckles in the background and it's just not a very sharp picture," said Smith.
The Pete Rose card (#650) is also a challenge to uncover in top condition. Like the Winfield, there has not been a PSA 10 example of Charlie Hustle.
"Most of them I've found are low. But the centering is really inconsistent on that card in every direction," said Smith.
Another star that is hard to find in mint condition is Paul Molitor (#24). There are no PSA 10 Molitor cards as well.
"It's almost as bad as the Ozzie Smith card . . . The centering on that is brutal, really bad . . . I always think of it as kind of shifted up and shifted to the right," said Kesselman.
On top of the star cards, there are two commons (outside of the Marc Hill) that Smith has had trouble uncovering in high-grade. One of them is Padres outfielder Jerry Turner (#564). Of the three Turners submitted to PSA, there has yet to be one graded higher than a PSA 8.
"He's got a print line on every card that runs on the right-hand border of the card just inside the margin," said Smith, adding that the card is usually off center as well.
Another tough common is Ken Landreaux (#619), who like Turner, does not have an example evaluated above a PSA 8.
"I've never found one that has a right border," said Smith.
However, consensus is that the Marc Hill card is the most elusive common. And with only one of the journeyman receiver's cards submitted to PSA, there's almost certain to be a bidding war when the next high-grade example is sent in and then put up for sale. But, until the next batch of smudge-free singles of the ex-backstop surface, this set will continue to be one tough "Hill" to climb.