The year was 1961.
Mickey Mantle and Roger Maris vied for the new home run record as the New York Yankees and Detroit Tigers fought a spirited battle for the American league pennant. Two new expansion teams (the Los Angeles Angels and Washington Senators) fought an equally spirited battle for last place, ultimately losing out to the Kansas City Athletics, who finished an amazing 47-½ games behind New York.
Over in the National League, the Cincinnati Reds sprinted to a first-place finish by four games over the Los Angeles Dodgers, despite Sandy Koufax' 269 strikeouts and Johnny Podres' 18-5 record for the latter. Orlando Cepeda and Willie Mays were hitting the cover off the ball for the Giants, who crossed the finish line eight games back.
Across the country, millions of youngsters were standing outside candy stores, eagerly tearing into packs of Topps baseball cards, looking for their favorite star players. Across the street, a somewhat smaller group was ripping open Fleer packs to find a bunch of "old guys in baseball uniforms" instead of Mays, Mantle, and Clemente.
Yet, another group was back in the kitchen, pleading with Mom (usually to no avail) to use the family scissors and cut out a new series of baseball cards from the backs of Post cereal boxes. After featuring full-color portraits of a few selected players on the backs of their 1960 cereal boxes, the Post Cereal company decided to jump in with both feet and release a full set of "baseball star cards" on the back of such fine products as Alpha-Bits, Post Toasties, and Grape-Nuts (or "gravel," as I used to call it).
The idea of putting baseball-related cards and photos on cereal boxes wasn't new; Wheaties did it back in the 1930s. But those back covers featured a few well-known players of the day from Bob Feller to Joe DiMaggio. In contrast, Post's effort would be more comprehensive by including 200 different well-known and not-so-well-known players.
To further complicate matters, certain cards (but not all) could be obtained directly from Post as part of a large pre-perforated sheet. Those sheets appealed to Mom, who was bound and determined not to let Junior get his hands on the family scissors, no matter what. (You probably remember the old warnings about "don't run with scissors" and "you'll put your eye out!")
For 1961, Post adopted a card size similar to that of Topps (2 ½" x 3 ½"), but all of the player's stats and his photo were printed on the front. The backside of each card would remain gray cardboard, although the thickness of the cardboard stock used for the actual boxes was heavier than that of the company's pre-perforated sheets.
Unlike Topps and Fleer, Post opted to release the cards as team sets with sequential numbering, starting with (whom else?) the Yankees. They led off the batting order with numbers #1 - #18, followed by the White Sox (#19 - 34), Tigers (#35 - #46), Red Sox (#47 - 56), Indians (#57 - 67), Orioles (#68 - #80), Athletics (#81 - #90), and Twins (#91 - #100).
Milwaukee topped the NL roster (#101 - #114), followed by the Phillies (#115 - #124), Pirates (#125 - #140), Giants (#141 - #155), Dodgers (#156 - #170), Cardinals (#171 - #180), Reds (#181 - #190), and last but not least, the Cubs (#191 - #200).
Not every player made it to a Post cereal card, though. The Yankees on Post's 1961 roster numbered 18. In contrast, only 14 White Sox (the 1959 AL champs) made the cut, while the Dodgers (the 1959 World Series winners) had 15 representatives. Even the eventual NL champion Reds could only muster 10 slots in the Post cereal universe.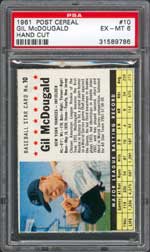 Post did steal some ideas from Topps. The perforated team sets left out a few players found on boxes, creating some real scarcities. According to Beckett's Almanac of Sports Collectibles, the toughest numbers to find are #10 Gil McDougald, #23 Bob Shaw, #70 Gene Woodling, #73 Chuck Estrada, #94 Chuck Stobbs, #113 Chuck Cottier (see a pattern here, Chuck?), #135 Bill Virdon, #163 Mel Roach, and #183 Roy McMillan.
While McDougald, Shaw, Woodling, Cottier, Virdon, Roach, and McMillan were only found on selected cereal boxes, Estrada and Stobbs were only available on the factory team sheets. To make matters worse, some players wound up on boxes of cereal that weren't particularly appetizing to kids, creating a diet-related scarcity!
I particularly enjoyed a hearty breakfast of one or two bowls of Post Alpha-Bits back in those days, which meant that I had a large stack of Hector Lopez cards sitting in my shoebox as a result. (I didn't care who was on the Grape-Nuts box, there was no way I would eat the stuff, even if they paid me.)
The PSA Population Report is, not surprisingly, light on Post Cereal cards from 1961. It's not a popular issue for collectors, and most of the hand-cut cards you'll find look as if someone sliced them from the box with their eyes closed.
To date, only 791 total copies have been graded by PSA, with the highest population coming from players like Mickey Mantle (45 total), Hank Aaron (21 total), Roberto "Bob" Clemente (17 total), and Willie Mays (13 total). (To put things into perspective, PSA has graded 2,726 copies of Mickey Mantle's 1961 Topps card - alone.)
Even so, there are hand-cut copies out there that have earned grades PSA 7, PSA 8, and PSA 9 (five of the latter, to be exact). That means some skilled amateur surgeons were able to pull off an almost impossible task - keep the card borders visible while simultaneously trimming symmetrical edges and centering the card. What are the odds?
The factory perforated card sheets aren't much better when it comes to getting high grades. Only 12 PSA 9's - all different cards - have been awarded to these variations, which suggests that perhaps Mom should have let you have those scissors and take a shot at it after all!
1961 Post cards (and their successors in 1962 and 1963, along with Jell-o cards from the same years) are undervalued in my opinion, given how hard they are to find trimmed neatly without wrinkles and tears. The key card to the set is not Mickey Mantle, but #94 Chuck Stobbs.
While both cards show SMR values in excess of $1,000 in PSA 9 condition, the Stobbs card is far more difficult to find. Only 12 have been graded (half as many as Mantle) with five 7s and a lone 8 in the Pop Report.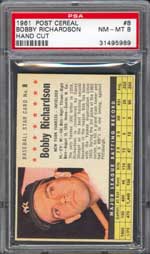 As for the other scarcities, McDougald fetches over $120 in PSA 8; Shaw brings $300, Estrada is listed at $275, Stobbs at $400, and McMillan at $185. Other price premiums exist between box and company variations, such as #22b Early Wynn (company) at $90, #93a Jim Lemon (box) at $140, #124b Gene Conley (company) at $70, and #147b Willie McCovey (company) at $80, all in PSA 8.
Things are further complicated because some of the player details (such as their team) also vary between the hand-cut and company cards. Notable examples include #30 (Gene Freese, listed with the Reds and White Sox), #41 Frank Bolling (Braves and Tigers), #57 Harvey Kuenn (Giants and Indians), and #142 John Antonelli (Cleveland and San Francisco).
The run of cards from #91 - 100 takes this confusion one step further, with Twins cards cut from the box listing the team as "Minneapolis" and company-supplied cards listing it as "Minnesota". You'll also find some cards with traded or sold information on the company sheets, which were issued some time after the cereal boxes went to print.
To appreciate just how hard it is to complete a 1961 Post set, there is currently no SMR value for all 200 cards. None! That's because there are so many variations, so the value would depend on the mix of hand-cut and company cards you'd assembled. If you were fortunate to have one example of every variation, you'd be looking at a master set numbering 357.
Complete sets and company sheets of 1961 Post surface from time to time in auctions and fetch good prices. Some recent examples include $750 for a set mostly in VG-Ex condition with the Stobbs card ungraded, and uncut sheets retailing for $200 - $250 in NrMT condition.
The quandary is whether to keep a sheet intact, or break it up to complete a set! Remember that even careful trimming of perforated cards doesn't guarantee high grades from PSA (those 8s and 9s are mighty scarce). By the way, don't look for any PSA 10s - they don't exist!
If you are really into a challenge - perhaps collecting of high-grade mainstream cards is getting a bit stale - then you should consider the 1961 Post cereal set. Given the low pop numbers across the board, card scarcities, all the variations and the limited number that show up in auctions and at retail, assembling a set of 1961 Post could keep you busy for quite a few years! (Take heart - at least you don't have to eat all of those Grape-Nuts to do it...)