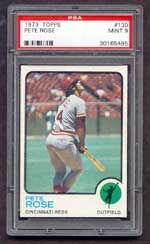 This set has the potential to send collectors on a wild "Goose" chase.
Already boasting the rookie of one Hall of Famer (Mike Schmidt), the 1973 Topps Baseball set is bound to become more popular when Goose Gossage receives his call from Cooperstown.
"If Goose gets in, it's definitely going to help the set," said Michael Gaytan, an Atlanta-based hobbyist who owns the No. 2 Master set on the PSA Set Registry.
As it stands right now, the 660-card issue has the lowest number of PSA submissions of any regular Topps series from 1970 to 1975.
Released in wax packs, rack packs, cello packs, and vending boxes, this set was the last Topps issue to be marketed in series. Cards from the final series (#529 to 660) are reportedly the toughest to obtain.
With their fronts boasting white borders and showcasing a large photo, these cards are often praised for their action shots - some of which are horizontal pictures. Also featured on the front is a small silhouette of a player, as well as the player's name, team, and position.
The backs are the first regular Topps series to have information displayed vertically since 1968. Other highlights of the backs include a cartoon with a short fact about each player, biographical information, and season-by-season statistics.
On top of the Schmidt and Gossage rookies, the set also showcases the inaugural cards of Dwight Evans and Bob Boone, as well as singles of more than 25 Hall of Famers.
"I think this set really represents a changing of the guard, in that it was the last card of Willie Mays and Roberto Clemente," said Derek Irwin, a New York-based collector whose set is No. 4 on the Basic Current Finest PSA Registry.
A number of subsets are also part of this issue, including cards dedicated to All-Time Leaders, Rookie Prospects, and post-season highlights. Because of their variations, the manager cards are, perhaps, the most talked about subset. These cards boast a large photo of the dugout boss, as well as smaller photos of the team's coaches.
Gaytan has determined that some manager cards have three variations. The first version has a natural background in the coaches' pictures.
"Whatever was in the background stayed in the background," says Gaytan of the first version.
The second incarnation was created when Topps thought the original, natural background was too dark, explains Gaytan. As a result, a print run that boasted a solid, orange background behind the coaches was initiated. Further complicating matters, Gaytan discovered a third version of these cards.
"With that colorization (the orange background) on the cards, sometimes, they cut the ear off of the coach. So there's a run of ears that suffer from printing issues," he said.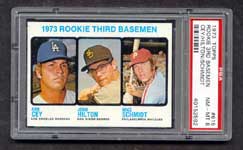 Hobby publications, generally, only acknowledge two variations, but Gaytan is lobbying to have a third added. Price guides indicate premiums for specific variations, so collectors are encouraged to do some research before purchasing them.
Aside from tracking down these variations, hobbyists have to overcome condition issues to complete this set in high-grade.
"This set is just notorious for really poor centering," said Irwin.
Bruce Budris, a Boston native who owns the registry's All-Time Finest set, concurs, "In a high quality vending box, you'll find that 90% of the cards aren't even worth submitting due to poor centering."
The card stock poses another challenge.
"The paper stock compared to the '72s... was a lot thinner," said Brian Moellering, a St. Louis-based collector who has the No. 2 set on the Basic Current Finest registry.
Another hindrance is the black borders on the card backs that are similar to those on the front of the 1971 Topps cards.
"That's very prone... to degradation and chipping," said Budris of the black borders.
One card that is difficult to find in mint condition is the All-Time Home Run Leaders card (#1) that features Babe Ruth, Hank Aaron, and Willie Mays. Of the 565 examples submitted to PSA, only 21 have graded as high as a PSA Mint 9.
"That is a tough card to start off the set with because that card, in particular, is always off-center. You could look at 20 of those cards and one of them will be centered," said Moellering.
Hobbyists say that the two toughest stars to find in pristine condition are Joe Morgan (#230) and Carl Yastrzemski (#245).
Of the 151 Morgans sent in to PSA, all but one have graded lower than a PSA 9.
"I have ten of them from when I was a kid," said Irwin. "Nine of 10 are off-center top to bottom."
Budris has also had trouble tracking down a high-grade Morgan.
"Over the last couple of years, I've bought quite a few raw cards of both Yastrzemski and Morgan and never had any success at having them graded any higher than an 8 (PSA 8)."
Of the 202 Yaz cards submitted to PSA, only two have been evaluated as unqualified, PSA 9s and there are no 10s.
"There's less border on the right," said Irwin of the Yaz cards he has seen.
There are also commons that are next to impossible to find in pristine condition. The Del Unser card (#247), for example, is hindered by centering problems and only one of his cards has been deemed a PSA 9 (with no PSA 10s).
"I think I paid $400 for that card (PSA 8 Unser), but that was the last card I needed," said Moellering.
Hal Breeden (#173) is another tough card to find in high-grade. There are only two cards that have been evaluated as high as an unqualified PSA 9. Gaytan says the centering is frequently off both top to bottom and left to right on this card.
The most elusive common to find in mint condition, however, is Don Wilson (#217). The top unqualified grade a Wilson card has garnered is PSA 8.
"For him, it's all centering... I think that's all over the place (both off center top to bottom and left to right," said Irwin.
Singles like Wilson, however, may not be as scarce in the future if the popularity of this set climbs and more raw cards are submitted to PSA. And with Gossage poised to be inducted into the Hall of Fame in the next few years, the potential for an increase in submissions and for a wild "Goose" chase for 1973 Topps cards certainly exists.