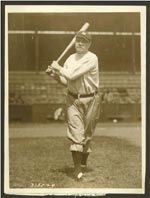 Marshall Fogel, co-author of A Portrait of Baseball Photography (2005), is the owner of, perhaps, the most comprehensive sports memorabilia collections in the world. His high-end collection contains incredible relics from a variety of collectible fields including but not limited to trading cards, autographs, display pieces, game-used equipment, pins and, of course, vintage photographs. Fogel, along with Henry Yee, is also one of PSA/DNA's resident photograph experts.
Photography offers the collector many things. It captures an exact moment in time. Sometimes that moment relates to a moment of historical importance on the field of play such as the swing of Roger Maris on homerun #61 in 1961 or a The Catch made by Willie Mays in the World Series. Other times, the photo may capture a candid or rare moment, whether it was taken on or off the field. Regardless, that image gives the viewer a glimpse, a time capsule of that exact moment.
Collecting photos can also compliment any existing collection of memorabilia. Game-used equipment experts often use photographs to assist in the authentication process of items like bats, gloves and jerseys. Autograph collectors are often intrigued by photos that capture athletes signing for their fans. For trading card collectors, photos are likened to bigger, more displayable cards and, if you are lucky, you may find a photo that relates to an actual image used to make a particular card.
The bottom line is that photos provide a wonderful option for the collector because they appeal to us on so many levels due to their rarity, content and presentation value. The one issue that haunts the industry right now is the fact that many photos are being sold as "originals" or as "vintage examples", yet they may not be from the period in question or genuine at all. It is important that the collector gets exactly what they pay for with photo prices clearly on the rise.
In the following piece, Fogel was kind enough to share his thoughts about photograph collecting and authentication.
– Joe Orlando
Collector Demand
Those of you bidding in auctions have noticed an increase in the number of photographs for sale. Now auction companies devote major sections of their catalogues featuring baseball images, as collector demand has increased dramatically for limited one-of-a-kind photographs.
Photograph Authentication is a Seller's Obligation
Recent auctioned baseball photographs, such as a photograph of Joe Jackson, have sold for over $10,000. Ruth, Gehrig, DiMaggio and Mantle news service photographs have sold for prices between $4,000 and $6,000. The same exact images of those same photographs have sold for $50. The good news is that every collector can purchase photographs of the same or similar images at any level of price.
The problem exists when you, the collector, become unhappy when you believe you are buying a "Type One" photograph, spend hundreds or thousands of dollars and you discover that the photograph it is not. Unfortunately, a significant number of collectors have made similar mistakes.
Auction companies and dealers have been describing photographs for sale as "vintage", "original" and "first generation" without a reasonable explanation. The sellers have done as well as can be expected in describing photographs without PSA/DNA photograph authentication services. Dealers now have an obligation to properly describe photographs for the benefit of collectors since PSA/DNA recently began their photograph authentication services. These services provide the assurance that the same image is worth either $5,000 or $50, depending on whether the authenticated photograph is a Type One or a Type Four.
Collecting photographs requires a confidence in understanding what you are collecting coupled with the knowledge that you are paying a fair price. That confidence is secured by authentication. PSA/DNA is the company that pioneered grading and authentication services.
Sportcards, Memorabilia and Photographs - A Perfect Match
I started collecting baseball cards in 1989. By going to the PSA Set Registry, you can view many of the number of sets I have in my collection. Every registered card is either PSA 8, 9 or 10. In the early 1990's, I bought high-grade Goudeys for $200, Playballs for $85, Bowmans for $25, and 54 Topps for $15 to $30. I paid slightly more for star cards. I also aggressively bought photographs at the same time. Buying baseball photographs enhances my enjoyment of card collecting.
In my display cases, I have photographs of Babe Ruth hitting the first home run in the 1933 All Star Game next to a 1933 Goudey Ruth card. Another display example is a photograph of Sandy Koufax pitching in game seven of the 1965 World Series. The displays bring "to life" my baseball cards. Frequently, I rotate these displays rather than leaving the cards in boxes.
The same can be said for displaying photographs with other types of memorabilia including bats, autographs and pin backs.
Now card collectors still have the opportunity to acquire photographs at reasonable prices, before the demand exceeds the supply, as I did when I started collecting cards and photographs.
How Does the Authentication Process Work for Collectors?
The Smithsonian photographer Susan Einstein and Stephen Wong, author of Smithsonian Baseball, selected a large number of photographic images from my collection. Subsequently, I began to realize the significance of my extensive photography collection. I researched past auction catalogues and I discovered an ongoing increase in the number of photographs sold coupled with higher prices. Following my research, it became evident that the prices paid for photographs were not always equal, or reasonably close to the market value, because sellers and buyers do not have adequate information needed to describe the technical differences between photographs for sale.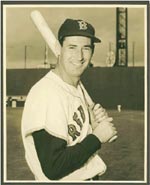 These events led to my interest in co-authoring A Portrait of Baseball Photography, the first definitive historical publication written about news photo services, subscribers, important sports photographers and other important related subjects. Over fifteen years of technical and historical research was gathered by Henry Yee and myself before and during the writing of A Portrait of Baseball Photography, with our co-author, editor and creative writer Kyhber Oser. Also, a significant amount of text material was derived from a careful interpretation of our research, including the important description of the four types of photographs that provide the framework for the authentication process.
Henry and I realized that categorizing photographs into four types had never been attempted. We knew that the four classifications containing separate definition required acceptance by photograph conservators, museum curators, dealers, auction companies and leading photography societies. We believe that our research and advice received from those affected by our conclusions provided the appropriate balance between the definitive four type category criteria and the interpretation by authentication experts.
The four types are as follows:
Type 1 - A first-generation photograph, developed from the original negative, during the period (approximately two years of when the picture was taken). Type 1's, because of their vintage and originality, are the most desirable and valuable of the four photograph types.
Type II - A photograph, developed from the original negative, during a later period (more than approximately two years after the picture was taken).
Type III - A 2nd generation photograph, developed from a duplicate negative or wire transmission, during the period (within approximately two years of when the picture was taken).
Type IV - A 2nd generation photograph (or 3rd or later generation), developed from a duplicate negative or a wire transmission, during a later period (more than approximately two years after the picture was taken). Many Type 4's were issued after 1970, either for latter-era publication of earlier original images or for the general public consumption.
It takes years of experience to properly authenticate photographs and assign them with the appropriate type. This is because numerous photographs have complicated multiple news service stampings on the reverse requiring familiarity with the date as specific stampings were used by various news service agencies, newspapers and photographers. Other factors include the time of photograph development, when new film developing technology was invented and when photograph paper was manufactured.
Photograph Grading
Placing photographs into four types is synonymous with grading. Each PSA/DNA authentication service, whether autographs, baseballs, baseball bats, cards and other memorabilia, have styled and unique authentication standards that best fit the sellers and buyers need to communicate what is being purchased and what is the range of market value.
These specialized standards apply equally to photograph authentication. Duplicate photographs of the exact same image, developed at the same time, are the exception rather than the rule. Because of the overwhelming dissimilarity of images, type categorization, as a grading format, is the best way to assess what kind of photograph is being offered and the true market value of the particular image. With some other collectibles, a numerical grading system is the desired format for the evaluation of items such as cards, baseball bats and pin backs.
Once the important characteristics of a photograph are identified and the appropriate Type is selected, then the marketplace will determine its value based on a variety of factors including content, clarity, rarity and condition. Additionally, photographs are expected to have some creases or other flaws that may or may not result in the adjustment of market value subsequent to determining the Type category. The condition and the importance of the image may affect the value but not the Type.
Value
A Type One photograph is often the most valuable or expensive of the four types, however, it is not always the rule. For example, a Type Three wire photograph of Mickey Mantle hitting a home run in a World Series may be more valuable then a Type One common player of the 1920's. All four types are collectible regardless of their price.
Newspaper companies purchased photographs from independent news photo service agencies or created their own photograph bureaus in order to satisfy the public's demand for photographs that accompany newsprint.
News service photographs and photographs, taken by known photographers, emerged just before the twentieth century and ended in the later part of the 1960's.
News service photographs are usually identified by viewing the back, or reverse, of the photograph. The reverse may have an attached piece of paper or "slug" describing the image as well as a stamp identifying a photographer, a news photo agency or newspaper. News service photographs include wire photographs. Wire transmission of photographs began in 1935, allowing images to be electronically transmitted over telephone wires from one location to another. The reproduced image of a wire photo is usually identified with the description embedded on the front of the photograph.
Though wire photos existed after 1935, news service photographs and photographs taken by named photographers continued to be the most widely published until they began to be phased out after World War II.
The advent of digital photography allowed millions of people and news organizations to take, develop, print and store thousands of photographs with ease. Unfortunately, many newspapers companies, with massive archives of photographs, digitized them and then destroyed their archived photographs before there was recognition that their photographs had value to collectors.
Photographs That Should be Submitted for PSA/DNA Authentication
UNSIGNED PHOTOGRAPHS - for Sports Photograph Authentication
All panoramic photographs: $250
Other photographs:
HOF
Common
1900-1920
$75
$25
1921-1950
$50
$20
1951-1970
$30
$15
1971-present
$15 (all photos)
Autograph and photograph authentication are separate services. In order to have the autograph authenticated, you must fill out a separate PSA/DNA Authentication submission form. Both submission forms must accompany the item. Separate authentication fees apply. Fees are listed above.
The price list that accompanies this article is helpful in deciding if a news service photograph, including wire service photos and images taken by recognized photographers, is of sufficient value to merit authentication.
Most auction companies and certain dealers advertise what they believe is worth the expense. The mere fact that a photograph is listed as a lot in an expensive catalogue may be telling enough. You can reasonably conclude that authentication of these photographs is to be expected in most circumstances.
Any subject image, whether sports or non-sports related news service photography, including wire service photo and photographs taken by recognized photographers, can be authenticated.
A Portrait of Baseball Photographs
Henry, Kyhber and I were careful to write this book as an interesting read and not as a boring technical journal. We have included detailed biographies of the best photographs including Charles Conlon, Carl Horner, Paul Thompson, George Grantham Bain, Louis Van Oeyen, George Burke, George Brace, William Jacobellis, Malcom Emmons, Walker Ioos Jr., and many others. It took over three years just to locate photographs of Horner, Bain and Van Oeyen.
We included a detailed chapter of the history of over thirty major news photo services and news subscribers such as Acme Associated Press, Bain's News Service, Underwood and Underwood, Wide World Photos, International News, Pacific and Atlantic Photos, Keystone View Company, The New York Times, The Sporting News and many more. The authentication chapters include detailed images of the stampings and the dates the stampings were used at different times by major news photo services and prominent photographers.
There are 345 pages of text and the majority of these pages have the spectacular baseball photographs. Even though we focused on the sport of baseball in writing our book, the material and guide can be applied universally. I hope, on behalf of Henry and Khyber, that what I have written here provides you, the collector, with the basic knowledge that encourages you to broaden your collecting skills in this area and enables you to enrich your existing collection.