Whether you're a seasoned game-used bat collector, or just getting started in the genre, you have undoubtedly come across a bat that appears to have been actually used by a professional player in a game, but turns out to be a promo bat, or a bat without any record of order. Over the years, we have seen many bat collectors submit bats for authentication, and then be shocked to learn that what they have is what we call a promotional or promo model bat. These bats were made for promotional purposes, or for the player's use outside the game.
Generally, these bats are the same models that players use during their career, but may not have been used during the labeling period of the bat in question. It could also be a model that, while having been used by a player, has never really been used in a Major League game. When we peruse the player's Professional Bat Ordering Record (BPOR) we find notes that explain bats such as these were made for a "retail concern" or are simply listed as: "Baseball Miscellaneous".
To give you some history on these bats, beginning in the mid-1990's, Louisville Slugger began producing player model bats without the model number stamped on the barrel. These bats were manufactured to the exact specifications of the model regularly being used by the player. On occasion, these bats have actually found their way into play in Major League games. In this month's column, we'll take a look at a few examples of these game-used promotional bats and discuss their grading - which can be confusing, after all, if the bat was in fact game-used by a player, and it has excellent player characteristics, consideration must be given, even if the bat would usually not grade better than a PSA GU 3 because it is a promo bat, or does not match up with factory records.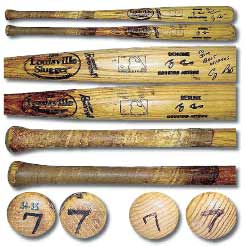 We'll start with two bats that have very distinct characteristics and have been unquestionably game-used by Houston Astros' second baseman Craig Biggio. You will notice by looking at the photos of Biggio's bats included here, that they are heavily taped and covered with pine tar. Biggio's bats, which are very popular with collectors, will generally have his number "7" on the knob and top barrel. As you can also see in these photos, these two bats, which are promo bats, hold no model numbers although they have been game-used by Biggio.
When it comes to authenticating bats that Biggio has actually stepped into the batter's box with, we would first look for the model number "H176" on the barrel. A bat like that would, without question, grade a PSA GU 10. That is because the bat would match factory ordering records, exhibit at least medium use, and possess perfect player characteristics. A bat that does not have that number, or that lacks PBOR, despite its provenance, would technically not meet our criteria, which means, it would grade no higher than PSA GU 3.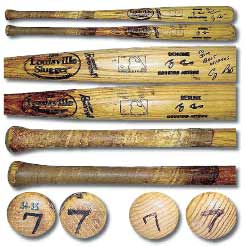 Another example is the pictured Johnny Bench model A99 1976 Bicentennial bat. While the length and weight of this example is perfect, and an order for A99's does appear on Bench's PBOR in 1976, the order notes call for "Hickory finish, cupped end", both of which are absent from the bat. Again, the bat has what we would consider to have perfect player use characteristics. Pine tar application and the style of Bench's "5" on the knob are perfect.
Additionally, there is red bat rack paint on the top barrel, sides of the knob, and in the pine tar, indicating to us that the bat has been in and out of the Reds bat rack at Three Rivers Stadium. We should note that a handle crack on the bat has been repaired, that does affect the original pine tar. However, a close examination of the repaired area does reveal that the original pine tar extended more than 12-inches from the knob up the handle, which again, is perfect for Bench. This particular bat, which was offered on eBay, generated several calls to us for an opinion and, although it is a great gamer, due to the fact that it did not match with the PBOR order notes, we would only rate it as a PSA GU 3.
It is examples such as these that have caused us to re-evaluate the grading criteria for promotional model and "phantom" bats. Though rare, as evidenced by the Biggio and Bench bats, it is also clear that these bats are at times being used in games, and therefore must be graded as gamers.
Other bats not appearing on the players PBOR at Louisville Slugger that must be considered are All Star Game bats and World Series bats. Let's take the 1977 season as an example. A review of PBOR's for eight players from both the National League and American League All Star teams reveals that none have All Star Game bats noted as being shipped to them in 1977.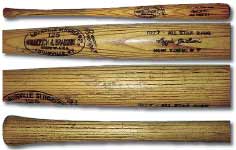 Among the players PBOR's that we reviewed were those of Reggie Jackson, Pete Rose and George Brett. The Rose and Brett All Star Game bats have both appeared in major auctions within the last 18 months, and the Reggie Jackson bat, which is pictured here, resides in a private collection in Florida. We mention these bats because all three are accepted as being authentically game-used. However, by applying our standard grading criteria, all three bats would only receive a grade of PSA GU 3 because none appear on the players PBOR.
According to Louisville Slugger, World Series bats ceased to exist in 1975. Since then, there are no written notations that refer to World Series lumber. Assumptions for that can be made, based on order dates and model numbers, but we all know what can happen when one assumes too much. World Series bats that were produced for players from 1975 to 1988 were never intended for game-use. These bats are lacking model numbers and do not usually match the model the player would have been actually using.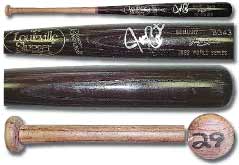 This trend changed in 1989, when Louisville Slugger began making player model All Star Game and World Series bats with the large "Louisville" stamped on the back barrel. Since that time, player model bats with the year and "World Series" have been produced, but not noted on the players' PBOR. Pictured is an example of these contemporary World Series bats. All are in fact game-used, and while each possess excellent player characteristics, if we were to apply our grading standards literally, they would again, receive a grade no higher than PSA GU 3, which would be unfair.
Clearly, I think we can all agree by looking at the examples shown in this month's column, that exceptions to the rule must be applied. At the end of the day, we feel that use characteristics will always factor heavily into the authentication and grading of these "phantom" gamers that have no PBOR. Absence of an ordering record will, however, prohibit a "phantom" bat from ever getting a grade higher than PSA 7. World Series bats and All Star Game bats will be authenticated and graded based on our existing grading criteria. We believe the absence of a notation on the players ordering record does not detract from the authenticity of the bat, especially when we are considering bats made after 1975. Since that time, the absence of the record is the norm rather than the exception.
As you can see, authentication of game-used bats can be complicated and must only be done by those who are extremely well-versed in what they are doing. It is what we do every day, and we are committed to doing all we can to strengthen the genre of game-used bat collecting and assist collectors in making sure they get exactly what they believe they are getting.