The 1977 Topps set is the Rodney Dangerfield of '70s baseball issues.
For the most part, it gets no respect.
Sure, until recently – when Bruce Sutter was elected – it lacked a Hall of Famer's rookie, but it's still hard to comprehend why fewer cards from this set have been submitted to PSA than any other regular Topps series from the same decade.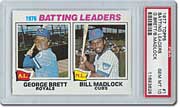 It does have its diehard collectors though. Phil Apostle, a Chicago-based enthusiast who had the top set on the PSA Set Registry in 2003 and 2004, believes these cards are some of the most attractive ever produced.
"When they're right, they're drop-dead gorgeous. They explode with color . . . they're vibrant. They're powerful. They're like pieces of art because of the way they are framed," he said.
Available in wax packs, rack packs, cello packs, and vending boxes, this 660-card set was released in one series. The card's front showcases the team's nickname in italicized, capital letters, with the player's name – also in upper case – in a standard font below it. To the right of the player's name is a flag denoting their position. Action shots and poses are utilized for the photos that feature a facsimile autograph printed across them.
The card's backs are predominantly green and include the player's name across the top, along with personal data and year-by-year batting statistics. Also featured are a cartoon and a short paragraph of biographical information.
Among the rookies in the set are Sutter, Andre Dawson, Dale Murphy, Dennis Martinez, Jack Clark, Mark Fidrych, Garry Templeton, and Jim Gantner. More than 20 Hall of Famers – including cards from legends like Nolan Ryan, George Brett, and Mike Schmidt – are also part of this issue, as well as a number of subsets, such as League Leaders, Record Breakers, Turn Back the Clock, and a "Brothers" series.
It seems that most 1977 Topps collectors remember these cards from their childhood.
"'77s were the first ones I ever opened, so they kind of had a special meaning to me," explained Jeffrey Brewer, a Seattle-based hobbyist whose set is No. 1 on the PSA All-Time Finest Set Registry.
Apostle also recalls amassing these cards during his youth, but the savvy hobbyist is now collecting them for his first-born son, Montgomery.
"When I looked at my son, my entire outlook on everything changed. I started to value my childhood more and I wanted to share it with him so much. And so I said, 'You know what?' . . . I'm going to put together a set for him that's going to be as mint and perfect as I would have done it in 1977, with my knowledge now . . . Quite honestly, this is his set," he said.
According to the PSA Set Registry, Apostle and Brewer are the only two collectors to complete this issue. Some hobbyists argue that this is the toughest '70s baseball set to put together in high-grade outside of the pesky, black-bordered 1971 issue.
Many condition problems stem from the fragile stock that was used.
"The paper stock was horrible that year," said Brewer. "They didn't really update the paper stock until 1979."
Apostle concurs. He notes that the "soft and mushy" stock is the root of a common condition issue in which fibers are often seen on the edges of these cards. Chipping is also prevalent on the edges.
Also plaguing these cards are print flaws.
"You get that across the whole set as far as print defects go. Smudges and smears and . . . a lot of times you get a blue leftover print in the border or on the face of the card," said David Sleeper, a collector based in Maine, whose set currently ranks No. 2 on the Current Finest registry.
Another common hindrance is surface wrinkles.
"It's a shame because you can have a gem mint card with spider wrinkles," said Apostle, who points out that this tiny surface imperfection can drop a card's grade dramatically.
To a lesser extent, these cards are also hampered by centering problems.
"In terms of centering, it's pretty straightforward. There are more tilts than usual and they tend to grade them tougher top to bottom," said Apostle.
Hobbyists say that the more high profile rookies from this set – like Dawson and Murphy – are generally not hard to find in high-grade.
"Murphy and Dawson aren't tough because anyone who's got a decent one puts it on eBay," said Sleeper.
Apostle believes the inaugural Mark Fidrych (#265) card is the key rookie. Not only is it tough to find in pristine condition (as of this print date, of the 80 "Bird" rookies submitted to PSA, only one has graded a PSA 10); it's also the single card that most collectors coveted when the cards were initially released.
"So if you're putting together a '77 set with the proper spirit, the Fidrych has to be awesome," he said.
Three of the toughest star cards to uncover in high-grade are Tom Seaver (#150), Thurman Munson (#170), and Catfish Hunter (#280). None of these cards have a PSA 10 example in the Population Report.
Hobbyists say that centering issues hamper the Seaver card.
"That card is notorious for being off-center. I mean 29 out of every 30 that come out a pack won't even get an 8," said Brewer.
The Munson, on the other hand, is usually hindered by print flaws.
"There is a print defect on many Munson cards, as well as terrible centering top to bottom. The print defect on the Munson runs down the right margin," said Apostle.
But the veteran '77 enthusiast says the most condition sensitive star is Catfish Hunter.
"Extraneous print (smears, etc.) plagues that card. . . . I mean it's just got so much print all over it. It's also typically centered among the worst cards in the set," he said.
A number of commons are also hard to find in high-grade. Steve Luebber (#457), for example, has only been submitted to PSA three times, and none of his cards have been graded a PSA 10. Apostle says there has never been a Luebber for sale on eBay.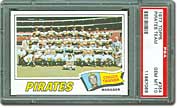 "It seems to be found less often in any condition when I break product. He is typically tilted or miscut with several print issues as well," he said.
But it's the John Candelaria card (#510) that is the "Holy Grail" of the set, says Apostle. He says there is one PSA 10 example of that card, but he has never seen it.
"To get a (PSA) 9 on that thing is next to impossible; an (PSA) 8 is a chore. That card is so horribly centered to the left (often 90/10 or worse), and it is so absolutely murdered with print," he said.
Despite the challenges this set presents, there seems to be a moderate increase in the number of hobbyists putting it together. Brewer says that when he started there was only one other collector working on it. Now, he says, there are around "four or five."
Maybe this is a sign that this set is on its way to shedding its Rodney Dangerfield status and finally getting the respect it deserves.