Bats that have actually been used in World Series and All Star Games are among the most sought after treasures by game-used bat collectors. Combining rarity and unique barrel stamping, these mid-summer and fall classic bats, represent milestones in the history of baseball, as well as in the individual player's career.
While many of these specially made bats are personally kept by the players, or presented as gifts to teammates, family members and friends, others are actually used during the All Star Game and World Series. Documenting the provenance of the bats that were actually used is a challenge and authenticated All Star and World Series game-used bats are few and far between.
As for the "holy grails" of this genre of the hobby, Mickey Mantle's 1958 and 1964 World Series bats, Stan Musial's 1955 All Star Game Bat, and the lumber Jackie Robinson swung in the 1949 All Star Game, are some of the most desired pieces of wood known to exist.
In this month's column, we will take a look at bats used in these "Big Games", discuss their history, and give you a better understanding of the application of our grading standards to these magnificent items of baseball memorabilia.
The earliest reference we can find in the Louisville Slugger records for World Series bats is 1928 and records of All Star Game bats first appeared in the 1930's. Bats used in these games were not barrel stamped with "All Star Game" until 1949, while the first "World Series" stamping appeared in 1950.
Until recently, players of World Series and All Star teams would receive one or two bats that were made specifically for them for those games. It's our opinion that those bats were produced by H&B to acknowledge various player achievements. The models that were made for the players were generally the same as the ones as the player ordered during the last regular season. An exception to that was with pitchers, who had no personal bat records. In these cases, "stock" models such as the K55 and M110 were produced.
Louisville Slugger made player model bats for World Series use until 1975. The following year, all bats made for the World Series were pro stock models that were 34 inches in length and carried no model numbers. Some of these bats have clearly been used. We have seen bats made for Doc Ellis and Cliff Johnson that show definite use, but the vast majority did not see use during or after the World Series. Louisville Slugger continued making pro stock models for the World Series into the mid 1980's.
In 1989, in an effort to promote the company, Louisville Slugger produced bats for the All Star Game and World Series with "Louisville" printed boldly in large type on the back barrel. When a player stepped into the batters box, Louisville Slugger made sure the national television audience had no question as to what manufacturer's bat the player was using. That came to an end following the 1989 season. In an effort to eliminate the exploitation of players and the free advertising and marketing the bat manufacturers were receiving, Major League Baseball established limits as to the size of the barrel stamping allowed on Major League bats. From 1989, and continuing through today, All Star and World Series bats are exclusively player model bats.
As for the Adirondack/Rawlings bats, which first appeared in the 1953 All Star Game and 1952 World Series, there are important things to know. The 1952 World Series bats did not carry the player's name stamped on the barrel. The only stamping read: "1952 World Series". Adirondack bats with the player's name on the barrel first appeared in 1955 and Adirondack/Rawlings has consistently produced player model bats from 1953 to present. Additionally, they have also produced non-game-used bats for the player's own promotional use. These bats are easily identified by the lack of any model number, order number, year code, or game code such as "AS"; "ASG"; "AL"; "NL"; "WS", etc. On occasion, they will also feature a special brand or decal that commemorates the event.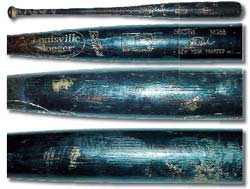 When grading All Star and World Series bats, special consideration must be applied to the amount of use that is present. For example, what would you consider to be a perfect PSA GU 10 All Star Game bat - a bat with considerable use and excellent player characteristics, or a bat with a ball mark or two with excellent player characteristics? Most collectors would say the latter. Understandably, an All Star Game bat, if game-used, may be carried to the plate four times during the mid-summer classic. During those four appearances, how many times did the bat contact the ball? With this in mind, the perfect All Star bat would have light use, display identifiable player characteristics, and preferably, documentation that can place the bat in the hands of the player during the game.
A bat that we would consider to be the ideal All Star offering would be Johnny Bench's 1976 Bicentennial bat. The bat is stamped "1976 All Star Game Philadelphia". There are two well-defined ball marks on the barrel, as well as a few red bat rack streaks from the bat racks at Veterans Stadium. There is also a light coat of pine tar on the handle, and Bench's number "5" on the knob in black marker. It is characteristics such as these that make this the perfect PSA GU 10.
Now consider this, if that same bat were to show heavy use, which would imply that it had been game-used after the All Star Game, should the grade be lowered because we can't determine if the bat has All Star Game use? Should we determine it to be a regular season gamer? These are questions we will pose to you. Let us know what you think by e-mailing us at [email protected] and we'll address your opinions and give you ours in next month's issue.
World Series bats are graded using the same thought process. Of course, since we are considering the bats use in a four to seven game series, the amount of use can vary from light to fairly heavy, to qualify for what we consider being exclusive World Series use. Again, many World Series bats will exhibit so much use it is obvious that they were packed up after the series and unpacked at the beginning of spring training the following year. We'll ask for your input again. How would you grade a World Series bat if you knew the bat had been used in a regular season game the following season?
A perfect example of a game-used World Series bat is Mickey Mantle's 1964 Hillerich & Bradsby model M110, World Series bat. The bat exhibits excellent Mantle use characteristics evidenced by his classic pine tar application and deeply embedded stitch marks on both sides of the barrel. The bat has several prominent blue bat rack streaks from the Yankee Stadium dugout and red bat rack streaks from the St. Louis Cardinals Sportsman Park visitor's dugout.
Overall, the bat shows medium use, which we consider to be perfect, based on the 28 plate appearances Mantle made in that Series. We have viewed game films from the 1964 World Series, and have little doubt that this is in fact the bat used by Mantle to break Babe Ruth's World Series record of 15 home runs and establish the new record of 18 World Series homers. In our opinion, this bat was used exclusively during the 1964 World Series and in no other game.
Today, most of the bats used in postseason play are regular season gamers. We have authenticated several regular season gamers that have clear World Series use. If you'll note in the photos of the Jorge Posada and Bernie Williams bats pictured in this column, you will see that both have vivid gold ink transfers on the barrel. Both of these bats were used during the 2000 "Subway Series" between the Yankees and the Mets. The 2000 World Series baseballs were printed with gold ink.
Additionally, the Rawlings Williams bat has the order number "894" stamped into the knob. The high order number indicates the bat was made in late September just before the post season. Both of these bats, if presented for authentication and grading, would be considered as a regular season gamer. Special mention could only be made to their use in the World Series if a solid letter of provenance accompanied these bats. With the presence of such documentation, both of these bats would receive high grades due to the perfect player characteristics and amount of use that is present.
If you enjoy collecting game used bats, we highly recommend that you consider making room for an All Star Game or World Series bat. Their rarity makes collecting them a real challenge, and their unique barrel brands sets them apart from any other player model bats. Most importantly, our advice as always, is to Have Fun!!!
John Taube is the owner of J.T. Sports. With well over two decades of experience, his expertise on physical attributes of game-used bats and dating have pinned him as one of the world's leading experts in bat authentication and grading. Working in conjunction with Vince Malta, Taube has an ongoing commitment to expand the existing knowledge of game-used bats. With over 35 years of combined expertise, bat experts Taube and Malta are the formidable team for PSA/DNA's game-used bat authentication service. Their reputation and integrity is second to none in the hobby. The duo exhibits strong attention to detail, expertise with labeling variations and insight to restoration. Most importantly, both share a commitment to provide the hobby by adhering to the most standardized and recognized game-used bat evaluation criteria.
You can contact John and Vince in regard to column ideas, suggestions and questions by e-mailing them at: [email protected]. For information specifically on having bats authenticated or graded by John and Vince log on to www.psadna.com and click on "Professional Bat Authentication".