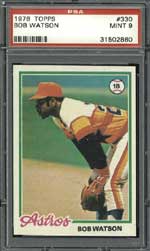 A good Sesame Street episode could be made about the 1978 Topps Baseball set.
Brought to you by the letter "M," this episode would showcase "Murray" and "Molitor," the two Hall of Fame rookies that anchor the set - and just for good measure, "Morris," another likely Cooperstowner whose inaugural single is included.
Naturally, it has its Bert(s) (Blyleven, Campaneris) and Ernie (Whitt), and even its Oscar(s) (Gamble, Zamora). Sure, it would have to star Mr. (Burt) Hooton instead of Mr. Hooper and Ellis (Valentine) instead of Elmo, but that's close enough, isn't it?
And judging by the popularity of this set, this episode would be a ratings bonanza. According to the PSA Population Report, more than twice as many cards have been submitted from this issue as the 1977 Topps set.
For most hobbyists, their interest in this set can be traced back to their childhood.
"Like most baseball card collectors, 11 years old is the magic number, this was the first set (1978 Topps) I collected at the time," explained Guy Barrena, a Cartersville, GA., native whose set ranks No. 2 on the PSA registry.
Frank Smith, a Washington native who owns the registry's No. 1 set, collects for similar reasons. He remembers his aunt helping him complete the set when he was growing up.
"I would look at the cello packs and the rack packs (at a local store) to try to find the guys that I need and the clerks would always come up and shoo me away because they didn't want me going and making a mess out of their display," he recalled. "So my aunt would kind of stand guard and every time somebody came up, she'd give them a dirty look and tell them to keep moving on."
At 726 cards, this issue was the largest produced by Topps since 1972. Available in wax packs, rack packs, cellos, and vending boxes, the set boasts a number of subsets, including League Leaders, Record Breakers, and Rookie Prospects. Also featured are 66 double-printed singles, including the Jack Morris and Pete Rose cards.
Sporting a simple design, the front of these cards exhibit a larger photo than other contemporary Topps issues. With the exception of All-Star starters from the previous season and subset cards, the fronts include a white baseball in the upper right corner indicating the player's position. All-star singles boast a shield denoting the player's elite status and position. Members of the Topps All-Star Rookie team have a white ball announcing their position, as well as a trophy highlighting their All-Star status.
The backs of the regular cards feature personal and season-by-season statistics, as well as a baseball situation that's part of a game that can be played with the cards. Depending on how many years the player has toiled, a paragraph of biographical information may also be included.
Aside from Eddie Murray, Paul Molitor (Alan Trammell is on the same card), and Morris, the set also boasts the first cards of Lou Whitaker and Lance Parrish, and singles of more than 20 Hall of Famers, including three Reggie Jackson cards.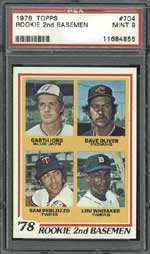 Nick Marnell, a collector based in Santa Monica, Calif., whose set ranks fourth on the PSA Current Finest Registry, says that the storied 1978 Yankees team makes the Mr. October cards, as well as the other Bronx Bombers singles, highly sought-after.
Aside from outbidding Yankee fans, collectors face a number of challenges in compiling this set. The expanded size of the series (726 cards) makes it expensive and time-consuming to put together.
"If you don't have a lot of patience, you're not going to finish it off," said Smith. "A lot of people get to that half-three quarter point and... they get kind of bored with the set and they sell it off."
Hobbyists contend that the greatest obstacle to completing this set in pristine condition is bad centering.
"It really is just like any '70s Topps issue... They (Topps) really had no competition at that time and their quality control wasn't that great," explained Dan Youngblood, a New Jersey native whose set ranks No. 5 on the current registry.
Also hindering these cards are miscuts and diamond cuts.
"I've seen more egregious cuts and print defects on '78s," said Smith, who collects a number of other sets from the same era.
Another problem is print smudges. The Molitor card is renowned for smudging on the front of the card in the area where it says "Rookie Shortstops."
"I'll tell you that in nearly all cases, the Molitor cards have smudging to some extent.... It's rare when you don't find any traces of smudge whatsoever," said Smith.
The Murray rookie also presents condition challenges. Hobbyists say it's a difficult card to find centered.
"Left to right (centering) is awful on that card overall. Not top to bottom on the ones I've seen, it's always left to right," said Smith, adding that the Murray is also often hindered by print residue.
Two other star cards that are next-to-impossible to find without flaws are George Brett (#100) and Nolan Ryan (#400). Of the 528 Bretts graded by PSA, only one has been deemed a PSA 10, and that single sold for $810 in an eBay auction on April 16.
"The Brett card, a lot of times, has got print marks. It's a dirty card to go along with the (bad) centering... ," said Youngblood.
Hobbyists seem to agree, however, that the toughest star card is Ryan (#400). The PSA Population Report indicates that of the 1,159 Ryans submitted, none have been deemed a PSA 10 and only 25 have garnered a PSA 9 grade.
"It's the centering. The left to right centering is off and top to bottom centering is off too. When you find the card, it's usually low, so there's no border on the bottom by his name," said Smith.
The elusiveness of high-grade Ryans helps to explain the exorbitant sums they command.
"The two (PSA 9 Ryans) that I've sold have each gone over $400," noted Barrena.
On top of the tough star cards, there are also commons that are difficult to uncover in pristine condition. For most collectors, finding Bob Watson (#330) in high-grade has proven to be a challenge. Of the 20 Watsons sent to PSA, none have graded a PSA 10 and there are only five PSA 9s. Youngblood says the most common problem with the Watson is bad centering (left to right). In fact, this card is so difficult to find centered that a PSA 9 example sold for $305 on eBay on April 9.
But hobbyists insist the hardest card to obtain in high-grade is Terry Forster (#347). Of the 24 Forsters submitted to PSA, none have been deemed PSA 10s, and only three have been evaluated as PSA 9s.
"It's just never centered (left to right)," pointed out Youngblood.
And with a PSA 9 Watson having fetched over $300, there's no telling how much a Forster might command.
"If it hit $500, it wouldn't surprise me," said Smith.
With the prices realized by some of the cards, perhaps one Sesame Street episode about this set might not be enough. A second show could be brought to you by the letter "R." After all, what is this set without "Reggie" and "Ryan" and hobbyists "relentlessly" seeking to complete it?