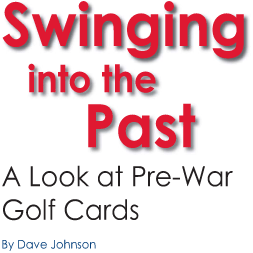 Cigarette cards were introduced in England around 1875 to encourage tobacco sales and brand loyalty. One of their main purposes was to provide physical support for the package of cigarettes itself!
Tobacco companies issued a wide variety of sets of cards with specific themes. These themes included sports, entertainment, nature, military, flags, currency, and transportation.
Golf cards made their first real appearance with a few cards included in the 1898 Ogden's Cigarette's Cricketers and Sportsmen. This initial venture of cards as part of a larger set would be repeated throughout the next 40 years and manufacturers would issue a variety of sets which featured stars of the day from a multitude of sports.
Without question, the rarest and most difficult of all tobacco golf card sets is the 1900 Copes Golfers. It is a set of 50 cards that feature artist renditions of some of the major names in the history of golf. Cards were made in two forms- the "normal size," and a version with the side border trimmed (presumably to fit in certain cigarette packs). While the trimmed versions appear to be much more scarce, they do not hold the visual appeal nor the value of their regular-sized counterparts. The cards were printed on a fairly heavy card stock and have a checklist of the entire series of 50 cards on the reverse.
The set is highlighted by cards of Old Tom Morris, who played in the first 36 Open Championships from 1860-1896. It also features World Golf Hall of Fame members Harold Hilton, J.H. Taylor, and John Ball. This set is truly the Mecca of all golf card sets, as singles are rare to find in any condition. Complete sets are almost non-existent.
Ogden's issued a series of Guinea Gold & Tabs cards, which appeared from 1894 to 1907, covering events, personalities and influences of that time. These were produced on subjects like Boer War & Boxer Rebellion personalities, weapons, transport, actresses, racehorses, sportsmen and many more, with varying designs and styles.
There are a number of golf cards in various Ogden's series which mainly can be discerned by the design on the front of the card. The cards are noticeably smaller than most tobacco issues of the time. They are also very condition sensitive with all black borders which are very subject to chipping, centering problems and inconsistent card size. Even though these cards are over 100 years old, they are found in relative supply and feature actual photographs of some of the major golfers of the day, including Old Tom Morris, Harry Vardon, and James Braid.
The 1914 Marsuma set is another rarity in the realm of golf cards. These cards have a tannish/gold colored border which is very subject to chipping. The set is also plagued by centering problems which make high grade cards that much tougher.
The cards show golf instruction shots from golf figures of the day including Harry Vardon, James Braid and a lone appearance of 3-time US Amateur Champion Walter Travis among others. Rarely seen in complete set form, singles cards have recently been more available in the market.
In 1923, Copes released another set dedicated strictly to golf cards. Promoting their Kenilworth cigarettes, the 1923 Copes Golf Strokes series featured 32 cards of 5 different golfers. Harry Vardon, Abe Mitchell, George Duncan, J.H. Taylor and Ed Ray are features on black and white photo cards that show a variety of golf instruction pointers. This set is one of the Big 3 of golf card sets, along with the 1900 Copes and the 1914 Marsuma set. Surprisingly this set has less total cards graded than either of those two sets to date.
Even for advanced golf card collectors, this set is rarely seen and singles when offered for sale are usually in poor to good condition at best.
The W.A. and A.C. Churchman Famous Golfer Issues were released in 1927 with a small size set of 50 cards, and a large-sized first series issue of 12. The large size issue was continued in 1928 with a second series of 12 cards. The Famous Golfers sets are some of the most widely collected today due to their simple design, use of actual photos and clean look. Churchman issues are known to be extremely well centered both front and back.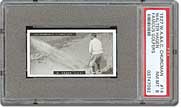 The small size series of 50 features two cards of Bobby Jones and Walter Hagen, four cards of Harry Vardon, and card #33 is of the Grand Old Master of Golf, Old Tom Morris. The set was produced in two color hue variations, black and white and a sepia tone. There is no price difference currently considered for the color tone differences of cards.
The 1st series large size is power packed with big names including Hagen, Vardon and Jones. The large size cards are considerably tougher to locate today, and their large size seems to make them more vulnerable to damage over time.
The 2nd series does not have as many big names as the first series, with Tom Morris being the main card. This series, however, is much more difficult to locate today and may have been produced in significantly less quantities than the first series. These cards, when up for sale, typically sell for multiple times the 1st series counterparts.
J. Millhoff and Company issued a very popular series of 27 Famous Golfers in 1928. Along with the 1927 Churchman issue, this is currently an extremely popular and collected set. The cards have been printed on a high gloss enamalized surface, which makes them subject to scratching.
This series is plagued by inconsistent factory cuts, poor centering, especially on the reverse of cards. These cards feature most of the big names of the period including Bobby Jones, Walter Hagen, Harry Vardon, and Tommy Armor. The first and last cards in this set are very difficult in high grade.
In 1930, W.D. & H.O. Wills produced a set of 25 Famous Golfers. These cards have artist drawn depiction of players and are larger in size. These cards are arguably the most colorful and most beautiful cards of the era.
This set is showcased by cards of Walter Hagen and Harry Vardon. They are normally found well centered but the larger size usually does pose a problem of the cards surviving in top condition.
Unfortunately, a Bobby Jones card was not produced. Today, we can only wonder why he was not included in this very attractive set of cards.
W.A. & A.C. Churchman produced another set devoted strictly to golfers in 1931 with their release of the Prominent Golfers.
Cards are featured in a small size format set of 50, and a large size format set of 12. The set has colorful caricature drawings of golfers of the day including Bobby Jones, Walter Hagen, Gene Sarazen, Harry Vardon and Francis Ouimet.
As with all Churchman issues, these cards are typically found with excellent centering front and back. Although not as popular as the 1927 Churchman set (mainly due to the use of drawings and not actual photos), this set seems to be tougher to locate in higher grade.
Golf cards offer an excellent opportunity. Golf is as popular as ever and the cards of some of these all-time greats are relatively inexpensive compared to their baseball counterparts. It is also important to remember that most of these cards were produced in England, where golf has always been a passion. Collectors have long revered their golf cards and many have survived in outstanding condition.