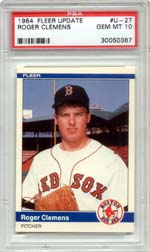 A "doctor" used to rule this set, but, more recently; it's a "rocket" that has launched its popularity into another stratosphere.
When the 1984 Fleer Update Baseball set was released, it was Doc Gooden's rookie that most collectors coveted. Today, its biggest asset is the inaugural "Rocket" Roger Clemens card.
"In terms of ranking the '84 Fleer Update set (among '80s baseball sets)... I would say it would be in the top two - with the '84 Donruss set being the other," said Matt Alderman, a Sammamish, Wash., native, whose set ranks third on the Current Finest PSA Set Registry.
Available exclusively in factory sets, the 132-card issue was Fleer's first foray into update sets. With a design that mirrors the regular Fleer issue, the cards are numbered with a "U" prefix and ordered alphabetically.
Steve Hart, owner of the Baseball Card Exchange in Lynwood, Illinois, says that there are 50 sets in each 1984 Fleer Update case. Unfortunately, these sets aren't sealed which has left them susceptible to tampering. "An original factory sealed case would have a premium because... that's the only way you can say that no humans have touched them," he said. And while production numbers are unknown, quantities of this issue are believed to be limited. Hobbyists estimate that anywhere from 4,000 to 100,000 sets have been manufactured.
This scarcity, as well as the popularity of the Clemens card, are key reasons that the set remains highly sought after. On top of the "Rocket" and "Doc" rookies, this set also boasts the first Fleer issues of Kirby Puckett, Bret Saberhagen, Jimmy Key, John Franco, Mark Langston, Jose Rijo, and Ron Darling. Also offered are singles of several Hall of Famers, including Tom Seaver, Phil Niekro, Tony Perez, Joe Morgan, and Dennis Eckersley, as well as a coveted card of Pete Rose.
On top of its great player selection, this issue's size (132 cards) and affordability (aside from a few key cards) make it appealing to high-grade collectors. So far, four sets have been completed on the PSA registry.
Of the more than 6,800 cards submitted to PSA, close to 9% have been graded PSA 10s, while another 46 % have been deemed 9s. But despite the lofty number of high grades, there are a few condition issues that hamper this set.
Bad centering appears to be the most common flaw. In most cases, it's the left to right alignment that's off, but the top to bottom centering can also pose a problem. The inconsistency of the centering is what frustrates hobbyists the most. "You may have half of the cards centered nicely, and then the rest of the set is off kilter," said Alderman.
Another hindrance is the quality of the box the set was shipped in.
"The boxes they were sold in are very flimsy and make it very easy to ding the corners," said Brian Shearon, a hobbyist based in Modesto, California who owns the sixth ranked set on the Current Finest PSA Set Registry.
Hart concurs. "It's a pretty cheap box, but as long as they're stored properly... it usually doesn't cause the card any damage."
Hobbyists also have to be wary of counterfeit cards of Clemens, Gooden, Puckett, Rose, Saberhagen, and Darling. Little information is available on these reproductions, other than they can be detected by examining the card under magnification. Experts say that if the card appears blurry and has different printing dot patterns, then it may be a fake.
On top of avoiding counterfeits, collectors seeking the Rocket's rookie will also have to overcome centering (generally left to right) issues. Of the close to 3,000 Clemens cards sent to PSA, approximately 6% have garnered a PSA 10 grade, while 43% have been graded 9s.
"The centering is probably the toughest detraction. And then some of them you see are slightly rough cut," said Hart of the Clemens card.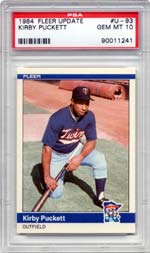 The same centering flaws hinder the Puckett rookie. "The issues I've noticed is how off-centered it can be - more so than Clemens," said Alderman.
The toughest big name rookie to find in high-grade, however, is Dwight Gooden. Of the 257 Doctor Ks submitted to PSA, only nine - or approximately 4% - have been deemed PSA 10s.
"A lot of these sets were broken up and the Gooden card (was) pulled out at the height of his popularity. So a disproportionate number of these cards were handled and abused," explained Shearon.
There are also a number of commons that appear to be hard to uncover in pristine condition. Hobbyists say that the checklist (# U-132) - the last card in the set - is often damaged because of its location in the box. Of the 15 checklists submitted to PSA, only one has graded a PSA 10.
"I once saw the checklist go for over $125 in PSA 10 grade a couple of years ago," said Alderman.
The PSA Population Report also reveals that the Mike Fitzgerald (#U-37) and Gene Richards (#U-98) cards have only three graded examples each. Neither card has a PSA 10 example. Hobbyists could not recall any specific condition issues with these cards and attribute the low submission totals to the fact that the set is still relatively new to the PSA registry.
In contrast to the Fitzgerald and Richards singles, the Clemens rookie is the card most frequently submitted to PSA. This is understandable considering that many have heralded it as the premier rookie of the '80s. And even as the seven-time Cy Young Award winner's career winds down, one thing remains clear: it's the Rocket who's responsible for launching the 1984 Fleer Update set's popularity into another stratosphere.