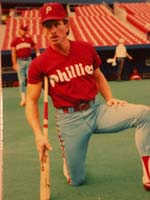 With so many card collectors showing interest in game-used bats, we thought the time was right to bring SMR readers a monthly column solely dedicated to this exciting branch of the sports collectibles hobby, so welcome to The Batting Cage!
When we first began giving thought to exactly what we wanted this column to present, we both agreed that along with giving advice on game-used bats, it should be one that proactively involved readers and collectors. Our goal in this monthly offering will be to make this column an interactive forum where you can suggest topics; ask questions, and share stories about your bat collection - the ones you have and the ones you want.
We also thought, since most collectors love to show off their treasures to others who share their interests, it would be a great idea to profile collectors who have submitted their bats to us for authentication and grading. As we begin this new endeavor, we will be selecting collectors from the pool of legendary lumber aficionados who submit their bats to us and, in the months to come, we will be presenting a Collector's Bat of the Month feature as a part of this column. We will also be covering every imaginable aspect of the hobby of bat collecting. In order for us to do that, we need you to contact us with your suggestions and questions.
For our first column, we thought we should offer a general overview on how authentication and grading is done, and why every collector should consider it.
If you are either just beginning to become interested in bat collecting, or are still relatively new to the hobby, it is of paramount importance that you start learning everything you can about authentication and grading. The best place to start your education is to visit the PSA/DNA Web site at www.psadna.com and click on "Professional Bat Authentication."
This is a vitally important tool for bat collectors being as that they can familiarize themselves with our Grading Guide; Grading Standards; Authentication Process; Glossary of Terms, and Bat Prices. It is a one-stop shop to learn how and why you should have your bats graded and authenticated and to gather much of the information that is necessary to assist collectors when it comes to making knowledgeable purchases.
Along with the website, there are also a few books that offer a wealth of information and insight into what to look for in game-used bats. Bats (by Vince Malta), although now out of print and a bit outdated, is still an important source to provide a basic overview of how to date bats produced by Louisville Slugger and Adirondack from 1950 to 1994. If you don't have a copy and can't find one, don't fret. Malta's soon-to-be-published book A Complete Reference Guide to Louisville Slugger Professional Player Bats will provide a more in depth look at bat dating, and will feature player's and team's actual ordering records. We would also suggest that you get a copy of Mastronet's Guide to Collecting Game Used Bats, which offers a thorough look at dating bats. The Mastronet guide also covers the dating of a few of the uncommon bat manufacturers such as Spalding, Krens and Hanna Batrite.
Another book that will be of great interest to bat collectors is Crack of the Bat, the Louisville Slugger Story. This fascinating tome offers insight on how some of the game's greatest players prepared their bats. It also tells the story of the Louisville Slugger company.
Along with books, other resources for bat collectors are vintage photos; magazines; films, and even television. All of these resources can be used to give collectors a better understanding as to what bats different players use, or have used, and what individual and unique characteristics are evident on a certain player's bat. Whether it was Ty Cobb's classic handle tape; Babe Ruth's label down grip; Mickey Mantle's 1960's pine tar application, or Derek Jeter's heavy application of Mota Stick, all one has to do is see a photo or watch a film clip of one of these hitters in action with an educated eye and myriad clues will pop out at you.
Along with asking how to get started in the bat collecting hobby, one of the most frequently asked questions we receive is how we can know that a bat was really used by a specific player in an actual game? This is where the importance of third party authentication comes into play.
Today, with the influx of so many new collectors and investors becoming interested and active in game-used bats, a tremendous amount of bats are now in the hands of individuals who may only have little or even no real knowledge about the subject. Most new collectors tend to rely solely on whomever they are purchasing the bat from and the Letter of Authenticity and provenance that accompanies the bat. Those things may or may not be important depending on the honesty and integrity of whom you are dealing with.
In order to be assured that you get what you pay for, we strongly recommend that you only consider a bat that has been authenticated by a reliable and knowledgeable source. The authentication process is actually very simple. Submission forms are available on line at the PSA/DNA website and can also be faxed or completed over the phone. Once the bat is received it undergoes a 25-step review to determine if it is in fact an authentic professional model bat and who used it.
The first step is to determine if the bat is a pro bat or otherwise. This is fairly simple in that bats manufactured for retail stores feature knob and barrel stampings that do not appear on pro bats. Next, if a bat is stamped with a model number on the knob or barrel, the model number is cross-checked with the available manufacturer's ordering records that we have on file. When we determine the model was in fact what had been ordered by the player or team, we then measure and weigh the bat to make sure these measurements coincide with the ordering records.
Our team also carefully examines the bat for any evidence of tampering, such as the altering of barrel brands, or model numbers. We also look for any indication of repairs or restoration that might have been performed. If provenance is provided, we verify its authenticity and make sure the documentation that accompanies the bat has not been copied or transferred from a similar bat.
The bat is then inspected for visible signs of use and existing player characteristics. We have an extensive archive of vintage and contemporary photographs of players and their bats. Photographs are a tremendous resource to determine the idiosyncrasies of the players and their weapons of choice. We only consider game photos, not posed, for reference purposes. For posed pictures, we know the players might have simply grabbed the nearest bat or been handed one by the photographer. A good example of this would be with Mickey Mantle. In a majority of the posed shots featuring The Mick, he's holding a teammate's bat and not his own. Current day bats and vintage bats undergo the identical authentication process. In the case of vintage bats, however, it may take longer to research player characteristics or establish the legitimacy of provenance provided.
Once the authentication has been completed, the next step is to have the bat graded. In grading, we assess the bat's existing player characteristics and provenance, if provided. All points are taken into consideration and a grade is then awarded. In most cases, a bat (without provenance), that is deemed authentic, has medium use and possesses at least some recognizable player characteristics, will receive a PSA/DNA grade of GU 7.
Grading brings up another point we are regularly questioned on by collectors: Is grading too subjective? We don't believe so, and here's why. We have developed a set of grading criteria that removes the subjectivity from the authentication process by grading the bat against measurable standards. We've defined these standards as player characteristics, the amount of use that is visible on the bat, and supporting provenance.
These standards determine the likelihood that the bat was in fact game-used by the player. Additionally, the more use present, the greater the probability the bat was used to get a few hits, or a home run, etc. By meticulously studying every nuance of the bat, the PSA/DNA authentication process answers any questions a buyer or seller may have when it comes to a bats authenticity and its purported use by a specific player.
As this genre of the sports memorabilia hobby has matured, bat grading has become standardized and those standards are becoming more accepted every day. PSA/DNA and MEARS, have essentially the same set of standards. We both look for player characteristics, the amount of use and supporting provenance to determine if the bat, was in fact, game-used by the player. A vast majority of today's collectors agree with the adopted standards although, to be fair, there are still those diehards who believe "beauty is in the eye of the beholder" and will always view grading as too subjective.
Some trading card collectors think of bat grading in the same way they think of card grading. The fact of the matter is that the difference between bat grading and card grading is like night and day. They contradict each other. A mint bat, in pristine factory condition, will get the lowest bat grade while a card in the same condition receives the highest grade. Remember, bats are being graded on the amount of use and player characteristics. Both standards imply handling and wear. In the bat world, a perfect bat would be George Brett's "Pine Tar Game" bat", which no one would describe as being in mint condition.
It is also very important for collectors to know that you don't have to acquire all 10's to have a great bat collection. Many of today's collectors are putting together team sets; the bats of pitchers with 300 wins; hitters with 500 or more home runs; members of the 3,000 hit club, or .400 hitters. The ways in which bat collecting can be embraced is virtually endless, there are a host of interesting themes to choose from and you can be extremely creative.
Many of the bats needed to fill collections, such as we've referenced here, are extremely rare and so you may only be able to find a bat that grades 5 to 7. But remember, in cases of rarity, a bat that grades a 6 or 7 may be the best bat known to exist.
John Taube is the owner of J.T. Sports. With well over two decades of experience, his expertise on physical attributes of game-used bats and dating have pinned him as one of the world's leading experts in bat authentication and grading. Working in conjunction with Vince Malta, Taube has an ongoing commitment to expand the existing knowledge of game-used bats. With over 35 years of combined expertise, bat experts Taube and Malta are the formidable team for PSA/DNA's game-used bat authentication service. Their reputation and integrity is second to none in the hobby. The duo exhibits strong attention to detail, expertise with labeling variations and insight to restoration. Most importantly, both share a commitment to provide the hobby by adhering to the most standardized and recognized game-used bat evaluation criteria.
You can contact John and Vince in regard to column ideas, suggestions and questions by e-mailing them at: [email protected]. For information specifically on having bats authenticated or graded by John and Vince log on to www.psadna.com and click on "Professional Bat Authentication".