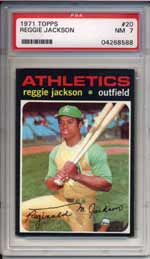 Riding a wave of hit albums and hosting his own TV show, the "Man in Black" was at his musical zenith in 1971. Today, thanks to an award-winning movie, the late-great Johnny Cash is enjoying a renaissance.
The troubadour's popularity is paralleled by the baseball card world's "men in black" - or the players featured in the pesky, black-bordered 1971 Topps set. Like the legendary musician, this set has been the object of renewed interest in recent months.
Originally available in wax packs, rack packs, cello packs, and vending boxes, the 752-card issue was released in seven series. Hobby consensus is that cards from Series One to Five are the most readily available, while those from Series Six (#524 to #643) and Seven (#644 to #752) appear to have been produced in smaller quantities.
Steve Hart, owner of the Baseball Card Exchange in Lynwood, Illinois, says each series was released about four or five weeks apart throughout the 1971 season.
The reason the high numbers are scarce is because, by the time they printed the high numbers, all the grocers were asking for football because it was already football season. They would refuse them or return them saying, 'Give me the football cards.' The kids didn't want seventh series baseball," he explained.
It has also been reported that 44 cards in the final series were manufactured in 50 % greater quantity than the remaining 66 cards. As a result, these 66 singles are recognized as short prints and often command a premium.
Aside from its renowned black borders, the front of these cards showcase the player's name and position in lowercase letters, with the team name in uppercase. The card's back boasts a black and white snapshot of each player and abbreviated statistics that reveal the player's 1970 and career stats. Also featured is a short bio and lines indicating the player's first year in pro ball and first major league game.
Hobbyists generally cite great player selection as a reason for their passion for this set.
"I think it's a good set as far as having Hall of Famers, rookies, and a lot of minor stars," said Larry Sandlin, an Ohio-based enthusiast whose set ranks No. 8 on the Current Finest PSA Set Registry.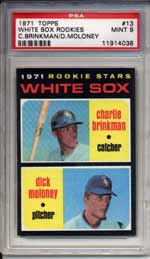 Rookie cards include Bert Blyleven, Steve Garvey, Dave Concepcion, Ted Simmons, Dusty Baker, and Don Baylor (Baker and Baylor are on the same card #709). Among the Cooperstowners are Willie Mays, Roberto Clemente, Reggie Jackson, Ernie Banks, and Nolan Ryan.
And if the bevy of rookies and Hall of Famers isn't enough, this set also offers variations. One version of the Jim Northrup (#265) and Jim Nash (#306) cards, for example, showcases a black "blotch" in the background of their photo. It's believed that this "blotch" occurred in the early stages of the printing process only. This would explain why a second version of these singles does not have the "blotch."
There are also variations of the set's checklists. The Series Two (#123), Series Three (#206), and Series Four (#369) checklists can all be found with an orange or red hat pictured on them. Some hobbyists attribute this to fading that may have occurred during the color printing process.
Further discrepancies exist with the Series Two checklist (#123). One red hat version has the card number centered, while a second has it in the bottom right. The Series Six checklist (#619) has also surfaced in various incarnations: most notably, one version boasts copyright information and another does not. None of these variations seem to command a premium.
For the most part, it's nostalgia that has drawn hobbyists to completing this set in high-grade.
"They were the first cards I got as a kid," explained Don Robertson, a veteran enthusiast based in Sugar Grove, Illinois, whose set ranks sixth on the PSARegistry.
Steve Wolfe, a Virginia-based hobbyist who owns the "Current Finest" set on the registry, also recalls collecting these cards during his youth.
"I remember collecting soda pop bottles to get five cents to buy packs," he recalled.
But of course, the most notorious feature of this set is its black borders - which are its most frustrating feature, as well as part of its allure.
"I love the black. It's just pretty when it's nice," confided Sandlin.
Vince Grodus, a Newaygo, Mich., native and proprietor of the 11th ranked registry set, concurs.
"I would compare it to like having a black car. There's nothing more beautiful when it's clean, but there's nothing uglier when it's dirty."
As appealing as they are, however, the black borders pose the greatest challenge to completing this set in high-grade condition.
"They're so fragile. They chip. Any bend at all shows white," said Grodus.
Unfortunately, some hobbyists have resorted to unscrupulous ways of correcting these borders. One common practice is trimming the cards.
"That's pretty prevalent.... If it's done haphazardly, you can see somewhat of a wavy cut, but if you get those fancy cutters that are out there now, I think it's a little more difficult to spot," said Matthew Farmer, a California-based enthusiast attempting the set in PSA 7 condition or better.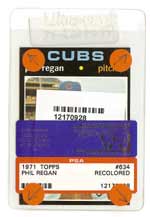 Another tactic is touching up the borders or corners with a black marker. Wolfe says he submitted a Phil Regan card to PSA and was surprised when it came back marked as "recolored." He had acquired the card oblivious to the fact that someone had touched up the corners.
"You can't see this (recoloring) under a normal light," said Wolfe.
Grodus had a similar experience. At a recent trip to a card shop in Grand Rapids, Mich., he thought he had uncovered a mint Dusty Baker/Don Baylor rookie (#709). Fortunately, the storeowner showed him that the corners had been doctored with a marker.
"I thought I had found a diamond in the rough," he said.
Sandlin says that if you look at the card very closely, you can see if it has been "re-colored."
"If you turn the card sideways, you can see the ink bleeding through on the side of the card," he said.
These condition issues are the reason this set is considered the toughest set of the '70s to put together in high-grade. Of the close to 80,000 cards that have been submitted to PSA, only one-tenth of 1% have garnered a PSA 10 grade and just 4% have been graded 9s. In comparison, almost eight-tenths of a percent of 1970 Topps submissions have been graded as PSA 10s, while close to 16% have been deemed 9s.
One of the toughest singles to uncover in high-grade is the Thurman Munson card (#5). Of the 484 cards that have been sent to PSA, not one has registered a PSA 10 and only two have been evaluated as unqualified 9s. On top of the usual border issues, hobbyists say the revered Yankee catcher's card is usually off-center left to right.
"It was probably about a year and a half ago that I was in a card shop that had a bunch of lower-end '71s. And he probably had, I don't know, 15 or 20 Munsons around.... I was just looking through those and they consistently had the left to right centering problem," said Farmer.
Another high profile card that is difficult to find in high-grade is the Pete Rose (#100). The lack of high-grade examples of this card (one PSA 10 and just five PSA 9s in circulation), however, can be attributed more to Charlie Hustle's popularity, which resulted in the card being handled more, hobbyists say.
There are also a number of commons that are difficult to find in pristine condition. At the top of that list is the Claude Raymond (#536). Of the 40 Raymonds submitted to PSA, only one has scored as high as a PSA Mint 9. This would explain why a PSA 8 example garnered $966.56 in an eBay auction that closed on January 28.
"I probably have about 10 of them (Raymond cards) in raw condition and the centering is so bad on them it's unbelievable," said Sandlin.
Another tough card is Lee Maye (#733). Aside from being a short print in the set's final series, the card is almost always off center left to right. Of the 44 Maye cards submitted to PSA, none have graded as high as a PSA Mint 9.
"I've got plenty of them, but they're so far off center that they're not worth sending in for grading," noted Sandlin.
Even the more plentiful PSA Mint 9 commons cards from this set regularly sell for more than $100, which has made collecting this set hard on the pocketbook. And that doesn't even take into account the cost of star player cards.
But the high cost hasn't deterred collectors from entering the fray. Veteran '71 enthusiasts say that competition for these "men in black" has picked up in recent months.
"I have noticed that the competition for the 1971 cards has increased.... I periodically check PSA set listings and have noticed a number of new set entries," said Robertson.
This spike in interest could be considered a renaissance similar to what's happening with the music world's "Man in Black." And while the hobby's "men in black" may never have a movie made about them, they are fast becoming legends in their own right.