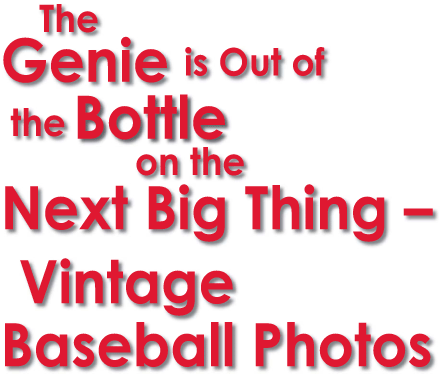 "Vintage baseball photographs express (their) times through the language of memorable images, just as the game itself has impressed its fans with memorable images for the mind – memories of good times and great moments, of happy youth and legendary heroes."
– Marshall Fogel
At the outset of this story on collecting vintage baseball photographs, let us take a few moments to digress and reflect on a sports memorabilia collector's ultimate dream:
While attending a recent card show our dreaming collector spotted a "2006 Topps Series 1 Baseball Cards Hobby Box" on a dealer's table. As he lifted the lid of the box a genie, who looked just like Victoria's Secret supermodel Heidi Klum, materialized and granted the collector one wish, with the caveat that it be in relation to his hobby. Without hesitation, the collector asked to travel back in time to 1909.
For his journey back to the dawn of the Twentieth Century, the collector made sure he had stashed his pockets with a few hundred dollars in cash and then double checked with the gorgeous genie that his destination would be the American Tobacco Company in Durham, North Carolina.
Once back in time, our dreamer's plan was to walk into the cigarette manufacturer's lobby, ask to speak to the company's owner, and then flash his wad of cash in the guy's face saying he was prepared to shell out this small fortune in return for a couple dozen of those fresh-off-the-press Honus Wagner T-206 cards they planned on inserting in packs of their Sweet Caporal cigarettes.
After hearing the time traveler's request, the savvy cigarette magnate quickly excused himself, tracked down the employee who handled the card inserts, told him to grab a stack of Honus Wagner cards and get them back to his office on the double. "I've got this crazy guy in my office who is only asking for a couple dozen of 'em," the tobacco mucky muck said. "But the nut just put $300 bucks on my desk, so get him a couple hundred of those cards will ya."
With the transaction complete, the big cheese then leaned back in his chair and flipped through the crisp bills. "What a rube," he chuckled to himself as the collector returned to the future with his precious stack of mint condition T-206 Wagner cards. "If only he knew that Wagner is making a stink about us using his picture on those cards, so we'll probably just end up throwing the worthless things away."

The reason telling the story of that dream is because it serves as an allegory for the real-life sports collector who has mentally kicked himself a million times over with thoughts that begin with – "If only I had known... " and who constantly asks himself and others – "What will the next big thing be in the sports collecting world?"
To answer that question, one no longer has to simply wonder what the next hot collectible may be, nor dream about going back in time armed with current day knowledge. The answer can be found by simply opening the pages of A Portrait of Baseball Photography (2005) and, by doing so, releasing a duo of genies who are more than happy to offer up what they believe is the answer – vintage baseball photos.
The prognosticating duo that teamed up to research and write this fascinating and educational book are two of the most widely respected names in the sports collectables world – Marshall Fogel and Henry Yee. And, more importantly than just playing the role of genies popping out of the pages of a book to spread the word about what they believe will be the next boom in the collectibles market, they are also diligently dedicated to the job of standardizing the genre and better educating collectors.
Fogel, whose baseball memorabilia collection is considered to be one of the finest and most significant private collections in existence, is a former deputy district attorney in Denver, CO. Today, along with serving as a goodwill ambassador for the sports memorabilia hobby and occasionally writing feature articles for Sport Market Report, he is a senior law partner in a firm that specializes in personal injury and worker's compensation. He is also the co-author of Reference and Price Guide for Collecting Game Used Baseball Bats that was published in 2001.
Having first garnered interest in vintage baseball photos by starting to collect panoramas in the early 1990s, Fogel really got bitten by the photo bug in 1994 when he purchased an original Lou Gherig photo. "There was no competition or knowledge about vintage photos back then," Fogel explained. "But I kept on buying them and did all I could to learn about their history. No one could deter me from collecting them despite the fact that no one else had any interest in them."
Yee, who has been a major collector and respected dealer of sports memorabilia for over two decades, is the owner of HY Ventures, LLC and operates Hyee Auctions on eBay. Along with his own voluminous collection of vintage photos, he has handled well over a million news photographs from public and private collections and has amassed one of the largest collections of news stamping style specimens in the world.
A graduate of the University of Buffalo's Business School of Management, Yee worked on Wall Street for many years where he specialized in organizational development, business systems management, and information technology. "The market for vintage photographs has exploded the last ten years," Yee said. "But there is a great lack of knowledge among many collectors and even dealers about what is an original image and what is a later reproduction. The photography field's traditional use of the phrases, 'first generation' and 'second generation,' is not adequate for today's marketplace. You also have to take into consideration the factor of when the print was made."
Together, this dynamic duo will undoubtedly be unanimous, first-round, slam-dunk inductees into the Sports Memorabilia Collectors Hall of Fame (just as soon as someone establishes one). They embody everything that is right within the hobby and business because they embrace what they do with great passion and are obsessed with sharing their wealth of knowledge and understanding with others to bring standardization and continued strength to the sports collecting world. That desire, to pass on their passion, knowledge and understanding, is clearly evident on every page of their book which is destined to do for vintage sports photos what grading and registries did for cards.
While vintage baseball photos have been stirring up more than a fair amount of interest for some time, many collectors have been reluctant to get involved with purchasing them due to the confusion, complexities, and lack of a universally accepted standard on quality, condition and value. While autographs, cards, game-used items and other sports memorabilia have matured to a point that collectors and dealers can employ historical perspectives, exceptionally well-defined guidelines, and current day market values, photos have remained a minefield of ambiguous values with no universally recognized standards.
Unlike cards, photos do not come in numbered sets. There are no major manufacturers or production runs that can be looked to for historical information. There are also no price guides or grading standards. This means that buyers and sellers alike have been flying blind when it comes to vintage photos. Misinformation and somewhat educated guesses have been guiding this genre of ever-increasing interest since photos began slowly working their way into the collectibles market. As the interest and desire for these images has continued to grow, it was only a matter of time before someone stepped up to the plate to weed through the misconceptions, compile definitive data based on solid research, and present those findings.
Fogel and Yee have done just that with A Portrait of Baseball Photography which is the first comprehensive account of vintage baseball photographs ever compiled and published. While the book has been written and designed to be technical in nature, it will be of equal interest to anyone who is fascinated with the inception and evolution of photography, newsgathering, and photojournalism. A "must-have" for both the novice and well-seasoned photo collector, it is chock full of the most valuable information available to assist in making informed and knowledgeable decisions in the purchasing and selling of vintage photos. "Henry Yee and I have been working on this project for years," said Fogel. "He had information I didn't have, and I had information he didn't have. So our working together has resulted in a book that will be of tremendous benefit to collectors."
In the same vein as Fogel's Vintage Guide that explored game-used bats, A Portrait of Baseball Photography, will assuredly play a significant role in advancing the area of the emerging interest in vintage photos.
Presented in a three-part format, the tome begins with the basics of collecting vintage photos, which covers how to get started and how to define and accurately date news and wire photos. This section also gives insight on photos from magazines as well as television press photos; movie publicity photos, team photos and even amateur snapshots that have been taken by fans or that were a part of a player's personal collection or estate.
Perhaps, the most important information that is imparted in this section is Fogel and Yee's establishment of an innovative classification system that categorizes photographs, not only baseball-related, but from all genres, as either Type I, Type II, Type III, or Type IV, depending on originality, development process, and publication date. It is a certainty that these categorizations will be the cornerstone on which the future standardization of vintage photography will be built.
The second part of the book deals with the history and stamping records of news picture services. Based on 15 years of exhaustive stamp analysis on more than a million photographs, this is the first time a publication has offered comprehensive information and education on how to accurately determine the date of a given photograph based on the stampings alone.
The final part of the book shifts focus from product to producer, paying homage to the photographers to whom the book is dedicated. From the early pioneers to the post-war image-catchers, the authors showcase the men who made immeasurable contributions to America's Pastime, photojournalism, and now, to an exciting new wave of collecting. Along with presenting newly discovered biographical information on these men, the section goes further, exploring their techniques, offering a gallery of their images, and, in some cases, providing the first pictures ever published of these men who worked behind the camera's lens.
A book of this nature could not be more timely and necessary, what with the increase in interest, and the dramatic upward movement in price that photos have been realizing in the retail market and at auctions. Recognizing that fact, this past January, PSA/DNA, a division of Collectors Universe, Inc., partnered with Fogel and Yee to assist collectors and dealers with the company's newest service of providing vintage photograph authentication. Submitted photos will be authenticated and certified by PSA/DNA based on Fogel and Yee's innovative classification system that is explained in detail in their book and also on PSA/DNA's Web site (www.psadna.com).
PSA/DNA President Joe Orlando said he is thrilled to once again be breaking new ground to enhance and strengthen the sports collectibles market. "The popularity of old photographs is certainly increasing, but many collectors frankly don't know exactly what they're buying," Orlando said. "Is it a first generation photo made directly from the original negative soon after the picture was taken or was it developed from the negative decades later, or maybe it's a second generation reprint not directly from the original negative? These confusing factors all affect the value of the photo, and the new PSA/DNA photograph authentication services will help ensure buyers get what they pay for."
Fogel believes that while the interest in vintage photos is heating up at a rapid pace, the genre is really still in its early stages. "It is clearly in its infancy," he said. "It will take a bit more time to see what values are determined by competitive bidding. Then, as time goes by, supply and demand will establish values just like it has with cards."
As for what he believes will be the most desired photos – he recommends you look to the cards for answers. "The factors that will determine a photographs desirability will be very much the same as it is with cards – players, condition and rarity will be the key factors. Then you will have to consider who took the photo, the content, the processing and paper. All of those things will be factors, but just like with cards, players will always be key. A Joe Jackson photo recently sold for $13,000. As far as what other photos will be in demand – again, look to cards – Wagner, Ruth, Gherig, Mantle, Jackie Robinson."
While Fogel believes there will also be a future market for vintage football, basketball and boxing photos, he again points to the card market to determine the direction in which the highest interest will grow. "Photos from every major sport will have some appeal, but as it is with cards, autographs, and game-used equipment, baseball will always be the most desired."
As for their new assignments with PSA/DNA, Fogel said that both he and Yee are extremely excited to be of service. "Henry and I are the real experts in the field of photos," Fogel opined. "There are others who have developed some expertise, but we've been there from the start. We have worked with a lot of photography experts to develop what we hope will become a universal standard. Working with PSA/DNA, we will build that standard to give collectors a methodology, understanding and knowledge to protect them from fraud."
Fogel believes that as collectors become better versed on photos the desirability will skyrocket. "People don't collect what they don't understand and photos are very difficult to authenticate," he said. "With a card we all know what a 7, 8 or 9 looks like. With photos it is much more complicated. We wanted to build consensus among professional conservators while having a system that is easy for collectors to understand. That's the key in helping collectors and dealers understand what they have. We will also someday establish a price guide, different from a card price guide, but one that will be just as clear and easy to understand so that collectors really understand what they have."
Fogel recommended that collectors should begin taking vintage photos very seriously and learn all they can about them. "The first thing to do it read our book and learn the language. Then educate yourself and ask questions of those who are knowledgeable. Keep a close eye on the marketplace. Get all the catalogues from the main auction houses and keep a log of what is selling and how much it is selling for. I tell everyone this is like being given an offer to buy stock in Google before anyone knew what it was," he said with a laugh. "This is a chance to get in on the ground floor of a field in colleting that is nowhere near being mature. There are photos out there that have not been discovered as of yet, and even now there are far more photos than cards. As the interest in photos grows it will bring more people into collecting. For those who are already collecting it will offer a great diversification. If you have a certain favorite player's card you also want a ball signed by them, one of their game-used bats, a uniform, and, an original photograph of them. There is a lot of money to be made for someone who really takes the time to learn all they can about this stuff."
So, when it comes to answering the question on what the next big thing may be, the genie is most definitely out of the bottle. And while neither Fogel nor Yee can hold a candle to Heidi Klum from a physical standpoint, there just may come a time, in the not-to-distant-future, when the collectors who have heeded their advice may find them to be just as incredibly beautiful.