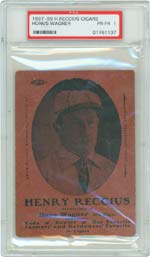 When collectors think of baseball cards, Honus Wagner is one of the first names that come to mind. Most collectors already knows this but what we have here will floor even the most ardent and knowledgeable collectors. It is, arguably, the only known rookie card in existence of the legendary Honus Wagner!
This incredible card is truly one-of-a-kind and was issued during Wagner's very early playing days with the major league Louisville Colonels. Wagner was THE star of baseball from the very beginning. No wonder Henry Reccius used Honus "Hans" Wagner as the symbol and image of his Louisville-based cigar company.
This card first surfaced in 1998, when it was found in an old scrapbook of deceased Louisville resident Jesse Hathorn. It also contained other photographs and articles from the era of 1900. The uniform Wagner is wearing in the photograph is definitely a Colonels uniform of the period and was identified as such through photographic research by Mr. Phillip Von Borries, author of "Louisville Diamonds" and a noted Louisville historian. The card was then auctioned off in 1998 and has remained in private hands until this spectacular offering.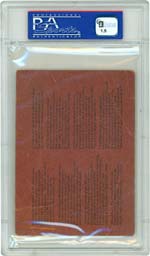 The card is made of medium stock with a reddish-orange color and measures 3-3/8 x 4-3/4". Notwithstanding the grade of PSA 1, this card still presents very well and has excellent eye appeal. It has some age wear, creasing, a 3/4" tear at the bottom right border, and wear to the corners which is consistent with the cards age. More importantly, the front of the card features a portrait of a young Honus (Hans) Wagner in a Louisville Colonels uniform pitching for "Henry Reccius, Manufacturer of Hans Wagner--10¢ Cigar" and "Koda Bowler Our Favorite Farmers' and Gardners' Favorite 5¢ Cigars."
On the reverse, there is a lengthy paragraph extolling the virtues of "Union Made" products and the workers who make them. The method in which this card was first distributed is unknown, but there is speculation from its size that it was either inserted in boxes of cigars or just handed to customers at the point of sale.
A "Honus Wagner" cigar box featuring this same image of Wagner was recently auctioned elsewhere and was shown to be from 1919, but the National Cigar Museum has confirmed that these were a completely different brand that was separate and distinct from the "Hans Wagner" cigars sold much earlier by Henry Reccius. In fact, the federally assigned factory number for Henry Reccius was Fact. 45, 5th Dist. KY. By 1893, they were already assigning factory numbers in the 600's in the 5th tax district in Kentucky, so Reccius was indeed assigned a very early number.
There is indisputable proof that Henry Reccius was making cigars as far back as 1870 when he was only 18 years old! The 1870 United States census of Louisville, Kentucky, lists "Henry Rewcius" as a cigar maker, and he was still living at home at that time with his two more famous brothers, John and Phil, who both went on to play professional baseball for the Colonels in the 1880's. In addition, the 1890 city directory for Louisville lists Henry Reccius as living on Elliott Street, and Louisville had 4-digit phone numbers prior to 1900. Accordingly, PSA had no problem authenticating this card as indeed having been distributed during the 1897-99 time period.
This is a once-in-a-lifetime opportunity to own the only rookie card of Honus Wagner. This fabulous card, remained unseen for nearly a hundred years, and may do so once it is purchased in this auction. Don't miss this once in a lifetime opportunity.