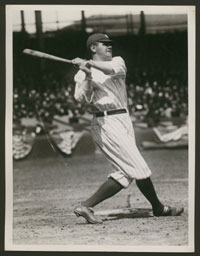 The recent huge growth in collecting sports photographs has led to dramatic price increases, and also perplexing questions about the originality of some photos. To assist collectors and dealers, photograph authentication services soon will be offered by PSA/DNA, a division of Collectors Universe, Inc. (NASDAQ: CLCT).
Two of the hobby's most respected experts, Marshall Fogel and Henry Yee, co-authors of the new book, A Portrait of Baseball Photography (2005), will assist PSA/DNA with the new services. Photos will be certified by PSA/DNA based on the innovative classification system created by Yee and Fogel.
"The popularity of old photographs is certainly increasing, but many collectors frankly don't know exactly what they're buying. Is it a first generation photo made directly from the original negative soon after the picture was taken or was it developed from the negative decades later, or maybe it's a second generation reprint not directly from the original negative? These confusing factors all affect the value of the photo, and the new PSA/DNA photograph authentication services will help ensure buyers get what they pay for," explained Joe Orlando, PSA/DNA President.
Photos certified by PSA/DNA will be classified based on the Types I, II, III and IV classification system created by Fogel and Yee. The system is based on determination of the photograph's originality or reproduction, development process and publication date.
"The acceptance of this new classification system already is a smash hit," said Fogel. "We wanted to build consensus among professional conservators while having a system that is easy for collectors to understand. And that's the key: this will help collectors and dealers understand what they have."
A detailed explanation of the classification system is contained in the new book co-authored by Fogel and Yee, and will be available online when PSA/DNA formally launches its photograph authentication service in a few weeks.
"The market for vintage photographs has exploded the last ten years. But there is a great lack of knowledge among many collectors and even dealers about what is an original image and what is a later reproduction," said Yee.
"The photography field's traditional use of the phrases, 'first generation' and 'second generation,' is not adequate for today's marketplace. You also have to take into consideration the factors of when the print was made, so that's why we developed the categories of Types I, II, III and IV."
Denver, Colorado attorney, Marshall Fogel, is widely known for assembling one of the most significant collections of baseball memorabilia and baseball photographs. He is a former Deputy District Attorney and the author of many feature articles about sports collectibles.
Henry Yee of Jersey City, New Jersey is a Wall Street business systems management and information technology consultant. He also is a collector and dealer who has handled over a million news photographs from public and private archives.
Look for more information about PSA/DNA photograph authentication services, including submission form posted on our website soon.