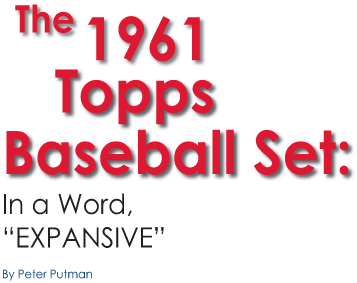 The year 1961 was a watershed year, no matter how you look at it. John Kennedy was inaugurated as our 35th president on January 20th, and found himself embroiled in the Bay of Pigs invasion fiasco just four months later. Alan Shepherd and Virgil Grissom became the first and second Americans to fly into space, while Berlin was divided in two by East Germans and Russian soldiers in August.
On the big screen, audiences watched West Side Story, The Hustler, and Breakfast at Tiffany's. Patsy Cline climbed the pop radio charts with her hits "I Fall To Pieces" and "Crazy", and several teenaged boys sat down with a tape recorder at a kitchen table in Hawthorne, California to record a song called "Surfing" - the first of many pop hits for the Beach Boys.
The year was just as significant for professional baseball. It was the first year of expansion, as Los Angeles got its second major league baseball team. The Los Angeles Angels, formerly a Pacific Coast League minor league franchise that played at Wrigley Field in Los Angeles, was now a full-fledged member of "the show", and got off to a flying start with a 7-2 shellacking of the Baltimore Orioles on April 11.
Meanwhile, back in Minneapolis, MN, the Washington Senators – correction, the "expansion" Minnesota Twins - inaugurated their season with a 6-0 shutout of the American league champion New York Yankees. The Twins had been packed up and moved by disenchanted Senators owner Calvin Griffith, who saw rosier financial times ahead for his club in the upper Midwest.
But there was still plenty of baseball to be played in our nation's capitol, as the "new" expansion Washington Senators cracked the champagne on their 1961 season with a 4-3 home loss to the Chicago White Sox on April 10. Yes, there were now three new teams in the American League, although only two were truly "new" and one was an expansion team in a city that already had a major-league baseball franchise!
Confused? So was I and the rest of my baseball-crazy 3rd-grade friends, who were busy ripping through packs of 1961 Topps baseball cards to find many familiar faces scattered across the country on new teams in new cities, not to mention a bunch of players we never heard of before.
Topps took its cue from the American League and "expanded" their 1961 set to a whopping 587 cards (that's a LOT of gum to chew!), switching back to the standard vertical picture format but eschewing team logos, autographs, and other fancy design elements. Instead, we got a simple portrait of the player, with the player's name and team in a small, multi-colored box along the bottom.
But that wasn't all. Topps added new twists including a series of league leader cards (41 – 50), dedicated checklist cards (17, 98, 189, 273, 361, 437, and 516), a "Baseball Thrills" subset (401 – 410) that featured mostly New York Yankees, and a Most Valuable Player series (471 – 486) to the hundreds of players and team cards.
In addition to two managers subsets (131 – 139 and 219 - 226) and a World Series highlights set (306 – 313), the set was book-ended by the now-popular last-series All-Star cards, of which two cards (#587 and #588) were never issued.
The design of the 1961 Topps cards was about as far from the horizontal, colorful look of 1960 Topps as one could get. In 1960, the players' names practically jumped off the front of the card, while in 1961, they took on the subdued appearance of business stationery.
The obverse of each card retained the small Jack Davis-penned cartoons from 1960, along with each player's vital statistics and career stats. No puzzles, quizzes, "guess who?" or scratch-off gimmicks – just plain vanilla stats and biographical information. (The "Thrills" cards had newspaper headlines and a short story about each "thrill" on their obverse.)
The year was also characterized by its heavy use of player photos with no identifying team logos on hats or uniforms. That's because Topps started the design and production of these cards before the expansion draft rosters were completed, adding team names just before printing. Combined with the sedate card design, the parade of capless players made for some pretty dull-looking cards.
Even so, many collectors now consider the 1961 Topps set a classic. It has several interesting variations, a few mistakes, and a high-number set that is among the toughest to complete of all Topps sets. Compared to the 1960 and 1962 sets; authentic, unopened 1961 wax and cello packs are almost impossible to find and command high prices in auctions.
One reason many collectors love the 1961 set is that it was the year of "The Chase", when Mickey Mantle and Roger Maris went on a home-run hitting tear to challenge Babe Ruth's record of 60 round-trippers, established 34 years earlier in 1927.
Although injuries took Mickey out of the running in early September with 54 four-baggers, Maris managed to break the record during the Yankees' last game, sending a pitch from right-hander Tracy Stallard flying into the stands in the 4th inning. It was the only run scored in that game. That performance, plus scoring 132 runs and batting in 142, earned Maris the A.L. Most Valuable Player award for the second year in a row.
But not too many collectors remember that the Yankees, who finished with a 109-53 record, were in a dogfight all season long against the powerful Detroit Tigers, who crossed the finish line just 8 games behind at 101-61. That team, led by sluggers Norm Cash, Al Kaline, and Rocky Colavito, had a wining record against every other A.L. club except the Orioles (9-9) and the Bronx Bombers (8-10).
The 1961 Topps set was issued in seven series, and cards 1 – 370 are considered the easiest to find. Card numbers 371 – 446 command a slight premium, and 447 – 522 a bit more. Indeed, although unopened material from 1961 is scarce, individual cards are plentiful in auctions and at card shows.
The high number series (523 – 589) is another story altogether. I recall that these cards came out very late in the year, appearing at my local candy store towards the end of August, just before school started. In my childhood collection, I had quite a few 1961 high numbers hidden in my desk in Miss Stark's 3rd grade class at Mt. Pleasant Elementary School, and those were used in card-flipping contests every day during recess.
Today, 1961 Topps high numbers command big prices, especially in top condition. A quick glance at the latest SMR prices shows common cards in the 523-589 series going for two to three times the price of the rest of the set. Cards of Roland Sheldon (541), Jim Gentile (559), and Bob Cerv (563) are particularly tough to find in grades above NM 7.
Highlights of that high number series include team cards for the Minnesota Twins (the ex-Senators) and Pittsburgh Pirates, plus rookie cards of Roland Sheldon, Ron Perranoski, Gene Leek, Jack Curtis, Chuck Hiller, George Thomas, Jim Archer, and Ken Hunt. (Well, not everyone gets into the Hall of Fame... )
But there were plenty of hot rookies in the rest of the set. Ron Santo, Juan Marichal, and Billy Williams all made their debut in 1961, with Williams (1987) and Marichal (1983) eventually making it to Cooperstown. Carl Yasztremski also appears on an All-Star Rookie card, although his Topps debut came a year earlier.
Matty Alou, (brother of Felipe) made his debut in 1961, as did shortstop Dick Howser (416), who went on to a middling career with the Athletics, Indians and Yankees. However, Howser is best known for managing the Royals to a World Series title in 1985, upsetting the favored St. Louis Cardinals in seven games after coming back from a 3-1 deficit.
In amongst all the superstars, there were a few players approaching the end of long, distinguished careers. Musial (#290) would play two more seasons and call it quits at the end of the 1963 season, right before the Cardinals won another World Series. Warren Spahn, the durable lefty, would hang in there until the end of the 1965 season, compiling an amazing 363 victories.
Duke Snider (443) was nearing the end of his career with the Dodgers, and would play one more season with them before being traded to the Mets in 1963. Ted Kluszewksi (#65, with White Sox cap) was in his final year of major league ball, playing for those expansion Angels. And Richie Ashburn was riding into the sunset with the Cubs, coming back for one last season in 1962 with the expansion New York Mets.
For collectors of errors and variations, this set is a delight. Three different variations of the 2nd series checklist (98) exist, depending on the color of the word "checklist" and the copyright notice, and two versions of the 4th series checklist can be found (the location of the copyright notice on the obverse is different). The 5th series checklist can be found with and without an ad on the back.
It appears someone was asleep at the switch when the 6th-series cards were printed, for that's where the majority of the errors exist in this set. Perhaps the most famous error in is the existence of two cards numbered #463. One is Orioles pitcher Jack Fisher (the correct #463), while the other is the Milwaukee Braves team card (actually # 426).
Typos also got the better of the proofreaders, with Orlando Cepeda (435) listed as a member of the "San Francis" Giants and Luis Aparicio's name misspelled "Louis" on some versions of the 6th series checklist (437).
In what amounts to a major mental lapse for Topps, the stats for card #493 of Don Zimmer lists him as having played with Brooklyn in the American League from 1954 through 1957! I guess some of those old Dodger fans just couldn't see straight anymore after the team moved west in 1958.
Despite playing it safe with numerous uniform-less portraits, even Topps couldn't keep up with the last-minute trades and expansion draft personnel changes. Card #457 shows Johnny James in full Yankees regalia, but as a member of the expansion Angels, while card #464, Leroy Thomas, repeats this scenario. Card #522, Dick Farrell, shows him with a Phillies cap, but a member of the Dodgers.
There are other uncorrected error cards, among them #21 ("Zorro" Versalles instead of "Zolio" Versalles), #150 (Whitey Ford's height was listed as 5 feet 0 inches), and #161 (Sherman Jones, but actually a photo of Eddie Fisher). Even the League Leader cards weren't immune from mistakes. The obverse of card #48, A.L. Pitching Leaders, shows Indians hurler Jim Perry as playing for Baltimore, an error that was never corrected.
While 1961 Topps cards can be found in abundance, centered versions of some cards are not that easy to come by. (Roland Sheldon's rookie card has been particularly vexing to me in that regard!) Another printing problem that pops up in this set is the dreaded "fisheye", a glob of ink surrounded by a white outline that can mar an otherwise NM or Mint card.
As usual, the key card in this set is Mickey Mantle (#300), which commands prices around $1,000 in NM-MT 8 condition and over $3500 in Mint 9. Hall of Famers Willie Mays (150), Stan Musial (290), Sandy Koufax (344), Roberto Clemente (388), and Hank Aaron (415) also fetch top dollar, as do All-Star cards of Maris (576), Aaron (577), Mantle (578), and Mays (579).
According to the Population Report for November of 2005, a total of 107,836 1961 Topps cards have been graded, with 178 (1.6%) receiving the coveted PSA 10 designation, 5,795 (5.4%) grading PSA 9, and 46,132 cards (43%) returned in PSA 8 holders. A complete set in PSA 8 would set you back somewhere around $25,000, but they don't show up very often. 30,258 (28%) PSA 7 slabs have been issued, as compared to 11,585 PSA 6 holders (10.7%)
If you could pick one set that is representative of modern (post-expansion era) baseball, the 1961 Topps set would be a great choice. It features great photos, plenty of Hall of Famers and promising rookies, has plenty of interesting sub-sets, and is loaded with surprises. The variations and condition-sensitive high number cards will keep you busy for years, should you try to tackle a high-grade collection.