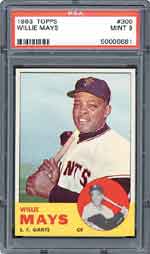 Imagine a time when few people had heard of "The Beatles", the "Beverly Hillbillies" was the hit TV program, and America's heroes were the seven original Gemini Astronauts. The spring of 1963 was a great time to be alive, and even better if you were a young lad who loved to collect baseball cards!
Now picture a group of boys sitting on the front steps of the local mom and pop grocery store. Word had leaked out that the deliveryman would bring the 3rd series of Topps Baseball Cards that day. All of the kids in the neighborhood had most of the players in the 1st and 2nd Series, and we anxiously awaited the prospect of a fresh batch to add to our collections.
Little did we know the quality of the cards that we were waiting for. Most would agree that the 1963 set is one of Topps' best efforts. The bright colors and vivid photography make it attractive to both beginning and advanced collectors. Patterned after the classic 1953 Topps design, its distinguishing feature is the name panel that extends all the way to the bottom so that the lower border is completely covered. It gives each card two colored corners that show even the slightest bit of wear. Inside the name panel is a photo circle with a black and white action shot of the player. Topps issued the set in seven different series and each one features slightly different color combinations.
The backs of the '63's are every bit as attractive. Golden ink stands out in beautiful contrast to the white background and black lettering. In a vast improvement over the '62's, complete career statistics are listed instead of just the preceding year's numbers. Best of all, the kids of that day were treated to a cartoon on most cards. The artwork is superb and large enough to show a detailed illustration that uses tongue-in-cheek humor to give quirky information about the player pictured on the front.
Even better than the brilliant design, is the set content. With 576 cards, it contains dozens and dozens of the all-time greats, featuring the last regular issue of Stan Musial (#250) and the first card of Pete Rose (#537).
Opening with a bang, the first 10 cards consist of the popular League Leader subset. They are filled with the faces of many superstars and are very popular with collectors. Because of poor centering and obvious printing problems, the 1st series (#1 - #109) is the hardest to find in unqualified PSA 8 condition. In fact, many of the lower-numbered commons do not exist in PSA 9. The most difficult in this series are: #14 Pedro Ramos, #21 Marty Keough, #22 Curt Simmons, and #34 Dick Schoefield.
2nd Series cards (#110 - #196) show much improvement in picture quality and centering. For reasons unexplained, this is the run that seems to be afflicted with a large amount of snow, or white specs. The World Series subset (#142 - #148) depicts the seven-game classic that the Yankees and Giants played the previous October.
Multi-player cards are very collectible and the 1963 offering is full of many superstar combinations. Included are: #18 Buc Blasters (Clemente), #138 Pride of N.L. (Mays/Musial), #173 Bombers' Best (Mantle), and #412 Dodgers' Big Three (Koufax/Drysdale/Podres). One of the most appealing cards is #242 Power Plus, featuring a full-length photo where Ernie Banks is the "Power" and Hank Aaron is the "Plus".
Cards #197 to #283 comprise the 3rd Series. These are not that difficult and most collectors are able to find them at a good price. It's fortunate that this is an easy run because it contains #200 Mickey Mantle and #210 Sandy Koufax.
The 4th Series (#284 - #370) is a different story. Based on the "PSA Population Report", these numbers are scarce and should command a price premium. Most collectors who are completing their high-grade collection have want-lists that include many from this group. In fact, #340 Yogi Berra is seldom offered for sale in PSA 8 and is generally considered the most difficult and under-priced star in the set. Other tough cards here are: #291 Don Rudolph, #324 Rookie Stars, #325 Jack Sanford, and #354 Dom Zanni.
1963 was a season when Major League Baseball was beginning to thrive. After adding two teams to the American League in 1961 and completing National League expansion in 1962, there was a full compliment of franchises that stretched from coast to coast. For the first time, all twenty Team Cards are included in the Topps collection. When they are displayed together, the full beauty and color of the '63 set is illustrated.
PSA 8 populations are high for the 5th Series (#371- #446) because several unbroken vendor boxes from this run of cards were introduced to the hobby in the mid to late 90's. This group stands out because they are the only ones that have examples with an orange colored name panel. Legendary greats like #380 Ernie Banks, #390 Hank Aaron, #400 Frank Robinson, #415 Bob Gibson, and #446 Whitey Ford are there.
Next up is the scarce 6th Series (#447 - #522). These are the mid-numbers that are more expensive in the price guides. Unlike the 1961 Topps high numbers, they command only a slight premium. Many of the higher population commons in this run are easily found and can be purchased under book price. On the other hand, tough mid-number stars like #472 Lou Brock, #490 Willie McCovey, and #500 Harmon Killebrew are a real challenge.
Six variations make a Master Set total 582 cards. None of them are expensive or hard to find. The player cards (#29, #54, and #454) had errors that were corrected in mid-run. The Checklists (#102, #431, and #509) are believed to be double prints with two different versions on the same uncut sheet.
Finally, we come to the extremely popular 7th Series. (#523 - #576). It includes #537 Pete Rose Rookie, #540 Bob Clemente, #550 Duke Snider, and #553 Willie Stargell Rookie. Rumor has it that Topps planned a run of 22 All Stars to finish the series and bring the set to a total of 598 cards, but time ran out and they began working on football. That makes sense because they produced a 598 card baseball set the previous year.
Try to imagine what those proposed All-Stars would have looked like. Even more intriguing is the question of witch all-time-great players would have been included. Mantle, Mays, Aaron, and Clemente are sure bets.
Undoubtedly, this is one of the best baseball card sets ever produced. It is extremely condition sensitive and very difficult to fill in high-grade. If fact, there are only six or seven collections on the 1963 Topps PSA Set Registry that are complete in unqualified PSA 8, or better.
Some baseball card connoisseurs favor 1961 Topps because of its content, while others prefer the 1967 effort because of its design. With its condition-sensitive bottom corners, vivid photography, and classic design, my vote goes to the 1963 Topps Baseball Set as best of the decade.