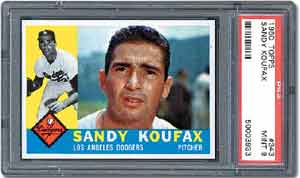 Picture yourself as a kid growing up in small town USA back in 1960. Along with your friends, you just finished going down to the local five and dime, each whipping out a crisp new dollar bill, which bought you 20 nickel packs of the new 1960 Topps baseball cards. You ride your bikes to your favorite hang out, which happens to be the bridge over the small river that runs through town. You all set your bikes down, lean up against the side of the bridge and proceed to open up your packs of baseball cards.
Opening the first pack is always the best because you get your piece of hard Bazooka Bubble Gum that you promptly plop in your mouth and chew away as you begin to open the additional 19 packs. There is a lot of excitement in the air and anticipation runs high, suddenly your friend yells out, "Hey, I got a Jimmy Piersall!" which you immediately counter with, "Well I got a Lindy McDaniel!"
As you and your buddies plow through your packs of cards, you notice that this particular player's card seems to be in just about every other pack, some guy named Carl Yazelski or Carl Yazamki, none of you have a clue as to how to pronounce his name. Laughing, you all pitch his cards into the river and watch the current sweep them away, all 20 cards before it's all said and done! Of course that player was Carl Yastrzemski and yes those were 20 of his rookie cards that were tossed in the river - just another day for these young 1960 baseball card collectors! Believe it or not that amazing story is true and was shared with me by a current collector from his childhood experience back in 1960, wow!
The year 1960 was truly a remarkable and monumental year in baseball history. Probably one of, if not the greatest, World Series ever played. This year, fans saw the underdog Pittsburgh Pirates defeat the almighty New York Yankees 4 games to 3, on an improbable Bill Mazeroski home run over the left field wall in the bottom of the ninth inning. It is the only home run hit in baseball history that ended a seven game World Series.
Amazingly, the Pirates were outscored 55-27 while the pitching staff accumulated a massive 7.11 earned run average, but the team still won! The loss was so devastating to the Yankees that the owners fired the greatest manager in Yankee history, Casey Stengel. The Pirates Dick Groat would win the National League Most Valuable Player Award while teammate Vern Law took the Cy Young Award. The Yankees Roger Maris would beat out teammate Mickey Mantle and win the American League's MVP. Needless to say, it was all about the New York Yankees and the Pittsburgh Pirates in 1960.
The year 1960 was also the first year a player's name appeared on the back of a uniform to help fans identify who was playing. This was the idea of baseball innovator Bill Veeck, who had a knack for implementing new ideas to spice up the environment for the fan. That same year, he also installed the first exploding scoreboard in Major League Baseball at Chicago's old Comiskey Park. I vividly remember sitting under that scoreboard back in 1983 for the division clinching game that brought the White Sox their first post season appearance since 1959. To this day, my ears are still ringing from the heavy barrage of explosions overhead that night - thank you Mr. Veeck!
The 1960 Topps baseball card set is one of the more colorful sets ever produced by Topps, and the only time a 2 ½ by 3 ½ horizontal card format was used. After only one year of this format, Topps' management decided it would revert back to its 2 ½ by 3 ½ vertical card size used for the 1959 set. With the exception of a few select sets, the 2 ½ by 3 ½ vertical measurements would be used for all cards from 1961 to the present.
The 1960 set consists of 572 cards that were released in seven different series. Series One are cards 1-110 with backs that are cream white in color. Series Two are cards 111-198 with grey backs. Series Three are cards 199-286 that have creamy colored white backs. Series Four are cards 287-374 that have grey backs. Series Five are cards 375-440 and can be found with one of three different back colors, creamy white, grey, and the scarcer white version. The Sixth Series are cards 441-506 that have grey backs. The final series is the high numbered and short printed Seventh Series that are cards 507-572, and like Series Six, they also have grey backs. One insert card was the "Elect Your Favorite Rookie" card which the collector filled out and returned to Topps.
Within the 1960 set are a number of "subsets", beginning with the Sports Magazine Rookie Prospect series that are cards 117-148, with the most notable player being card #148 of Carl Yastrzemski. Cards 212-227 are 16 alphabetically listed manager cards from each team. Cards 316-325 are the Topps All-Rookie team highlighted by card #316 of Willie McCovey. The first World Series cards to ever appear in a baseball set are cards 385-391. The coaches even have their own cards, which are cards 455-470. Rounding out the subsets are the Sports Magazine All-Star Selection cards numbered 553-572. There are also a number of dual player cards such as # 160 of Mickey Mantle and Ken Boyer labeled "Rival All-Stars", and #32 of Jim O'Toole and Vada Pinson called "Sophomore Stalwarts".
The colorful fronts of the 1960 cards definitely make this an eye appealing set. There were a total of eight different colors used for the card fronts, blue, red, yellow, orange, light green, light blue, pink, and dark green. The standard player card front is divided into three sections. The lower section of the card contains a box that has the team emblem. To the right of the emblem is found the player's name, the team name, and his listed position. The lettering of the player's name is in alternating colors such as yellow, white, yellow/white, etc while the team name and position listed are all in the same color.
You will find the lettering to be in any of the following colors, green, yellow, light green, orange, blue, red, black, pink, and light blue. Above this section, taking up about two-thirds of the remaining space, is a color picture of a player in a close up pose. Just to the left in a colored box, is a black and white picture of the player in a batting, fielding, or pitching pose.
The standard card back supplies the collector with a rundown of highlights of that particular player from either the 1959 major or minor league season. Similar to the card front, the card back is also divided into three sections. The lower left portion of the card contains the "Season's Highlights" section. There you will find a list of highlights or a descriptive blurb about that particular player's 1959 accomplishments. The section immediately to the right, has a very cool cartoon with a short blurb below which lists an interesting fact about that player. The top portion of the card has the player's bio and batting or pitching records from the 1959 season, along with his lifetime totals. The card number can be found in the upper left hand corner inside a drawn baseball. As previously mentioned, the card back colors vary depending upon the series. The manager cards are classic and loaded with great information and cartoons on the back. One of the strong points of the 1960 Topps set is that it offers the collector a solid amount of seasonal and statistical information that a number of other Topps sets do not.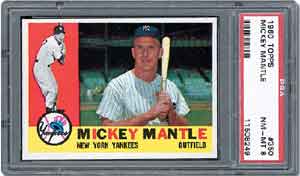 The 1960 baseball card set is relatively error free and a bit easier to complete. Some of the key cards in the set are #350 Mickey Mantle, #563 Mickey Mantle All-Star, #148 Carl Yastrzemski rookie card, #316 Willie McCovey rookie card, #326 Roberto Clemente, #343 Sandy Koufax, #300 Hank Aaron, #200 Willie Mays, and #160 Mantle/Boyer combo card.
The errors in the set include card #58 of Gino Cimoli, which you can find with either a Cardinals or Pirate logo on the front. Card #70 is an uncorrected error of Lew Burdette whose name is spelled "Lou" on the front and back. A supposedly rarer error card is #102 of Kent Hadley that shows him with the Athletics logo on the card. Card #346 of J.C. Martin shows a picture of teammate Gary Peters, and card #407 of Gary Peters shows a picture of J.C. Martin. Finally, card #488 of Norm Cash says he is a Detroit Tiger but shows him wearing a Cleveland Indian's cap.
The 1960 baseball card collector could have purchased the cards in 10 cent cello packs or a whopping $3.60 cents for an entire box of 36 packs! If you were short on cash, you could have gone the more affordable route, by buying a box of six card nickel packs for $1.20 - a total of 24 packs. Other alternatives were the one card penny pack or the twenty-nine cent 36 card rack pack. Doesn't that make you drool just a little bit?
The wax packs were yellow, and had the word "baseball" in blue lettering inside a baseball on the front. Above the baseball, was the word "Topps" and below the baseball, in red lettering were the words "Bubble Gum 5c". The back of the wax pack contained advertisement on how to get a Major League hot iron transfer. The back of the pack says "Just send 5 Bazooka or Blony Wrappers-Hot Comics to Bazooka Box 77 Brooklyn 32 NY. Enclose stamp envelope with your name and address so we can mail your transfer back to you. Write the team you want on the front and back of the return envelope. Only one transfer per order (this offer expires Sept 1, 1960). Important-Use only Bazooka or Blony Wrappers, Do not mail Baseball Wrappers". On occasion, a 1960 Topps baseball unopened pack or a wrapper will go up for sale on one of the major auction sites such as eBay and, as expected, the bidding can go very high.
According to the current PSA Population Report, there have been a total of 81,836 1960 Topps baseball cards submitted for grading. Of that, only 31 cards have received the grade of PSA 10. The most notable cards are a single #148 Carl Yastrzemski rookie, (1) #160 Rival All-Stars Mantle and Boyer, (1) #200 Willie Mays, (1) #343 Sandy Koufax, (1) # 377 Roger Maris, (1) #475 Don Drysdale, (1) #480 Yogi Berra, and (1) #563 Mickey Mantle All-Star card.
The Population breakdown is as follows: 2,383 cards or 3% of all cards graded received a PSA 9 designation. 28,559 cards or 35% received a PSA 8 designation. 26,810 cards or 33% received a PSA 7 designation. 11,383 cards or 14% received a PSA 6 designation. 4,909 cards or 6% received a PSA 5 designation. 2,499 cards or 3% received a PSA designation of 3 or 4. 427 cards received a PSA 1 or 2 designation with 4,148 cards attaining a PSA 9, 8, and 7 qualifier.
The most graded cards are (2,447) #350 Mickey Mantle, (2,107) #148 Carl Yastrzemski, (1,787) #326 Roberto Clemente, (1,577) #563 Mickey Mantle All-Star, (1,513) #343 Sandy Koufax, (1,404) #160 Mantle/Boyer Rival All-Stars, (1,283) #200 Willie Mays, (1,111) #316 Willie McCovey, (1,069) #250 Stan Musial, and (998) #377 Roger Maris.
The highest valued cards based upon a PSA 9 grade are ($4,750) #350 Mickey Mantle, ($4,000) #300 Hank Aaron, ($3,200) #148 Carl Yastrzemski, ($2,500) #200 Willie Mays, ($1,450) #316 Willie McCovey, ($1,400) #250 Stan Musial, ($1,300) #326 Roberto Clemente, ($1,250) #563 Mickey Mantle All-Star, ($1,200) #343 Sandy Koufax, ($1,200) #160 Mantle/Boyer All-Star Rivals, ($1,150) #210 Harmon Killebrew, ($1,000) #10 Ernie Banks, ($1,000) #564 Willie Mays All-Star, and ($1,000) #566 Hank Aaron All-Star. If you drop down to the majority grade of PSA 8 and look at the prices, you will find that this is a very affordable set, especially after you aquire the #350 Mickey Mantle card.
Forty-five years after its debut, the 1960 Topps baseball card set is just as sharp and brilliant now as when it was released. It is safe to say that there has not been a set issued by Topps since, that combines both the vibrant colors and the abundance of information like the 1960 set has. Perhaps, the fact that the set has its own identity, by being the only 2 ½ by 3 ½ horizontal issue, is part of what makes it unique. Whatever the case may be, the 1960 baseball card set will always be one of the better products that Topps has ever produced.
Please feel free to contact Jim Churilla at [email protected] with any questions or comments.