So many times we hear that a highly regarded set in the hobby has been sold or traded. More often than not, we have no idea where the set is, who the new owner is, or what will become of it. Somehow, it just seems to disappear into the underground hobby world only to resurface some time later, after it is again sold to yet another anonymous buyer.
This is not the case with PSA's All Time Best 1959 Fleer Ted Williams set.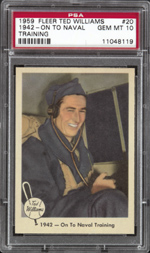 The famed 1959 Fleer set was previously owned by one of the great collectors in the hobby, attorney John Branca. The "Branca Set" as it has been termed, was recently sold at a highly publicized auction. What makes this set truly unique is that it was once thought to be virtually unbeatable in terms of condition and overall set rating. With only 20 individual cards grading at PSA Gem Mint 10, this set had 12 of them. The overall set rating was an astonishing 9.12 out of a possible 9.18.
The 1959 Fleer Ted Williams set, produced during his playing days, consists of 80 cards. It is one of the most highly collectible sets in the hobby because of the player it represents, the relative ease of acquisition and the fact they are fairly affordable. This is one of the most desirable sets to own, with several of the most prominent collectors in the hobby chasing after the top spot. What's surprising is that a previously unknown hobby newcomer is now the proud owner.
Jason Schlossberg, a workers' compensation defense attorney from Los Angeles, has only been listed on the PSA registry for a short time. The Connecticut native has been a Red Sox fan all his life and has always idolized Ted Williams. Although he owns several "raw" sets, he had very few graded cards. It goes without saying that his first attempt at completing a graded set was going to be the 1959 Fleer set.
Jason started in the #28 position and quickly moved to within the top 15. Flying well below the collecting radar, no one realized Jason's passion would drive him to the top of the category one day.
Upon hearing that Branca was selling his beloved set, Jason knew that his dream could become a reality. He followed the auction with intensity, looking at the bids several times per day. On the final day, he understood it would be a long night and prepared for the overtime bidding process. On or about midnight, the bidding had closed. Jason's bid topped all others and he was then declared the winner.
Like a child waiting for Christmas morning, Jason could hardly contain himself. He spent most of the remaining night in shock, hardly believing that he would soon be the owner of what many consider one of the greatest sets ever assembled. Jason also wondered how he would have the patience to wait for his new set to arrive!
The set was delivered while he was away on a business trip, which only added to his nervous excitement. He was so exhausted from his trip that he had to wait until the next morning to look inside the large package containing his new prized possession. Once opened, he took each card out slowly, one by one, gasping at the color and condition. "It was like I had just been the first person to see inside of the Ark of the Covenant, each specimen was better than the next."
He spent the next several hours matching one of his own cards against a new one, building his perfect set. "I was looking for color, clarity, corners, centering and presentation. Many were easy to decide but some were so close that it took a loupe and a judgment call as to which card would be in the final set. I estimate that about 80% of the cards came from the Branca set, the rest were from the set I had previously put together."
Jason researched the set's history through various emails and phone calls. "I wanted to find out about the specific history behind these cards, where they came from, how it was assembled, the difficulty, and which card was considered a favorite. I was fortunate enough to gather many details," Jason said.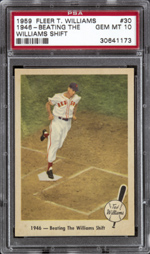 Here is what he discovered; the set was built by combining other sets together, then improving upon that solid foundation. One would assume that card #68, Ted Signs For 59', to be the favorite. After all, it is deemed one of the best cards in the hobby and this particular card is known as the finest example to exist. Other than the #68 card, preference was also given to the Williams/Ruth card, which is revered as one of the all time favorites in the set. Jason found out that cards #1 & 80 were the most difficult to obtain, since they have a very low population in high-grade. Given this information, he can now attach a story to the set and pass it on should the need ever arise.
There are a few surprises in store for collectors who have been following this set. Since Jason was very low key about his approach, nobody seemed to notice that he had three PSA Gem Mint 10's tucked away in his set. The seemingly unimprovable set has been just that…improved! Jason combined his PSA 10's with the 12 he won; giving this set a total of 15 out of the possible 20 PSA 10's currently in existence. This raised the overall set rating to an unbelievable 9.14.
"I am overwhelmed by this entire experience," Jason explained. "Not so long ago I was a struggling college student living, at times, out of my car. Once graduated, I worked long hours trying to build a small law firm, often wondering how I was going to make ends meet for my family. Who would have ever thought I could own such a great set? I am truly humbled and consider it an honor to have it in my possession."
Don't look for this set to become available in the near future. Jason plans to keep it for many years and hopes to build upon its legacy by continuing to search for the remaining PSA Gem Mint 10 examples. With patience and perseverance he plans to achieve the highest possible set rating. Good luck Jason, we'll be watching!