"I'd rather be Wright than president." George Wright
"Whenever he would pull of one of those grand, unexpected plays that were so dazzling, his prominent teeth would gleam and glisten in an array of white molars that would put our own Teddy Roosevelt and famed dentistry in the shadow."
The Sporting News, 1904
"He called short field his home position, but when called upon, he was equally at home on any of the bases. He could catch as well as the best catchers of his day and was a fine emergency pitcher."
Al Spink - from his book The National Game.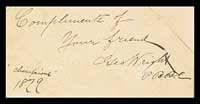 1879
One of three brothers to play in the infancy of professional baseball, George Wright became the first star of the game. Older brother Harry (b.1835-d.1895), later to become a Hall of Fame inductee as well, and younger brother Sam (b.1848-d.1928) joined forces as members of the 1876 Boston nine. As innovative builders, the two senior brothers had a pioneering spirit and laid a necessary foundation that has resonated throughout the history of our National Pastime. George was to revolutionize the position of shortstop with flair and enthusiasm, and later advance the gospel of sports as a nationally recognized manufacturer of goods and ambassador emeritus.
George Wright was born on January 28, 1847, at 110th Street and Third Avenue in the Harlem section of New York City. Other accounts list his birthplace as the northern suburb of Yonkers. His father Samuel, a distinguished cricket star, emigrated with his family from Sheffield, England, in 1836. Arriving in the States, he joined the St. George Cricket Club of Hoboken, NJ, while introducing the game to his three sons. Sam appeared to be the most adept to playing the popular British sport, but all three enjoyed the lure of the novel American version. George often participated in both sports at Hoboken's Elysian Fields, and joined the New York Gothams' junior baseball club as a young teenager. By the age of fifteen, he became the regular shortstop of the senior squad. During this time he also served as an assistant for the St. George Cricket Club.
In 1865, Wright moved to Philadelphia and succeeded in a dual role with the city's professional cricket club and as shortstop for the amateur Philadelphia Olympians, although he was paid aside. The following year, he returned to play for the Gothams, but found himself jumping midseason to the Unions of Morrisania of the Bronx, once again receiving compensation under the table for his exceptional play. At 5' 9", 150 pounds, George was now recognized as the finest player in the East. This emerging reputation landed him an offer with the Washington Nationals for the 1867 season.
Although the Nationals were subject to amateur status, the players claimed that they all retained "government occupations." George's alleged employment was "clerk" but he listed as his office address 238 Pennsylvania Avenue, which was indeed a public park.
The Unions welcomed back their star in 1868. His great defensive skills included properly aligning himself correctly to the individual batter, and he was a trendsetter of trapping and the hidden ball trick, bending his elbows to absorb the shock of catching barehanded and throwing with either hand accurately. Unlike his peers, the slick-fielding showman stood in front of the hit ball feet together, performed over-the-shoulder grabs and gracefully fielded behind the base runner. Along with his strong, rangy arm, George is also credited for being the first to cover second base on balls hit to the right. Wright caught the attention of sportswriter Henry Chadwick who named him to the first all-star team published in 1868.
Manager, center fielder and brother Harry, was asked to form the first (admittedly so) professional baseball team known as the Cincinnati Red Stockings in 1869, and recruited George as the first key franchise player and captain. His salary for the year was listed at $1400 but he revealed later that he received $2000, exceeding Harry's compensation by $200. The team barnstormed from city to city, playing mostly second-rate competition, and won their first 130 games through June 4, 1870.
The Red Stockings club broke up after the season, but interest in forming their own professional team caught on with the opposing cities. When the National Association was formed in 1871, Harry relocated the operation to Boston where the Red Stockings triumphed in four of five pennants (1872-75). They had narrowly missed winning the 1871 inaugural flag. George traveled with the Red Stockings and Philadelphia Athletics to exhibit baseball (and play cricket) in England in 1874. Another landmark baseball tour (Chicago White Stockings and a group of all-stars), organized by Albert Spalding in 1888, also summoned his baseball umpiring talents and good name abroad.
Behind a dashing image of wavy brown hair, bushy mustache and regional popularity, George opened a sporting goods store in 1871. As company president, he formed Wright and Ditson Fine Athletic Goods with a partner, Henry A. Ditson, at 344 Washington Street in Boston in 1879. Before long, they manufactured sporting apparel and introduced ice hockey products. They were to build the largest establishment of this type in New England, specializing in baseball, tennis, golf equipment and cigars. The ill-fated, single-season Union League (a third major league) of 1884 accepted Wright and Ditson's product as their official ball, while George agreed to purchase the Boston franchise.
His interest in tennis ripened while touring the British Isles. Wright was essentially responsible for introducing the racquet sport to America. As a member of the Longwood Cricket Club in Boston, Wright organized tours highlighting young players that shared his love for the game. One year, he led a group to the West Coast to acclimate Californians with the game. Among his proteges were Harvard student Dwight Davis -- for whom the international Davis Cup was donated and named -- and Wright's son, Beals, who became a member of the U.S. Davis Cup team in 1905. In partnership with Holcomb Ward, the two won that national tennis doubles championship in 1904, '05 and '06. Another son, Irving, won the national mixed doubles championship with Molla Mallory.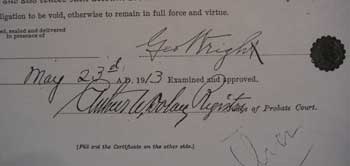 1913
Irving succeeded the management of his father's business. Once, George had displayed a set of golf clubs in his store window, solely as a conversation piece, after the imported equipment arrived from England without the instructions of play. A Scotsman stopped in to explain the game's rules to Wright, whose fascination led to the construction of a nine-hole course in Franklin Park outside of Boston. Referred to as the "Father of American Golf," Wright holds the distinction of playing in the first match in New England -- perhaps in the United States altogether. George popularized the game by playing eighteen holes everyday -- with advancing age, it was cut down to nine holes. He even maintained this daily routine during his winter vacations to Florida.
As the team's sparkplug, George became the first batter (grounded out to second) when the team joined the replacement National League in 1876, batting no less than .336 for any of the first five seasons. The team went on to win flags in 1877 and 1878. George accepted an offer to manage the Providence Grays in 1879 in which the standout player captured yet another pennant, and totalled seven title winners in eight years of affiliation.
The chase for the flag created intensity; George bested his brother Harry by five games. In the next three years (1880-82), he appeared in only 53 games. Unable to adjust to the initiation of the curveball and overhand pitching, he casually retired from the game to spend more time with the growing business. His contract stated that he would only attend games played in New England and Troy, thus foregoing any western games.
Eventually, he would divest a portion of his interest to sporting goods monopolist A.G. Spalding of Chicago. Spalding would name Wright (along with Morgan Bulkeley, Nicholas Young and A.J. Reach) as an honorary member of the Mills Commission in 1907 in a preconceived effort to determine the Origins of Baseball. The commission erroneously identified Civil War General Abner Doubleday as the game's inventor. Wright remained active in the northeastern sporting goods company nearly until his death.
The aging yet enthusiastic Wright was honored by being given the No.1 pass to National League ballparks, which he frequented as an avid spectator in Boston. At such events, he was a willing signer to the few who would ask and perhaps, offer an inscription or list his career affiliations.
Under Commissioner Landis, Wright served on the Centennial Committee that conceptualized the plans for the National Baseball Hall of Fame. Wright himself was chosen (#12) as the first of the nineteenth century inductees by the Centennial Commission on December 7, 1937. Other alumni from that non-BBWAA ballot included Connie Mack, John McGraw, Morgan Bulkeley and Ban Johnson.
George passed away at home in Dorchester, MA on August 21, 1937, after a year-long illness. The cause of death was myocarditis for the ninety-year-old innovator. The Holyhood Cemetery in Brookline, MA, provides claim as the eternal keeper of his body. Surviving were his sons Beals C. of New York, Irving of Brookline and two daughters, Mrs. Oliver Hall of Hingham and Elizabeth of Boston. His wife, Abbie A. Wright, had gone before him in death. Unaware of his own imminent enshrinement, George's bronze plaque preceded that of his well-deserved brother's inclusion (1953) to baseball's immortal role by sixteen years.
More often than not, the typical form of his autograph reads "GeoWright" without a pen lift excusing after the "W" and punctuation. Once in a while, he would sign in full birth name "George" with two breaks between names and the "W". In earlier effortless examples, he would interlace his Spencerian-style, ornate autograph with typical shadings reflecting his hand speed. The capital "G" had an initial stroke that came from the top, curled into a large ascender loop before pointing acutely. A sharp stroke downward resolved in a descender loop that lies below the baseline. Without hesitation, the upward stoke leads into a conventional "e" and "o". The connector of that letter darts upward to form the first retraced staff in the capital "W". This upper case letter is an angular formation with the second down stroke violating the baseline.
The terminal stroke of this character arcs well across over the top of the consequent three letters. Returning to the deepest part of the signature, the lower case "r", resembling a tilted printed "e", exhibits tremendous conviction. Evenly spaced apart then follows the "i" and the long descender "g" with lightly shaded upstroke as the connector into the tall "h". The hump of this letter is angular and does not retrace the downward stem. The star-like "t" with flamboyant flourish completes his exceedingly legible manuscript. A dot or dash (that favors to the right of the "i"), and sometimes a period after the "o", were his finishing touches.
As age in later life robbed him of his flow and movement, George's autograph became a jagged, sharp evolution of the prior. Still able to carefully construct each character, his now labored signature loses some of the shading forfeited by the rigged grip of his pen. Some of the larger letters particularly experience a wavering or shakiness. The flourish of the terminal strokes of the "W" and "t" become striking strokes with ending ink deposits, lacking the original grace and speed. This late-in-life version is a prime target for forgers taking advantage of the poor line quality aspect.
George Wright lived a long, happy and healthy life. He was an active businessman, sportsman, and respected baseball alumni. Anyone that had requested his autograph received immediate satisfaction. Although not a popular pastime until George reached his late '80s, many autograph collectors were familiar with his legacy as touted in books from the era. Signed album pages are infrequent; however, they do exist for approximately $1800. He often would enjoy adding "Shortstop" or dates relating to his age, career or his proudest achievement -- the 1879 Providence championship. Correspondence ($3000), especially on Wright and Ditson (with tennis logo) letterhead was often typewritten with handwritten addendums to business associates, collectors or sports enthusiasts. It was common for him to handwrite the return address on the postmarked envelope. I am unaware of any vintage secretarial signed letters.
Beware of forged versions on generic paper with double spacing and poor typing punctuation. Alan "Mr. Mint" Rosen uncovered a signed photograph (removed from a Wright and Ditson brochure) where Wright was pictured in civilian clothes ($4000 & up), which is extremely rare. There was a studio card signed on the verso in a MastroNet auction some years back. Colorful greeting cards ($3500) are rare but clipped signatures ($1800) from documents of his estate do surface. Unfortunately, no canceled checks are known at this time.


1928
Oddly enough, some nineteenth century examples have been found. These have generally derived from the A.G. Spalding or Henry Chadwick estates. The County of Suffolk (probate division), MA, finally retrieved Wright's original 1913 last will and testament when Joe Schnabel pleaded guilty of theft on May 18, 1999. This document was one of many baseball Hall of Fame wills missing from county courthouses nationwide.