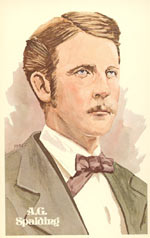 "Everything is possible to him who dares." - Spalding's motto

"For better or worse, the place of sports in American society owes a great deal to a man who creatively shaped the culture of his own time." - Paul Levine, A.G. Spalding biographer

"Historic Facts Concerning Baseball, Evolution, Development and Popularity of Baseball With Personal Reminiscences of Its Vicissitudes, Its Victories, and Its Votaries." This served as the grandiose subtitle of the 1911 Spalding's book, Baseball - America's National Game.
One could argue, "Who is the most important person in American sports history?" Some may insist upon Jackie Robinson and his significant role in breaking the color barrier. Not to sound insensitive, but sports were thriving before the color barrier was broken. Babe Ruth is perhaps the reason why we have embraced the idolatry of our athletic heroes; he truly is the epitome of a superstar. But the Babe was very human; boozing, and he ran around more than Bill Clinton fantasized. Besides, no one even trusted him to manage their team.
James Naismith, a Canadian, gave us the wonderful game of basketball which may be played as much as soccer throughout the world. He certainly was the spark but not really the fuel behind the movement.
Muhammad Ali is a real stretch. He's lovable and kind in his advancing years, but I vividly recall that he was not endeared to many for most of his career. Marvin Miller is a controversial figure. I'd bet that most of today's ingrate athletes have no clue whatsoever. Maybe they should educate themselves on why they are able to sign mega-million dollar contracts. On the flip side, the innocence and purity of sports may have been appreciated more by the fans before he stuck his two cents in. ESPN's Bill Rasmussen deserves a load of credit from a publicity standpoint, but think about how many fans stopped reading the sports pages. Jim Thorpe was our finest all-around athlete, but failed miserably in the self-promotion and role-model department.
If anyone cares, I'll cast my vote for A. G. Spalding. Success came to him at all levels of endeavor. He was the nineteenth century Midas, and I don't mean mufflers, Mr. Foreman. Spalding didn't conceive any of the games yet he catapulted their widespread participation, innovated and produced their weapons of play, directed the organizational model, created a drama of athletic display, publicized an entrepreneurial undertaking, recorded the historical properties and for good measure, created mythical heroes. Did I mention he was a superstar pitcher and the manager with the most wins for the decade he chose to partake in? Somehow the aforementioned icons are out-leagued by his contributions. Let's get started.
On a 320-acre estate in Byron, IL, Albert Goodwill Spalding was born on Monday, September 2, 1850, into a prosperous farming family -- though in later years, he'd like you to believe that he came into this world impoverished. His father died when Albert was nine and his mother relocated the family to nearby Rockford in 1862.
When he was not working as a $3-per-week grocery boy or attending school, the youngster played baseball -- later claiming that he learned the game from returning Civil War veterans. Within three years playing for the local youth team, he pitched and defeated the adult Forest City squad in the fall of 1865. Impressed by his pitching performance, along with second baseman Ross Barnes (future Boston standout), they were invited to join the semi-pro team and given permission by their high school principal to forego classes.
In 1867, he bested George Wright's Washington Nationals and was offered a job with the Chicago Excelsiors with a side job as a bill clerk for a grocer that paid $40 per week. The grocer unfortunately went bankrupt, so Albert worked for his uncle's Chicago insurance company, but it too failed. Spalding returned to play for the Rockford Nine, dismissing his mother's wishes to return for business college graduation the following year. From 1867 to 1870, he won 45 of their 58 matches, including a victory over Harry Wright's Cincinnati Red Stockings, baseball's first all-professional team.
In 1871, the elder Wright recruited him to play for his Boston team in the upstart National Association, for the annual salary of $1500. The right-handed (throwing and batting) Spalding was brilliant on the mound (pitching underhand as required), and in the field as his team won pennants each year from 1872 to 1875, with Wright honoring him as captain the final campaign. Participating on a Canadian tour in 1872, Spalding borrowed the concept and put together a tour of England for the summer of 1874. The Red Stockings held exhibitions against the Philadelphia Athletics, but the Brits were not mesmerized, so the U.S. team humored them by resorting to cricket.
Spalding married Josephine "Josie" Keith of Brockton, Massachusetts in November, 1875. In five seasons in Boston, Spalding compiled a 207-56 record, batted .320 and was considered the league's best player. Undistinguished Chicago franchise owner William Hulbert, seeking instant credibility, challenged Spalding with $4000 to manage, captain and pitch, while signing Ross Barnes, Cal McVey and Deacon White from the Boston club.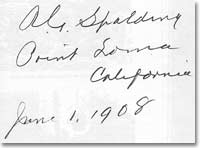 1908 personal book
Hulbert and Spalding, at what became Chicago's Grand Central Hotel (on lower Broadway), co-drafted the constitution of the new National League, which prohibited gambling and alcohol from the ballparks and tightened up a loosely-managed system. Taking the responsibility of creating a new league very seriously and improving baseball's rowdy and unorganized image, he wrote, "For in my judgment on the success of this movement depends on the future of baseball." His innovations included the concept of the farm system, night games under electric lighting and Chicago's Lake Front Park, a 10,000 seat palace with eighteen private boxes. His ego and greed instituted the century-old reserve clause -- binding players to one team after their contracts expired.
A.G. pitched to a 47-13 mark in 1876, claiming victory of the first league pennant. The arm strain of mega-innings began to take its toll. Unable to master the innovative curveball pitch, the clever 27-year-old Spalding rethought his career path. Spalding pitched one game in 1877, handed the reigns of the club to Cap Anson and retired to concentrate on selling sporting goods, conducting the business of sport, and realizing the American Dream.
Along with his younger brother J. Walter Spalding (and an $800 investment from their mother Harriet), they opened a large store on 118 Randolph Street in Chicago. The dominant emporium sold uniforms and standardized baseballs, committing the league to adopt their "official" balls and solidifying critical advertising. They branched out into publishing in 1877 and obtained the right to publish the first annual Spalding Official Baseball Guide, the bible of the National League.
Countless books and pamphlets on all sports and sporting philosophy were issued with sage Brooklyn Eagle columnist Henry Chadwick editing its editions. This provided an essential history, player records and instructional manuals of the games which are invaluable to sports even today. The A. G. Spalding & Bros. Company's product line was not limited to baseball; the visionary entrepreneurs produced most all sports equipment and distributed it through branch stores nationwide.
Bat manufacturing was under way in 1879, when their sister Mary married a man who provided the necessary capital. They created a virtual monopoly, fiercely buying interests in competitors such as A.J. Reach and Company of Philadelphia, Wright and Ditson of Boston and were the sole providers of baseballs for both leagues through 1976. A scheme Spalding concocted crushed the competition by giving the National League one dollar for every dozen horsehide orbs they used. This cemented his position as the official provider for the majors which in turn, translated into thousands of nationwide retailer sales.
Retaining an advisory and secretarial role with the White Sox, he became president and one of the principal owners of the team upon Hulbert's death in 1882. Chicago went on to win five pennants under Spalding's shrewd business practices, including selling his two key players, Mike Kelly and John Clarkson, for record figures. Another tour was organized, this time a world tour, where the team traveled to Hawaii, New Zealand, Australia, Ceylon, Egypt (where they played a game at the pyramids), Italy (Spalding tried to book the Coliseum), France, and England. Several newspapermen were brought along and George Wright served as umpire for this late-1888, early 1899 extravaganza. This highly successful venture had the 38-year-old Spalding pitching the opening exhibition and was promoted as "the greatest event in the history of athletic sports" by a reporter of the day.
Killing two birds with one stone, Spalding opened a sporting goods store in London and began importing bicycles and golf clubs, and then basketballs. His influence in the league was dominant, having a role in every important event in professional baseball through the remainder of the century. It was a determined and ruthless Spalding who single-handedly broke the back of the Brotherhood Player's League with war-like tactics.
During their solitary rebel season, he overlapped their scheduled games in coinciding cities, bribed players to return to their former league, initiated lawsuits, threatened to withdraw advertising from the press and convinced the opposing investors that their league was doomed. His efforts actually lost money for the National League, but the neophytes gave up after one season in fear of even greater sanctions. After negotiating the aftermath of the 1890 rebellion, he resigned as president, yet did not relinquish his opposition as principal stockholder. Spalding was indeed a first rate organizer and skillful diplomat.
Real estate and politics were other interests this multimillionaire pursued. The Chicago Athletic Club was his design and he had a hand in planning the 1893 Chicago World's Fair. At the 1900 Olympic Games II in Paris, U.S. Commissioner Spalding (appointed by President McKinley) received the French Legion of Honor and was also a corporate exhibitor.
An appendicitis operation claimed the life of his wife in 1899. A year later, he moved to Point Loma, CA when he married Mrs. Elizabeth Mayer, a widowed mother of two. Spalding adopted both children, renaming the youngest after himself. One of his nephews, of the same name, became a renowned concert violinist.
He tended to distance himself from baseball after 1891, but still found time to negotiate a peace settlement between the two leagues in 1903. Back in California, Spalding enjoyed horse riding and motor cars and became a member of the San Diego Road Commission.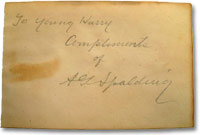 1889 Chadwick collection
In 1906, he set out to investigate the origins of baseball, maintaining all along that the game was all-American. Chadwick insisted that the game was essentially British, derived from the game of Rounders, but Spalding ignored overwhelming evidence and opposed the astute historian with his own blue ribbon panel, and authored his 1911 America's National Game, which was universally regarded as the premier history of the game. He supported his declaration by producing a mysterious letter from an old man from Denver, who claimed that Civil War hero General Abner Doubleday spontaneously invented the game in his hometown of Cooperstown, NY, in 1839. Researchers have dispelled this myth in recent decades, but for years the public was convinced baseball, through well-orchestrated propaganda, was as native as apple pie.
Spalding won the Republican primary for U.S. Senator representing California in 1910, but lost his bid for election in the state legislature. Two debilitating strokes of apoplexy were a major setback and resulted in tremors evident in his handwriting.
Seven days after his 65th birthday, he suffered a fatal stroke that claimed his life on September 9, 1915, in Point Loma. He died unaware that Chadwick's "origins of baseball" theory was correct.
The sporting goods magnate's ashes were scattered over his assumed hometown in California, fulfilling his wife's wishes in lieu of a public funeral. The Sporting News wrote upon his death, "(Baseball) owes a great debt to Albert G. Spalding for the part he played in putting it on the high plane it has enjoyed, as the nation's sport above all other forms of athletics." On June 12, 1939, Albert Goodwill Spading was posthumously inducted (#26) into the Baseball Hall of Fame at Cooperstown's inaugural ceremonies. On his bronze plaque, baseball's ambassador is forever recognized as the "organizational genius of baseball's pioneering days."
From his early days in the league until his demise, Spalding's right hand penned his name carefully and slowly. His earlier signature was rounder, larger and more ostentatious in Spencerian style capitalization, often using all the letters in his first name. Most of what survived are sharp jagged examples, from the last decade of his life, that exhibit motor skill deterioration, having been effected by a series of strokes. His upper case "AG" is an unbroken line construction with a conventional "A" extending the (sometimes elongated) connector into the single upper loop "G". This character seems oddly unfinished with its terminal stoke darting vertically downward, punctuated arbitrarily on either side of this stroke.
After the break, the closed loop "S" tilts this acutely slanted manuscript with a heavy baseline arc stroke without pause, into the retraced stem of the lowercase "p". At times, this would climb above the baseline and complete an angular hump then break, leaving a wide gap, where a closed circle would be expected. The lower case "a" would become more pointed with age as well as the wavering "l" (sometimes filled-in loop). Another break, may or may not occur as the "d", much like the "a", with top loop becoming less prevalent in time. The raw-boned "i-n" generally does not lift into the final enlarged "g" that kicks backward in "q"-like fashion at unpredictable lengths. A high dash over the "n" punctuates the "i" and an occasional period may be the finishing touch.

1873 personal book
Due to the numerous correspondences he was obliged to conduct during his years as baseball executive, political affiliation and sporting goods mogul, signatures in various forms exist in the hobby today. Several hardcover books ($2500) from his personal library (including many Napoleon biographies, hmmm) were made available a few years ago, which contain his actual vintage autograph and as well as some secretarial examples. One of these books from 1872 provides a printed genealogical ancestry to Edward Spalding of Massachusetts Bay. America's National Game signed copies have also been available in several auctions, often personalized and hand dated. Other typewritten passages on A.G. Spalding & Bros. letterhead may defend his proclamation of the indigenous origins of baseball ($3500). Others of more generic content can be purchased more reasonably ($2200). Receipts from his corporation ($3500) and other bank notes seldom surface. Spalding was famous beyond baseball, and requests by mail for his autograph ($1500 minimum) were not uncommon. One 1897 dinner menu bearing George Wright and his own signature is valued at $3000. A few election proxies exist ($1800) from 1914 appointing F.W. Gerould, Esq. of California power of attorney to vote in his absence at A.G. Spalding & Bros Mfg. meetings.
I don't recall signed photographs being available. Signed baseballs would be suspect from this early era. Forgeries exist, mostly in cut varieties, and usually sell for a fraction of actual valid specimens that are accompanied by a universally accepted letter of authenticity. Beware of brown fountain pen ink posing to be aged black turned brown. The vintage versions are darker and under magnification exhibit a burnt hue or "caking" appearance. Anyone can obtain antique paper, so don't fall victim to this scam.
l Spalding was born on Monday, September 2, 1850, and began his Major League baseball career on May 5, 1876, with the Chicago White Stockings. The 21 year-old Spalding was born on Monday, September 2, 1850, and began his Major League baseball career on May 5, 1876, with the Chicago White Stockings. The 21 year-old played for 3 seasons on one team and ended his and ended his big league playing career was born on Monday, September 2, 1850, and began his Major League baseball career on May 5, 1876, with the Chicago White Stockings. The Al Spalding was born on Monday, September 2, 1850, and began his Major League baseball career on May 5, 1876, with the Chicago White Stockings. The 21 year-old played for 3 seasons on one team and ended his big league playing career in 1878. 21 year-old played for 3 seasons on one team and ended his big league playing career in 1878. ding was born on Monday, September 2, 1850, and began his Major League baseball career on May 5, 1876, with the Chicago White Stockings. The 21 year-old played for 3 seasons on one team and ended his big league playing career in 1878. 8.