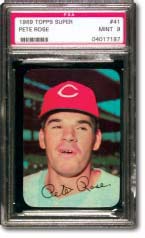 There is certainly nothing new about a professional athlete being caught up in a whirl of controversy regarding his or her extracurricular adventures, misadventures, beliefs or lifestyles. From Shoeless Joe Jackson's questionable role in the 1919 Black Sox scandal to John Rocker's lack of tolerance towards racial diversity, personal controversy has been as much a part of sports as fields and arenas.
From the hair-dryer-packin' Joe Pepitone to the expectorant-enhancing Gaylord Perry, the list of athletes whose names have routinely been prefaced with the word "controversial" is rich with superstars. Amongst those that top that list are a young quarterback who came out of the University of Alabama and became the quintessential New York swinger, whose affinity for Johnny Walker Red Scotch, mini-skirted blondes, lama-rugged-penthouses, fur coats and adorning his surgery-scared legs in pantyhose, earned him the moniker "Broadway Joe." When Namath partnered with two buddies to open a popular watering hole known as Bachelors III, then-Football Commissioner Pete Rozelle accused him of associating with "undesirables," which was Rozelle's euphemism for those that wager on professional sporting events.
Another controversial list topper is the pugilist from Kentucky whose lightning fast fists and feet matched his equally rapid tongue. From his garnering of Olympic gold and the heavyweight championship to his conversion to the Black Muslim faith, changing his name and being stripped of his title after refusing to be inducted into the armed forces based on his moral and religious beliefs, Muhammad Ali was perhaps "The Greatest" controversial athlete of all times.
Jim Bouton made the controversy list by writing a tell-all book that exposed the Boys of Summer as being far less than the clean-cut All-American heroes that they presented themselves to be. Wilt Chamberlain's most incredible stats didn't come from his prowess on the hard court but rater from the soft court of his circular waterbed. Dennis Rodman made Namath look like a rank amateur when it came to cross-dressing. And, going well beyond simple controversy and forever being immortalized in the Hall of Infamy, will be the likes of Tanya Harding, Mike Tyson, Allen Iverson and O.J. Simpson.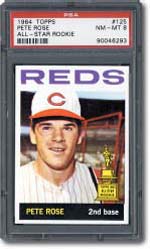 Still, while each of these athletes is fodder for fans that either support or oppose them, perhaps none have provided more fodder for heated discussions than Charlie Hustle himself -- Pete Rose.
Die-hard sports fans thrive on debate, but harboring an opinion on Rose transcends the ranks of the diehards and even the casual fans -- everyone seems to have an opinion on the Rose controversy.
But, more about the controversy later; first, let us digress and reflect on the life and career of the man aside from the controversy.
Peter Edward Rose was born to Harry and LaVerne Rose on April 14, 1941 in Cincinnati, Ohio and grew up in the suburban city of Anderson Ferry. Harry, who had played semiprofessional football, instilled within his son a love of sports from the time Pete was very young.
That early introduction to athletics spurred Pete into playing little league baseball and led to a high school career that included play on the gridiron as well as the diamond. While a scrappy and rugged football player, Pete's true skill was evident with the hardball. Scouts from the Cincinnati Reds, who approached Pete with a contract upon graduation, noticed that skill and he was assigned to play for the Reds' minor league team in Geneva, New York.
Continuing to impress the organization's scouts, Pete rapidly moved up through the ranks, first for the Reds' farm team in Tampa, Florida and then to their Class B team in Macon, Georgia. Finally, the call from the majors came, and by the start of the Reds' 1963 campaign, Pete was a regular fixture at second base. An intense and hard working player, both on the field and at the plate, Pete was tagged with the nickname of "Charlie Hustle" by New York Yankees pitcher Whitey Ford. During that first year, Pete played in nearly every game, hit .273, and was named the National League's Rookie of the Year.
With his rookie year under his belt, Pete flourished and from 1965 through until 1973, consistently batted over .300. From the early 1970s on through the remainder of the decade, the Reds dominated the National League and Pete was integral to the success of The Big Red Machine. During the 1970s, Pete saw the Reds capture four pennants and two World Series titles and in 1975 he was named the World Series MVP, Sports Illustrated Sportsman of the Year and The Sporting News Man of the Year.
In 1978 Pete became a free agent and signed with the Philadelphia Phillies. With the Phils he saw two pennants and a World Championship brought to the City of Brotherly Love.
Just prior to the 1984 season, Pete once again changed uniforms and headed north of the border for what would be an uneventful and short-lived stint with the Montreal Expos. By mid-summer, the chance to return to his Red roots became available. Returning to Cincinnati as both a manager and a player, Rose firmly established himself in the game's history books by breaking Ty Cobb's all-time major league hitting record of 4,191.
Finally retiring from the game as a player in 1986, Pete finished up his playing career with 4,256 hits. He continued on with the Reds as the team's manager from 1985 to 1988 and saw the franchise chalk up a second place finish in each year.
This is now where the story would wrap up by saying that in his first year of eligibility Pete was induced into the hallowed halls of Cooperstown, taking his rightful place with the other legends of the game.
Well… as you know -- that's not quite what happened. And thus the controversy…
Former Baseball Commissioner Bart Giamatti banned Pete Rose from baseball for life after allegations were made in the March 21, 1989 issue of Sports Illustrated that he had gambled on professional baseball games during his playing and managing days. This ban has kept him from being considered for induction into the Hall of Fame and to compound Pete's woes, he was found guilty of tax evasion in 1990 and was sentenced to five months in jail.
Should Pete's transgressions be overlooked and should he be honored for his accomplishments? Did he really bet on baseball games? If he didn't, why did he agree to and sign the settlement that permanently placed him on the ineligible list?
Those are the questions that have conjured up many a civil debate, heated discussion and outright brawl.
Most of those who weigh in on the Rose issue say they feel that he probably did bet on baseball games. Rose himself however has always contended that he did not, and the investigation conducted by the commissioner's office was never officially concluded. While never admitting to the charge of wagering on baseball games, Rose has said he signed the agreement because he knew some sort of punishment would be sanctioned upon him for what he did admit to -- gambling on horseracing and NBA and NFL games. By signing the agreement, and not dragging the issue through a protracted court case, Rose felt he could let a year go by and then apply for reinstatement.
Rose has in fact made such an application, and had a clandestine meeting with Baseball Commissioner Bud Selig earlier this year to discuss his reinstatement. Following that meeting, it was widely reported that Selig's feelings would be that any consideration of reinstatement would necessitate a mandatory admission by Rose that he did in fact bet on baseball, that he issue an apology for having denied that he bet on baseball, and that a probationary period be served.
Still, that glimmer of hope may be withering on the vine. Cleveland Indians Hall of Famer, Bob Feller, who has been one of the most outspoken opponents of Rose's reinstatement, has said that there is little support from the Hall of Fame members to see Rose forgiven.
"There are very few of us who are for it," said Feller. "Of course he was a good hitter. But you need to be more than just a good hitter to get into the Hall of Fame. This is a situation that is going to be very hard to resolve. But when you have rules, and somebody breaks those rules, that person has to pay the consequences."
Feller went on to say that after having a meeting of his own with Selig that he does not believe the commissioner is anywhere close to considering reinstatement. "I'm not against Pete as a person," said Feller. "I just don't think [that his reinstatement] is going to be good for [baseball]."
And so the controversy and debate continues, and while Rose has lost favor with baseball, collectors have certainly not lost favor with Rose. Perhaps due to his incredible on field accomplishments, most collectors treat Rose as if he were a Hall of Famer. And while even his overall talent on the field may be a bit overrated, there is little doubting, even amongst his harshest of critics, that he played the game with more heart and determination that anyone who has ever suited up in a professional ball club's uniform.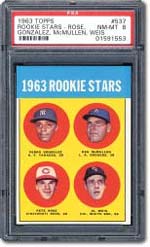 When it comes to Rose's cards, THE card to own is the only one to ever be recognized as his rookie card -- the 1963 Topps Rookie Stars -- Rose, Gonzalez, McMullen, Weis #537.
This is an extremely tough card to find in high grades, which is largely due to the blue border located at the top of the card that is susceptible to chipping. The light colored background is also a haven for print marks, leaving little room to hide these defects.
Centering is also a problem with this card, although, to the untrained eye, it can be deceiving. Due to the undefined border at the top, centering can be off yet barely noticeable. The only way to properly measure this card for centering is by paying extremely close attention to the white border at the base of the card.
Charlie Hustle may be Charlie Controversy, but conventional wisdom says that whether or not Rose is ever reinstated is irrelevant to the desirability and value of his rookie card. Controversy and the lack of Cooperstown bronze have done nothing to hurt the value of Shoeless Joe Jackson cards, and the controversy surrounding Rose may just make the card worth all the more.