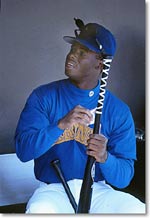 "Bat collecting is the closest link we have in getting to know a player's habits and style. All other pieces of baseball equipment are rather standardized, but a player can groove, tar, bone, or leave his personalized game use traits in many different ways."

Vince Malta
PSA/Grey Flannel Bat Expert
Over the past 5 years, game-used bat collecting has become increasingly popular. More and more collectors are, at minimum, dabbling in the field and adding some prized lumber to their collections. Despite the increased interest in game-used bat collecting and the influx of more definitive information regarding authenticity, this sector of collecting remains in its infancy.
What exactly does this mean?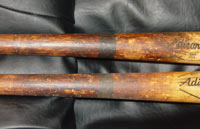 Well, it took years for the sportscard market to really mature and the same can be said for other collectible markets like coins, etc. There are several reasons why a market needs time to mature and they include, but are not limited to: established authentication or grading standards, available information, available product and, perhaps most importantly, a true understanding of what makes a collectible special in comparison to average specimens.
In sum, how can you tell a great bat from an average one?
From eye appeal to rarity to provenance, there is a plethora of contributing factors. Some bats sell for a premium because you can actually pinpoint the year they were used or, in some cases, the bat can be pinpointed to a specific game or event – like a bat used to hit a home run. The main focus of this article and one of the main factors in determining the quality of a particular bat is the strength of the player characteristics on a bat. Player characteristics are what can help place the bat in the hands of the player who used it; it's a virtual "fingerprint" that makes that bat unique.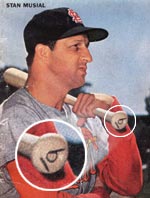 John Taube, one of the resident bat experts at PSA and Grey Flannel, discussed the importance and impact that player characteristics can have on the value of a bat. "Use characteristics are critical when it comes to evaluating bat quality," Taube explained. "Many years ago, I can recall analyzing a bat of Hall of Famer Frank Robinson with the numbers "35" and "20" on the knob in black marker. At first, I thought that the bat was used by Robinson and teammate Mike Cuellar. After more research, I found photos of Robinson holding his bats with both numbers on the knob. It turned out to be a unique characteristic of Robinson bats. The "35" represented the approximate weight of the bat and the "20" was, of course, his uniform number. In my mind, bats that exhibit this characteristic help place the bat directly into the hands of Robinson."
One thing to keep in mind about bat authentication in general is that a great deal of the value is determined at the point authenticity is confirmed. In other words, once we know that the bat was a professional model bat ordered by the player in question, then the bat takes on a whole new meaning. Finding an authentic gamer, whether used or unused, is where much of the value comes from. Once that is established, one of the factors that can take the bat to the next level is the player characteristics.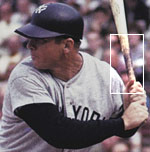 Taube continued to explain the impact. "There is a clear difference between an authentic bat that may have been used by the player and a bat that can virtually be placed right into his hands," Taube said. "Bats that possess those key characteristics are commanding a 40%-50% premium on average in the market. The examples are endless. Johnny Bench applied a strong layer of pine tar on about 10-12 inches of the handle, Wade Boggs and George Brett had specific pine tar patterns and Tony Gwynn had a unique taping method near the lower handle."
As Taube mentioned, there are so many unique characteristics to look for. Sammy Sosa, Ken Griffey Jr. and Duke Snider all used distinct taping methods for grip. Stan Musial would groove his handles for grip with a jackknife and Roberto Clemente would groove the hitting surface on the barrel of his gamers. Ted Williams and Musial would often underline the number ("9" and "6" respectively) on the knobs of their bats. Mickey Mantle and Willie Mays went through periods of using little-to-no pine tar and other stages of very specific, heavy pine tar usage – mainly later in their careers. Mark McGwire, on the other hand, was one of the most consistent players (in terms of bat preparation and pine tar usage) in the modern era. The list goes on and on and on.
"I had the thinnest bat in the major leagues. I made my bat with a Babe Ruth handle and a Jimmie Foxx barrel and I would scrape down the handle to make it even thinner. I never used tar and I didn't like wax. I'd scrape up the handle a little bit so I could hold it better."

Stan Musial
"Crack of the Bat" - The Louisville Slugger Story
There is no question that the existence of strong player characteristics has varying degrees of impact on different bats. "Evidence such as pine tar on Mays gamers and numbers ("44") on Aaron knobs factor heavily on the value of those bats," Taube explained. "Most existing bats of these players have light use. They both had long careers and were approaching major milestones so, in turn, many people wanted a piece of history and their bats made their way out of the clubhouse as souvenirs. Recently, two Mays bats with heavy use and pine tar from later in his career sold for $13,000 and $11,000 respectively. Those two same bats would only sell for $6,000-$8,500 without the strong usage."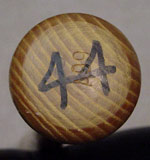 When it comes to examining player characteristics, it is more difficult to determine usage traits on older bats, including pre-war models, than it is on bats produced in the 1960s to present. The strength of the wood and ball make a big difference in terms of finding visible and deep ball or stitch marks. In addition, most players did not start marking the knobs of their bats until the 1950s. When it comes to some of the biggest names of the pre-war era, there are some interesting characteristics to note. Ty Cobb bats are found with unique handle taping and tobacco juice staining and "Shoeless" Joe Jackson would often score the handle of his bats.
What about the Sultan of Swat – Babe Ruth?
After analyzing many, many photos, it is clear that Ruth would (more often than not) hit with the center brand down. What that means is that Ruth would actually strike the ball on the right-handed hitting surface (the left side) most of the time. You can actually see evidence of this on Ruth's follow-through as the center brand is facing the camera (in order for the bat to end up in that position, the bat must have traveled through the hitting zone with the label pointed down). Barry Bonds and Nomar Garciaparra have shown the same habit during their careers.
How do we know about these individual traits?
Well, photos can be a huge help is doing quality research. "Without photos as a reference, most Ruth bats in the hobby would be thought of as being used by another player due to the location of the ball marks," Taube explained. "As a bat expert, I have spent many hours in book stores in search of books that feature photos of the players with their bats. Numerous titles are available. I would recommend that all collectors assemble a collection of books they can use as a source when considering a purchase of a game-used bat."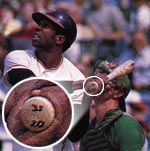 The significance and importance of photos is, without question, evident but there is one major point that needs to be made. There are plenty of photos, both modern and vintage, where players are posing for the camera with a bat in hand. That bat may or may not be a bat they intend on using or one that is prepared for actual game use. What you will notice a lot is the fact that players would often pose for the camera with another player's bat. In fact, during college, I remember that our whole baseball team posed for individual pictures with the very same bat. Keep this in mind as you scroll through the pages of posed pictures.
Here's the key. This is a major challenge but the best types of photos are the ones that feature the hitter in actual game action. Why? Again, most existing photos (especially vintage) are of the player posing for the camera without a real gamer. The other part of this photo equation is that it really does help if the photo is obviously clear and taken at close range. In some cases, you may even be able to see the numbers on knobs if the image is clear enough.
Here are a few reminders of what not to worry about. Players, while traditionally consistent with their bats and bat preparation, occasionally try different things to break out of slumps, etc. So, in other words, if you find a picture of a player using a bat that is either not his or one that exhibits uncharacteristic characteristics for that player, no need to worry. This will happen occasionally but, most of the time, players remain consistent.
The same can be said of bat examples. If you find a Musial bat without a grooved handle, that absolutely doesn't mean there is anything wrong with that bat or that Musial didn't use it. The point is that the existence of grooving just provides a very high level of evidence that Musial did indeed use this particular bat – it has his unique "fingerprint" on it.
You will find different levels of consistency with different players. For example, some players have been very loyal to specific brands of bats. Stan Musial and Ted Williams were almost exclusive H&B users while Mickey Mantle and Willie Mays bounced back and forth between H&B and Adirondack bats during their careers. Many players were somewhat inconsistent when it came to applying their uniform numbers to the knobs of their bats. So, again, there's no need to worry if a Mickey Mantle bat does not have a number "7" on the knob because most Mantle bats actually do not possess this characteristic – it is far more important to look for other "Mantle" characteristics on the bat.
"I think I can hit with any kind of bat but I know I wouldn't have had the success had it not been for the Louisville Slugger bats I used the last 25 years of my career. Absolutely, they were the best for me. I tried others once, but I went back to the Louisville Slugger"

Ted Williams
"Crack of the Bat" - The Louisville Slugger Story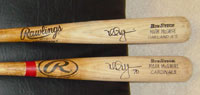 In the modern era, Mark McGwire basically used the same brand (Adirondack) and size (length and weight) of bat his entire career. Barry Bonds, the current single season home run king, used Louisville Sluggers the vast majority of the time during the first half of his career and then, after some bat experimentation in the late-1990s, switched to SAM bats. These SAM bats are the popular maplewood bats that Bonds has made so popular with his offensive explosion over the past few years.
Vince Malta sums up the feeling of finding that special bat, one that possesses the "fingerprints" of that player – one that exhibits excellent player characteristics. "A bat that has been game used by a player is a bat that has been immortalized by the player with a 'soul,'" Malta explained. "No matter what happens to the bat, it is immortal, because it was and always will be used by the player and a part of baseball history."
I couldn't agree more.