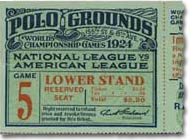 I think most people, collectors and non-collectors, have saved tickets or ticket stubs from memorable events in their past. For some, it may have been a ticket to a World Series clincher and, for others, a ticket to Nolan Ryan's 7th No-Hitter. As a keepsake, people will usually just bury the memory in a photo album, drawer or box.
Enter PSA Ticket Grading.
That's right. This summer, PSA will be launching a grading service for full tickets and stubs. For some, collecting high-end tickets will be a draw. Imagine owning a run of Super Bowl tickets in high-grade? The imagination can run wild with this new concept but keep in mind it's not like ticket collecting is new to the hobby. People have been collecting tickets for years but PSA should have a strong effect on the market for tickets.
Here's why:
Established Standards - As a 3rd party, PSA can help establish a universal standard for existing ticket collectors and new ones. In virtually all major areas of the hobby, there is either a nationally recognized/respected grading service or authenticator (cards, autographs, jerseys, bats, etc.) -- not so in tickets until now.

Set Registry - Just like for cards, PSA will create a set registry for ticket collectors and, just like with cards, the possibilities are virtually endless in terms of creating interesting and fun ticket sets.

Ticket Price Guide - SMR will help establish a PSA graded ticket price guide that should help enhance stability in the marketplace for both collectors and dealers alike. In many cases, if a collector cannot locate some documented price structure for a collectible, they tend to avoid it. This guide should help.

New Ticket Collectors - This will be the most interesting point to watch. As a collector myself, I have encountered many other collectors who never really thought about collecting tickets before. It was not due to lack of interest, it was merely a result of lack of knowledge. Now that PSA is involved, collectors will inevitably consider ticket collecting as an option. If you happen to be a Hank Aaron collector, how cool would it be to have a ticket from #715 or #755? I think you get the point.

Protecting Sentimental Value - Last but not least and as mentioned above, a vast number of people do save tickets and/or ticket stubs to meaningful events in their lives but really have no place to store or protect them. Beyond added financial value and the collecting features associated with PSA, simple protection and preservation are important -- even to the non-collector. Having your prized tickets encapsulated will help ensure that the tickets avoid deterioration.
Well, at the time of this writing, we are still preparing for the ticket grading launch. Tickets, as a collectible, have been somewhat overlooked over the years. Tickets can be historically important, very eye appealing and extremely rare in some cases. Consider this: Baseball cards, when manufactured, are intended to be a collectible from the start. Tickets, on the other hand, are intended to be a consumable.
Good luck in your ticket collecting pursuits!