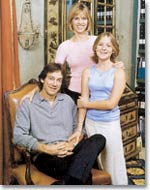 He's the nephew and godson of an All-Star Dodger pitcher. He is known worldwide as one of the most powerful entertainment attorneys on the planet. He has represented a stable of clients that, with the likes of the Rolling Stones, Aerosmith, Michael Jackson, Carlos Santana, The Doors, The Beach Boys and Fleetwood Mac reads more like a list of Rock 'N' Roll Hall of Fame inductees than a client list. Oh, and by the way, did we forget to mention that he is also the owner of one of the most comprehensive high-grade PSA card collections in existence?
John Branca says he can't remember a time when music and baseball were not a part of his life. As a young boy growing up in Mt. Vernon, New York, John's mother was an actress and singer who encouraged her son when he began writing songs.
On the baseball side, it was John's father, Mt. Vernon's Recreation and Parks Commissioner who went on to become the New York State Athletic Commissioner, who provided his son with some of his strongest childhood memories.
Young John recalls spending his summer afternoons accompanying his father to parks where he and his friends not only played ball, but also traded cards. It was also during those very early days of the 1960s that he would tell his friends stories about his uncle, Ralph Branca. Having retired from the Brooklyn Dodgers in the 1950s, many of John's young friends (who like him were "traitors" in that they were Yankee fans) would perhaps not have heard of Ralph Branca had it not been for John.
They may not have heard of him, but there was one person who knew his name all too well – Bobby Thomson.
Branca, who pitched for the Dodgers from 1944 to 1953, (returning for one game in 1956) was the pitcher who delivered the horsehide that Thomson whacked into baseball history as the "Shot Heard Around the World" when the Giants took the 1951 World Series from the Dodgers. Ralph Branca was also a close friend with his teammate Jackie Robinson, and was selected by the Robinson family to be one of the pallbearers at Jackie's funeral.
Young John Branca loved relaying the story of his Uncle Ralph's professional career as much as he loved writing songs and compiling his card collection.
"The Yankee cards were in the highest demand – and Mantle cards were golden," John wrote in the 2002 baseball tribute book, What Baseball Means to Me (Warner Books).
"Mick's earliest cards, including the 1951 Bowman rookie and 1952 Topps, were not common. The 1956 Topps card from Mantle's Triple Crown year was terrific. But my favorite was the 1957 Topps Mantle card, which features photography and not artwork with The Mick in a full-swing pose. His cards had a magical quality – like Mantle himself."
When John was still young, his family left New York for Los Angeles, CA and, by the time he entered high school, his passion for card collecting had subsided and music took over as his first love. By the time he was 15, he had joined a Rock 'N' Roll band, garnered a recording contract and was playing on some of LA LA Land's best known stages including the one at the famous Whisky-A-Go-Go on the Sunset Strip.
Following graduation, John made the decision to major in music at Los Angeles City College. It was during that time that the dreaded "practical" bug first bit him. Realizing how difficult it would be to make a living in music, John made the decision to transfer to Occidental College and study political science. By the time he was presented with his lambskin, John had another interest in his life – law.
Matriculating to the UCLA School of Law, John suffered a devastating loss – not of a family member or a close friend, but rather his beloved childhood card collection.
The collection, that for years had been stowed away in the attic of his mother's home, had fallen victim to a robbery. "You can imagine how for more than two decades I turned away from any glimpse of a baseball card," Branca has written. "I had no interest – it was too painful."
By 1975, with his Juris Doctorate in hand, John began working for a corporate firm that was doing work for Michael Jackson. Establishing a good working rapport with Jackson, John began negotiating deals for the singer and assisted in managing him during the early 1980s when Jackson's career exploded with the release of Thriller. And thus was the beginning of what would become a beautiful relationship between John and a galaxy of music's elite.
Today, John is a partner in the high-powered law firm of Ziffren, Brittenham, Branca, Fisher, Gilbert-Lurie & Stiffelman. Branca and his firm have represented such legends as Elton John, Prince, Don Henley, and the Eagles, the Estate of Elvis Presley, Dick Clark, Berry Gordy, the Band, Neil Diamond, Bob Dylan, John Fogerty, ZZ Top, George Harrison, the Bee Gees, Dwight Yoakam, and Nirvana to name a few.
Deals that he and his firm have worked on include: Michael Jackson's acquisition of the Beatles catalog, the sale of Barry Gordy's Motown song catalog, the formation and sale of Interscope Records, Richard Branson's interest in Virgin Records, sale of Rhino Records and the Rolling Stones' "Steel Wheels" tour. His firm's roster of contemporary artists include the likes of Eminem, Celine Dion, Enrique Iglesias, Justin Timberlake, Limp Bizkit, Nickelback, Incubus, Audioslave, the Backstreet Boys, Weezer, Blink 182, Ja Rule and TLC, to name a few.
Mingling his love for music with his interest in law, John has also kept his passion for sports alive by being not just a huge fan, but also a generous supporter of the UCLA athletics program. "I was in law school at UCLA during the Wooden era, when Bill Walton was playing and they were winning championships year after year," Branca has said. "It was so exciting, you couldn't help but become a fan."
Still, despite all of the excitement going on in Branca's life there was always a little gnawing pain over having lost his childhood card collection. The balm for that pain came when the well-known sports collector Barry Halper decided to put the majority of his amassment up on Sotheby's auction block.
Attracted to the auction by the fact that his Uncle Ralph's 1951 Dodger uniform was being auctioned, John was on hand in hopes of seeing the Branca family reclaiming the uniform baring the number 13.
John was not only successful in obtaining the uniform, he was also transfixed by seeing virtually every significant baseball card set from the 20th Century come up for auction. Seeing some of his lost childhood cards, Branca now had a goal to leave Sotheby's with more than just his Uncle Ralph's uniform. "In one full swoop, I replaced my card collection – and improved it!" Branca has written. And, improved it he did! In a big way!
His Babe Ruth card collection is the finest in existence and is the #1 ranked in the PSA Set Registry. His collection of Mantle cards, which includes the 1951 Bowman and the 1952 Topps, both in PSA Mint 9, is considered to be one of the finest in existence, and his overall collection is considered to be one of the most comprehensive ever amassed. How comprehensive you may wonder? Well, just consider some of the cards that Branca lists as favorites in his collection:
The T-206 Ty Cobb collection in PSA-8
A 1915 Cracker Jack Ty Cobb in PSA-9
A 1915 Cracker Jack Joe Jackson in PSA-8
Babe Ruth's M101-5 Rookie in PSA-8
The 1933 Goudey Babe Ruth collection all in PSA-8
The 1934 Goudey Lou Gehrig collection in PSA-8
A 1933 Sport Kings Babe Ruth in PSA-8
A 1941 Play Ball Joe DiMaggio in PSA-9
A 1941 Play Ball Ted Williams in PSA 9
A 1948 Leaf Jackie Robinson in PSA-9
A 1948 Leaf Satchel Paige in PSA-8
A 1948 Leaf Stan Musial in PSA-9
A 1951 Bowman Whitey Ford in PSA-9
A 1951 Bowman Mickey Mantle in PSA-9
A 1951 Bowman Willie Mays in PSA-9
A 1952 Topps Mickey Mantle in PSA-9
A 1954 Wilson Franks Ted Williams in PSA-9
The 1954 Topps Ted Williams collection in PSA-9
A 1954 Topps Hank Aaron in PSA-9
A 1955 Topps Sandy Koufax in PSA-9
A 1962 Topps Manager's Dream in PSA-10
An Upper Deck 500 HR Club in PSA-9
Not bad huh? And that's just some of his personal favorites – some!
Along with Branca's card collection, he also has a magnificent amassment of sports and entertainment related memorabilia including: Jackie Robinson's court martial documents, Babe Ruth signed baseballs, 500 HR Club signed balls, basketballs signed by various UCLA teams, the suit that Michael Jackson wore in the Thriller video, and numerous baseballs, signed by some of the biggest names in music.
Surrounding him in his Century City office is a collection of platinum records and first edition books, memorabilia and photos signed by people who Branca feels have stood for something. There is a basketball signed by legendary UCLA coach John Wooden, signed photos of Kareem Abdul Jabbar, Joe DiMaggio, Muhammad Ali, Jackie Robinson and Arthur Ashe – just beautiful stuff! And yet, there are things he still hopes to obtain.
"I'd love to find a baseball signed by all four of The Beatles," Branca said. "There are only two that are known to exist. I would also love to find Elvis's original recording contract from the Sun days, a ball signed by the 1947 Dodgers and original lyrics written by Lennon and McCartney."
Branca laughs. "Once you get started, where do you stop?"
In addition to his music and sports items, Branca also has a passion for Italian antiques and makes several annual trips to Italy in search of treasures with his wife, Linda, and their daughter, Jessica. Branca says that his wife has a far greater understanding and appreciation of the Italian antiques than his sports items. "She doesn't understand the cards at all," he said with a laugh. "I mean, she does like some of the stuff, but the cards – not at all." She may not understand or like them but she gave him a 1957 Topps Mantle card, which along with the Halper sale, Branca states spurred his interest in collecting again.
And while Linda may not understand, John understands all too well. "The cards are a part of history and they have an emotional pull. I'm relatively new to the hobby but PSA is really big to me. It gives me the assurance of knowing what it is that I am buying. I think the worse thing is to buy something only to later learn that it is not what you thought it was. And while I love the eye appeal of these cards in beautiful condition, what I would really love is to have my original childhood collection back. Those cards, with all of their imperfections represented my childhood time, energy and love."
As a contributor to the book What Baseball Means to Me, Branca joins such luminaries as Mickey Spillane, LeRoy Neiman, Dan Rather, Phil Rizzuto, Brooks Robinson, Martin Sheen, Bowie Kuhn, Larry King, Presidents Jimmy Carter, George H.W. Bush, George W. Bush. Mike Ditka, Rudy Giuliani and others who weigh in on what America's pastime means to them. The book, which was published in cooperation with the National Baseball Hall of Fame and Museum, includes a moving piece by Branca that captures the feelings of so many card collectors:
I often ask myself, "Why am I collecting baseball cards since basketball is the sport I formerly played?" The answer is that nothing comes close to baseball as the strongest form of twentieth-century Americana, with its traditions, folklore, and statistical analyses and compendia. Baseball's lure transcends the game and players. Babe Ruth is as much a part of American history and culture as Abraham Lincoln or Elvis Presley, as much a part of any kid's dreams. And like any great sport or form of entertainment, baseball – and its collectibles – offer a wonderful diversion from everyday reality. That's what it means to me."
That's what it means to many of us John.