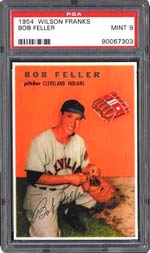 Every month in the Sports Market Report, I usually talk about an issue or an individual card that provides an exceptional challenge. There's always a black-bordered card that is subject to chipping or another card that is notoriously found off-center. Challenges abound in the hobby; however, no set that comes to mind may be tougher to find in high-grade -- or at all -- than the 1954 Wilson Franks baseball set.
Of course, you could travel back in time and find sets that rival the Wilson Franks set in terms of scarcity or even find individual cards that rival the condition sensitivity of this set but, pound for pound, you are looking at the hobby's ultimate tough guy -- Mr. Franks.
As a collector who seeks the pinnacle of challenges, should you be afraid? Yes, be afraid -- be very afraid. There are two major condition obstacles with this set. This set, as hard as it is to imagine today, was packed with Wilson Hot Dogs and distributed across the country. For the love of mystery meat, they were actually packaged with hot dogs! The result? Staining from the dogs, a potential problem with any of the cards.
So, what's the second major condition problem? The centering is unbelievably atrocious on these cards. Most of the cards are poorly centered to begin with but, as an added problem, the borders on most of the cards are extremely narrow. This leaves an even smaller margin for error. One slight shift to the left or right, up or down, results in an apparent flaw in centering. One very interesting note about cards that are labeled OC (off-center) -- the qualifier does not seem to affect the price as much as in most other issues. In other words, collectors seem to accept the fact that these cards are so commonly found off-center that the OC qualifier is regarded as somewhat acceptable. Centered copies, however, do sell for a solid premium.
So, you question the difficulty? Just reference the latest PSA Population Report numbers and you will see exactly what I mean. If you are lucky enough to find them, which can be tough enough as it is, you will have even more trouble locating high-grade examples. In addition to the condition problems mentioned above, print defects are also common due to the array of bright colors found on most of the cards. Even the Ted Williams example, which is one of the least colorful examples, has issues with print defects due to the large white background on the card. There's a lot of room for print defects to lurk.
Now that you know about the difficulty of this set, you may be curious about the popularity and visual appeal of the issue. This regional set is clearly one of the most popular regional issues in the hobby. The scarcity provides the challenge, the set composite is very attractive with a nice selection of stars and the visual appeal is virtually second to none. Some of the cards, like the Feller and Hodges examples, have thunderous eye appeal.
Here's a quick peek at the set composite (the set is actually unnumbered):
Roy Campanella
Del Ennis
Carl Erskine
Ferris Fain
Bob Feller
Nelson Fox
Johnny Groth
Stan Hack
Gil Hodges
Ray Jablonski
Harvey Kuenn
Roy McMillan
Andy Pafko
Paul Richards
Hank Sauer
Red Schoendienst
Enos Slaughter
Vern Stephens
Sammy White
Ted Williams
As you can see, the star selection is impressive for a 20-card set. The Williams example is certainly one of the toughest Williams cards in the hobby. In fact, as of this writing, there are only two unqualified NM-MT 8's and only one Mint 9 graded in 11 years at PSA! Every time a high-end copy of any of the above cards comes up for sale, it seems to set a new price standard -- this set is hot!
Recently, industry leader MastroNet unearthed a phenomenal set. Some of those incredible examples are pictured throughout this article and the quality was astonishing. The cards from this set are going to be featured in one of their upcoming auctions so keep an eye out. Here's an opportunity to acquire what many consider to be the impossible -- truly high-end (NM-MT and Mint) examples of one of the hobby's toughest sets. Have fun bidding!